You guys! My Mom is coming to England to visit this week! I'm so excited-we only have a little over a month until we move back to the US so it's extra fun to show her around (it's her first time in the UK) and see some of my favorite sites myself before we head back across the pond. As I was getting ready to welcome her here for her visit I made a cute little Wifi network and password printable for her. Then I made a few more to share with you too! What better way to welcome a guest to your home than helping them stay connected with a free guest wifi printable?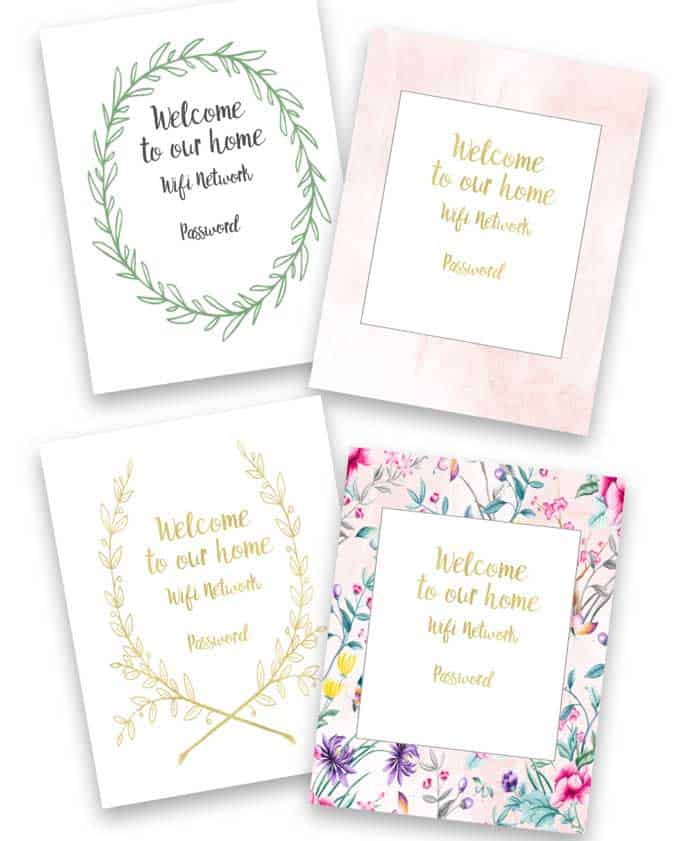 I tried (as usual) to make a few different versions that could go with different decorating styles. Each printable also comes in two different versions-a regular printable version that you can print then hand-write your network and password on, or a fillable PDF version that you can open in Adobe Acrobat with fields to type in your network and password.
Simply click on the links below to open the PDF of your guest Wifi Printable and print in full color or send to your local office supply store for a more professional quality print (you could laminate it or put it in a picture frame!)
Blue Watercolor Leaves - Fillable
Pink Watercolor Background - Fillable
Chinoiserie Flowers - Fillable
I really think leaving your wifi information for guests is one of the biggies nowadays-I know my mom will be eager to check in with her husband once she arrives safely-and it saves your guests from feeling like they are imposing if they are forced to ask for it.
In addition to leaving the wifi password information, I like to put together a little basket for my guests, especially if they've traveled a long way. Here are some things I might include in a guest room basket:
travel size toiletries they might have forgotten
water bottles/sodas
sweet and salty single serve snacks
a local guidebook to look through
postcards from the area they can send home
tea or coffee set up
What are your favorite ways to welcome guests into your home? Leave them for me in the comments, I still have a few days until she arrives so I'd love to hear your thoughts!
Get Exclusive Printables for Subscribers!
Join our community to get subscriber-only bonus printables straight to your inbox every month!