Hello again my dear Happier Homemaker fans! I hope you're just as excited about summer as I am! Now that we're finally reaching warmer weather up here in the North, we're starting to come out from under our blankets and enjoying the good 'ol outdoors!
You see every summer, we host an adult-only outdoor movie night. I make homemade flavored popcorn, stock up on concession candies, set up a tent, grab every chair, pillow and blanket we own, and round up the friends and family for a good 'ol fashion good time. We usually make a bulk beverage (one year it was spiked apple cider since it was chilly and closer to fall) and our guests usually bring their favorite adult beverages to share. It's a total blast and everyone enjoys the peace and quiet out in my neck of the woods.
Every year we add a few pieces to the mix. Last year it was some homemade lawn games. This year it's pretty invitations: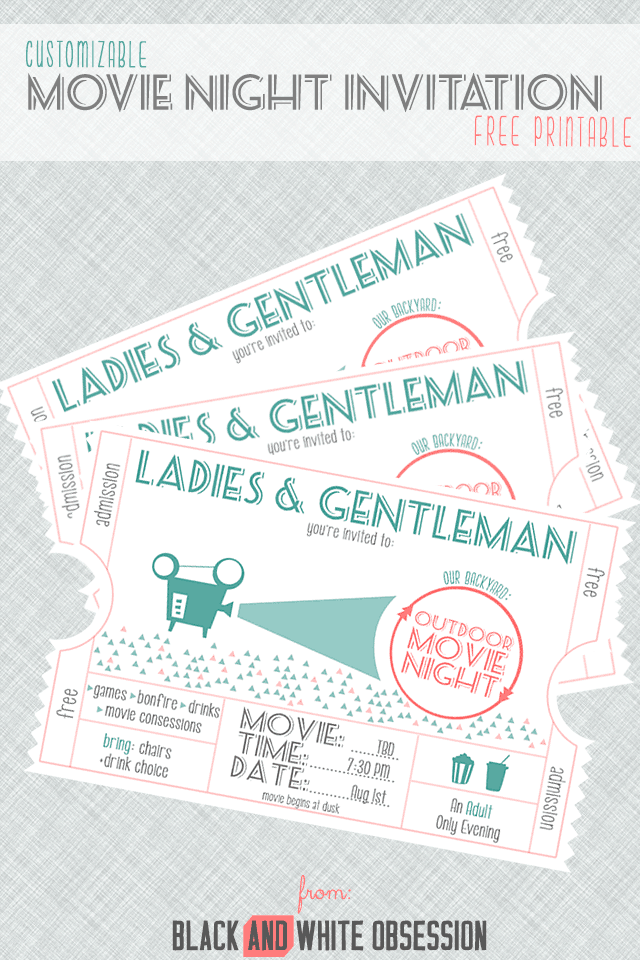 And since you are all so sweet, they're free for download. I hope you're familiar with PicMonkey (I know Melissa's mentioned it a few times)- if not it's a pretty nifty (and user friendly) image editing program. And in case you haven't heard, they've recently added the ability to use most fonts installed on your computer (how cool is that?!).
Alright, enough interruptions, here's how you customize them:
1. Download + Install KG Call Me Maybe font, for free. It's a pretty handwritten font which will be used throughout the project. If you need installation assistance here's a good resource for just about every operating system.
2. Save the image to your computer (using the download link below).
3. Open the image in PicMonkey.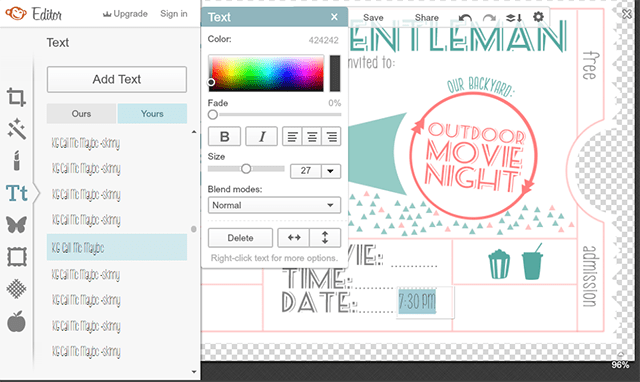 4. Press the Text tool. Scroll down to KG Call Me Maybe, and begin filling in the areas with your party details (you may need to zoom in to position correctly). Here's an example for you: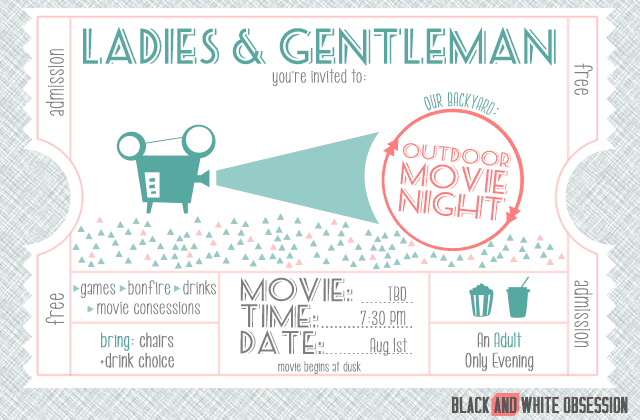 5. Save as a PNG (which preserves the quality).
6. Print, cut out, and enjoy!
In case you're less than ambitious to cut out all those spiky-edges (I use my Silhouette to cut them out for me), I have a straight-edged ticket invitation in the file for you as well. Click the button below to be taken to the image then right click and press "save as."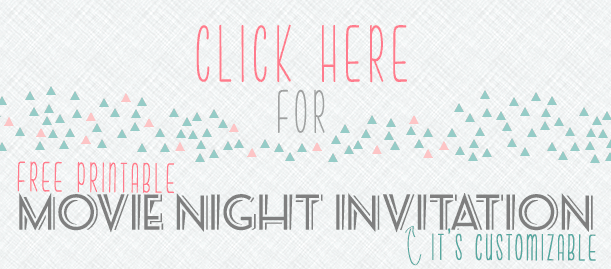 I hope you enjoy the free customizable Movie Night Invitation! Oh and this summer I'll be dishing out a tutorial on one of our favorite lawn games, over on my site so stay tuned!
–Trisha D. Black and White Obsession
You can also find me getting wordy on Pinterest, Instagram, Twitter, and Facebook.
If you enjoyed this invitation, you may also enjoy my free printables here.