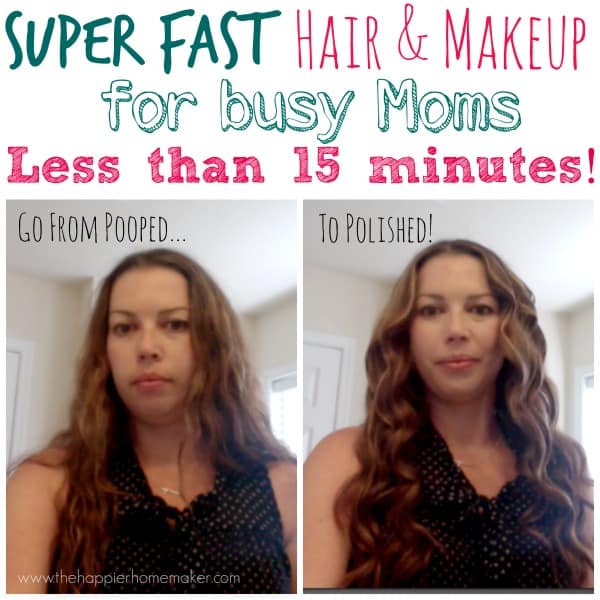 I am not a beauty blogger, I am not a beauty blogger, I am not a beauty blogger. I just needed to make that clear! What I am is a mama to three rambunctious little dudes who just so happens to work from home and homeschool my boys. So clearly one thing I do not have is a whole heck of a lot of free time.
Like I've mentioned before I used to just go about my days putting in the minimum to my appearance-jeans and a soft t-shirt with a pony tail were my gold standards and makeup made only very rare appearances.
A while back I did a total overhaul-I needed it. I honestly just felt like crap every time I passed a mirror. So I've shared some of my attempts at dressing a little nicer here and here (it doesn't take any more time, just a little more planning and creativity when shopping!) and today I want to share with you my totally streamlined hair and makeup routine that takes me from pooped to polished in about 15 minutes…
I think we all can make 15 minutes for ourselves right? I mean, that's less than half a Mickey Mouse Clubhouse episode-amIright?
Here's the step by step video-it took me all of 11 minutes from start to finish.  I've also listed all the steps I took below the video and linked to most of the products I used as well.
Let's go. I plug in the curling wand while I put on my makeup to maximize my time.
Step 1: Primer-cause if I am going to make the time to put my makeup on I sure want it to stay on!
Step 2: BB cream-it goes on smooth and evens most of my skin out.
Step 3: Eyeshadow-I like to do some quick eye makeup before I finish my makeup in case any smears under my eyes. I sweep a light color on the inner half of my eyelid and brow bone and a darker color on the outer half of the lid and in the crease.
Step 4: Eyeliner-a simple brown liner on the top lash line and outer third of the bottom lash line.
Step 5: Mascara-place a tissue under each eye and blink a few times to make sure it's not going to leave marks under your eyes.
Step 6: Highlight/conceal I use this for both…it's on the thick side so I apply it with my fingers and rub my finger around a few times to warm it up so it glides on thinner. With the highlighting makeup I cover my undereyes, go down the bridge of my nose, hit up my chin, forehead, and then I cover some dark spots I have from melasma right around the mustache area-nice right?
Step 7 Blush super fast sweep on the apples of my cheeks.
Step 8 A little highlighter on the top of the cheekbones-I swear this takes off a few years!
Make up-Check! Let's do the hair!
I have LONG hair. It used to be super pretty ringlet-y curly but somehow my pregnancies sucked the boing right out of my curls and now it looks like I stuck my finger in an electric socket if left to it's own devices.
I hate to blowdry my hair so I wash it at night so I can let it airdry overnight and style it in the morning. Section off the top half of your hair with a clip. Divide the remaining hair into two sections, draping one over the front of each shoulder.
Grabbing 1 inch sections run a boar bristle brush through it and wrap it around the curling wand AWAY from your face. Please use a heat resistant glove the first bit as you get used to it. I do this all the time so it's faster for me to do it without the glove but that wand gets hot y'all.
I hold the wand with the hand on the opposite side of the side I'm curling and wrap with the hand on the same side. I start in the back and work my way frontwards in those one inch sections, throwing the curled sections behind my shoulder to get them out of the way.
Move to the other side and repeat until all the bottom half is behind your shoulders. Let down the top half and again section it in half in front of your shoulders and repeat until all the hair is curled.
Spritz with hairspray and give it a shake-you're done!
This takes me seriously 10-15 minutes but it was longer when I first started so you may need to give yourself a little extra time as you get started.
What are your go-to quick fast and in a hurry get put-together tricks? I'd love for you to share them in the comments!