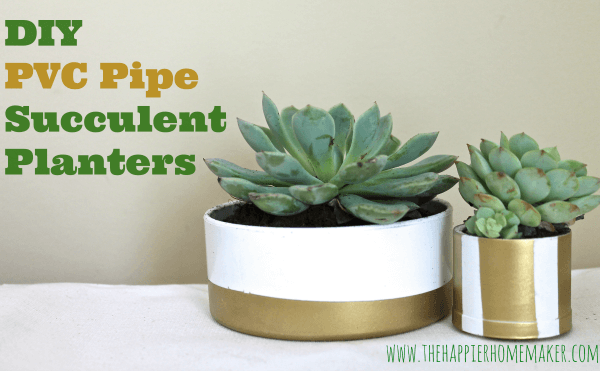 So I have a confession.  I have a little addiction.
To succulents.
They're so cute and tiny....
...and hard to kill.
I can't stop buying them, they're all over the house. I was starting to run out of tiny containers to put them in.
Then I was at Lowe's the other day (I tend to go there a lot!) And I happened upon the plumbing section as I was scouring the endcaps for more houseplants.
And I saw some PVC pipe end caps.
And I thought that they just might make the perfect little succulent planters for my latest finds.
I popped a 1.5 inch and 3 inch pipe cap in my cart and went home with a plan-they were less than $5 for both caps.  When I got home I got to work!
I used painters tape to tape off the areas I wanted to stay white then I used the same Valspar Plastic Primer I used on my plastic playhouse makeover and gave them one quick coat.  I let that dry for an hour before giving them two light coats of my favorite spray paint-Krylon Quick Shots in Gold Leaf (I used it everywhere lately, like the tray makeover I shared last week.)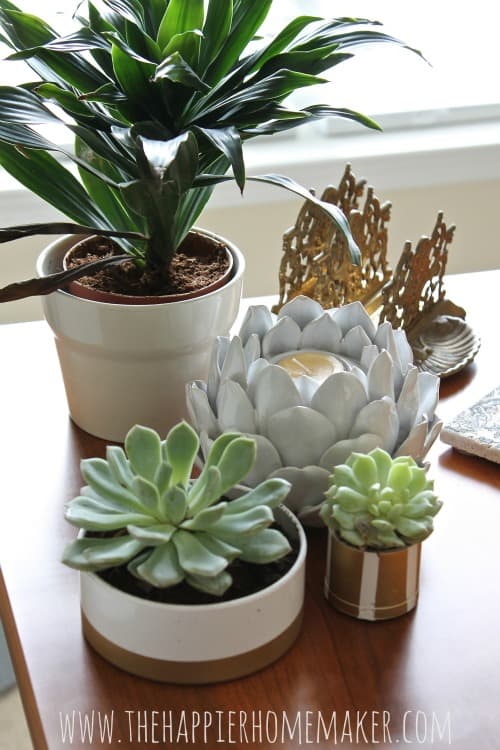 When the Gold Leaf was dry (I waited another hour) I carefully peeled off my tape-I love the way they turned out! To plant my succulents I filled the bottom with gravel and then put the plants in potting mix on the top. They now hold a place of honor on my office desk so I can look at them and smile whenever I'm sitting here working on this little blog.
Do you love succulents as much as I do? My favorites are the hens and chicks!
Linking to Inspiration Exchange and Homestories A to Z