Making your own homemade vinegar cleaner doesn't mean your house has to stink after cleaning. This DIY Orange Basil Vinegar Cleaner leaves a light fresh scent you'll love!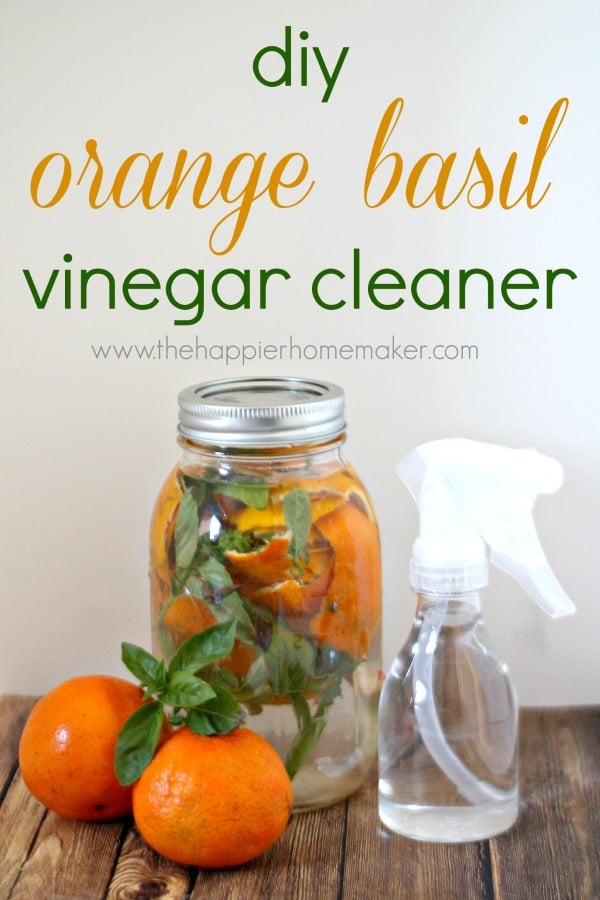 Homemade Vinegar Cleaner
Do you clean with vinegar? I used to be a bleach addict until I had children and started obsessing getting concerned about their safety and the toxicity of the cleaning supplies I used in our home.
Enter the amazing and versatile vinegar! You might remember that I used it in my tutorial about how to clean your sink naturally, well today I'm sharing how I use it in everyday quick cleaning!
Why I Love this Orange Basil Vinegar Cleaner
I love using vinegar to quickly wipe down counters and cabinets (or clean my Keurig) but the smell isn't always exactly what I want for the house. By infusing citrus and herbs into the vinegar it helps reduce (not eliminate) the strength of the vinegar smell while leaving a pleasant aroma that lingers.
Important Note: Do NOT use vinegar on granite countertops, the acidity will wear away the seal.
And it's inexpensive and easy! For this recipe, I use oranges and basil to spice up my standard vinegar cleaner.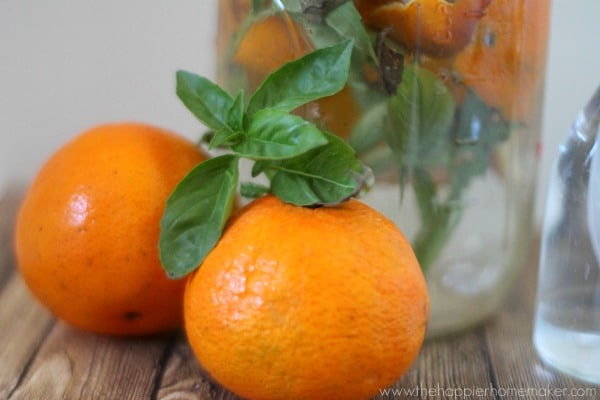 Orange Basil Vinegar Cleaner Recipe
Whenever I peel oranges or lemons I throw the peels in the freezer until I need them later for uses like this. For a large 16 oz mason jar, I use the peels of four oranges and about 4-5 sprigs of basil that is somehow miraculously still growing on my front porch.
Add your peels and basil to the jar and fill it to the top with vinegar. Tighten the top and let sit for a minimum of ten days.
How to Use Vinegar to Clean
When you are ready to use your cleaner fill a clean spray bottle half way with the vinegar mixture (liquid portion only-leave the peels and basil in the jar) then add water until full.
I use a small spray bottle and refill regularly, I like to let my cleaner "marinate" until I've used all of the vinegar solution. I don't keep the solution longer than one month to prevent any spoiling.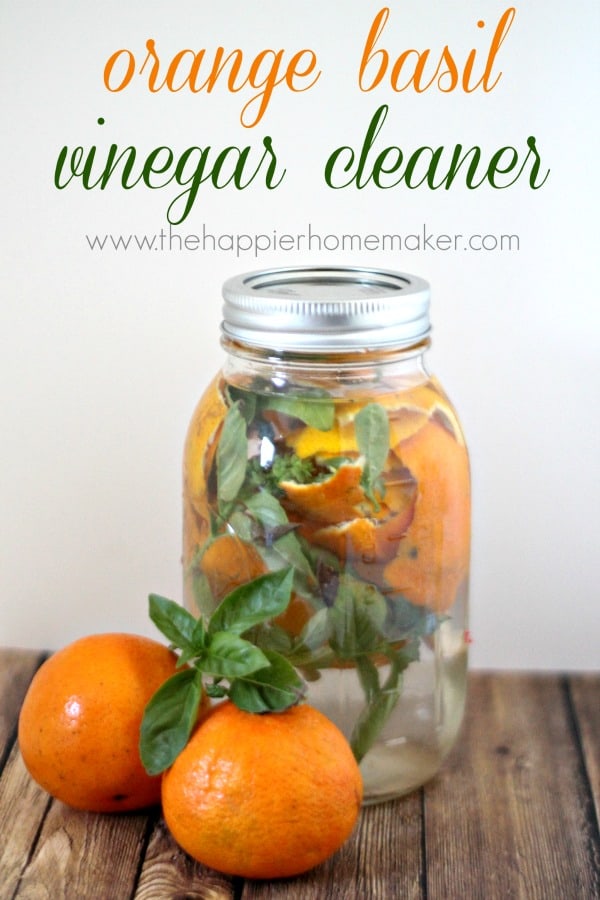 That's it! An easy, sweet-smelling, all-natural cleaning solution!