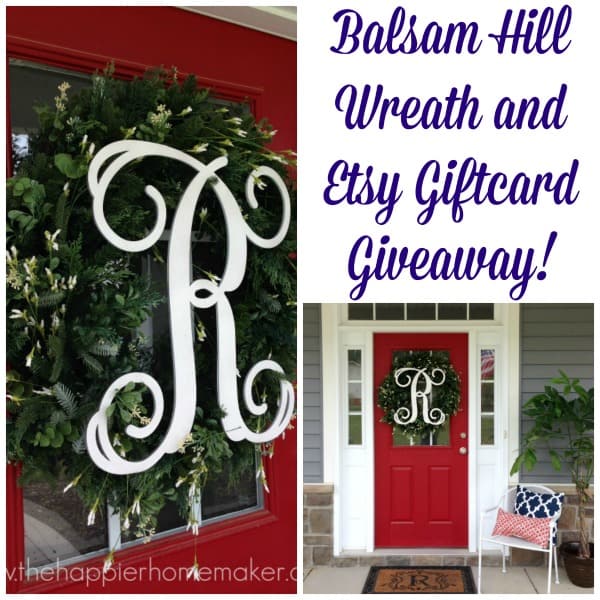 ********Giveaway is closed, congratulations Jennifer!********
With Mother's Day almost here I've been thinking a lot about how my mother has influenced how I decorate.  I think one of the biggest decor lessons I learned from her was to choose quality over quantity and that less is more.  After I went to college my mom spent many years living on a sailboat-life of boat living is a lesson in priorities, you simply don't have the room for extraneous "stuff!" While she lived in a condo now, she still applies those rules to her decor and I find myself practicing the same minimalism in my decor.
Another lesson she taught me was to invest in quality items, she's one to eat with her good silver and china everyday and I love that about her!  That philosophy is why I thought of her when I received this gorgeous Balsam Hill wreath on my doorstep a few weeks ago. (Excuse the kitty photo bomb, that's my 15 year old cat Skipper!)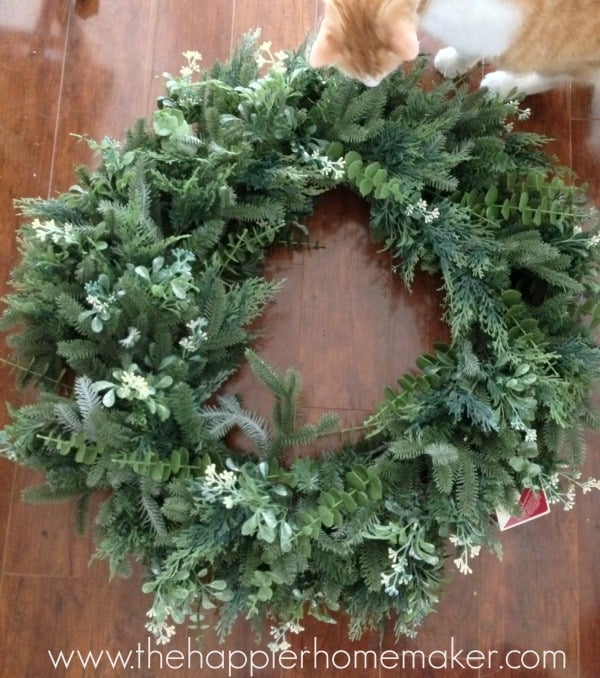 This beautiful Meadow Wreath is just amazingly detailed..you'd never guess it was faux greenery, it's just beautiful! I received the 32″ version without lights and it's the perfect big and bold size for my front door. Balsam Hill challenged me to show how this wreath fit in my decor and I was so excited to get started! I first added some extra white faux flowers to give the wreath a more spring-like feel. I just stuck the sprigs into the greenery so I can remove them easily later in the year to change the wreath up seasonally.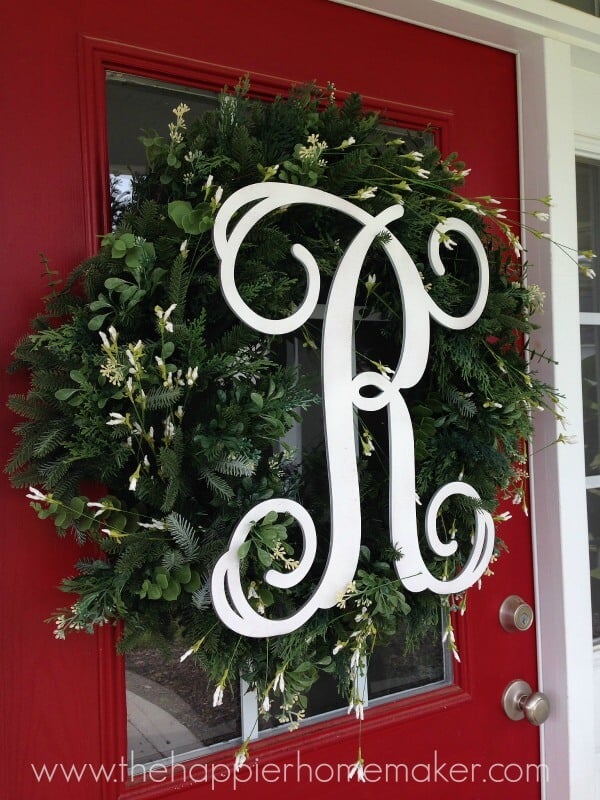 I also order a custom R monogram from the Etsy shop Custom Cut Monograms. When it arrived it was unfinished but I gave it a few coats of white laquer spray paint and it looked perfect on my wreath!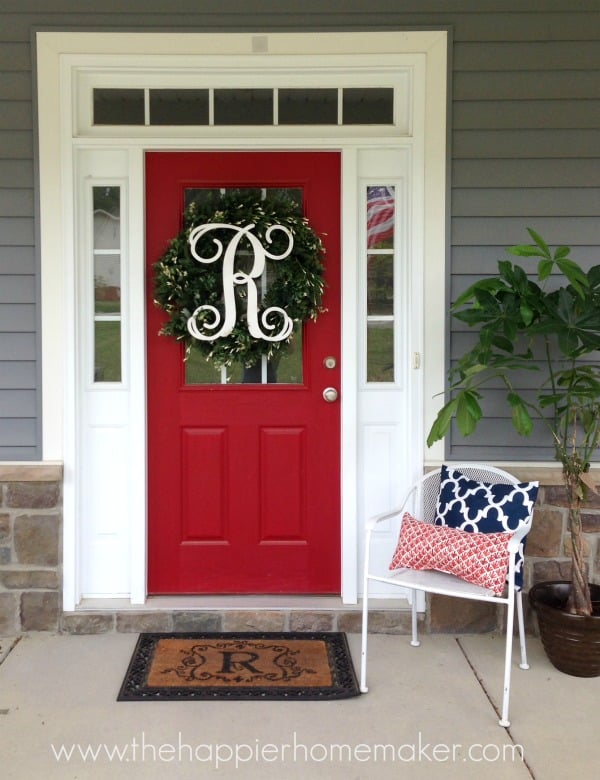 For the chair on the porch I had an orange outdoor pillow I found at Target and I thought it would look fantastic with a larger print in navy to compliment it.  I found the perfect pillows (and reasonably priced!) at the Etsy shop Linnea Designs (gorgeous fabrics in her store!!)
I'm in love with how the wreath turned out and how the traditional look of the wreath somehow fits just right with the more modern pillows. I'm so excited that I'll be able to use this wreath as a base for decor year round just by changing out accessories!
Do you want to win your own beautiful Meadow Wreath? How about a $100 Etsy gift card to help you accessorize it and make it your own?? To enter simply leave me a comment telling me how you would decorate your Meadow Wreath to fit with your decor style!
A big "thank you" to Balsam Hill for sponsoring this generous giveaway! For even more chances to win hop over to the Balsam Hill Blog to enter their Mother's Day Grand Prize giveaway!