This Fingerprint Christmas Light Ornament is one of my all time favorite DIY ornaments for kids to make around the holidays. It's an easy keepsake that you'll cherish year after year!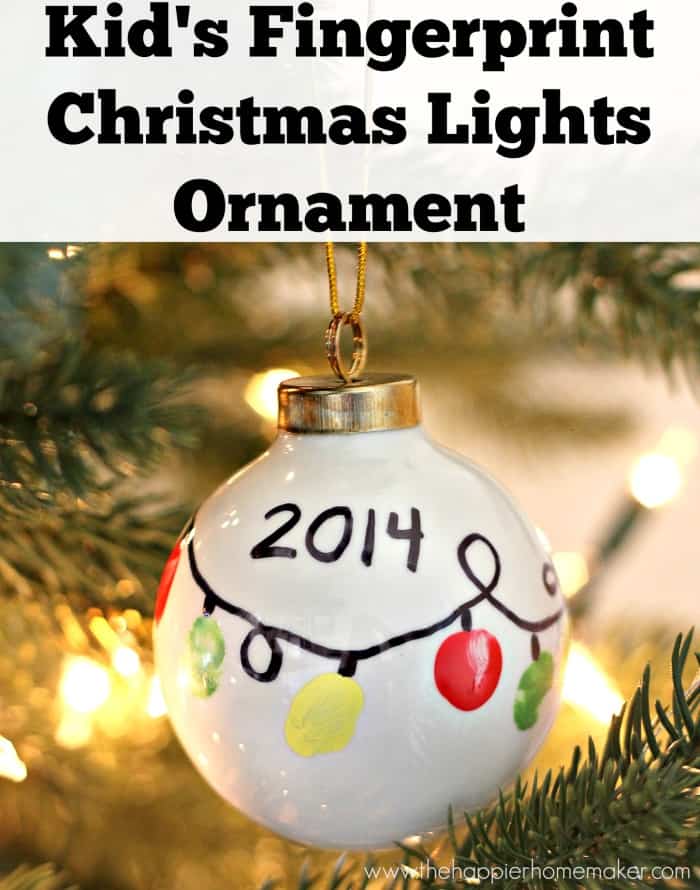 I recently wanted to create a sentimental ornament to gift to family members. I was inspired to make this cute kid's fingerprint ornament by an art project one of my sons had done the year before at school. The teacher had taken their fingerprints and made them look like Christmas lights, it was adorable!
I wanted to do the same but make it into an DIY ornament so we could see it on the tree year after year. This cute project is very easy to make and would be such a cute keepsake or grandparent gift!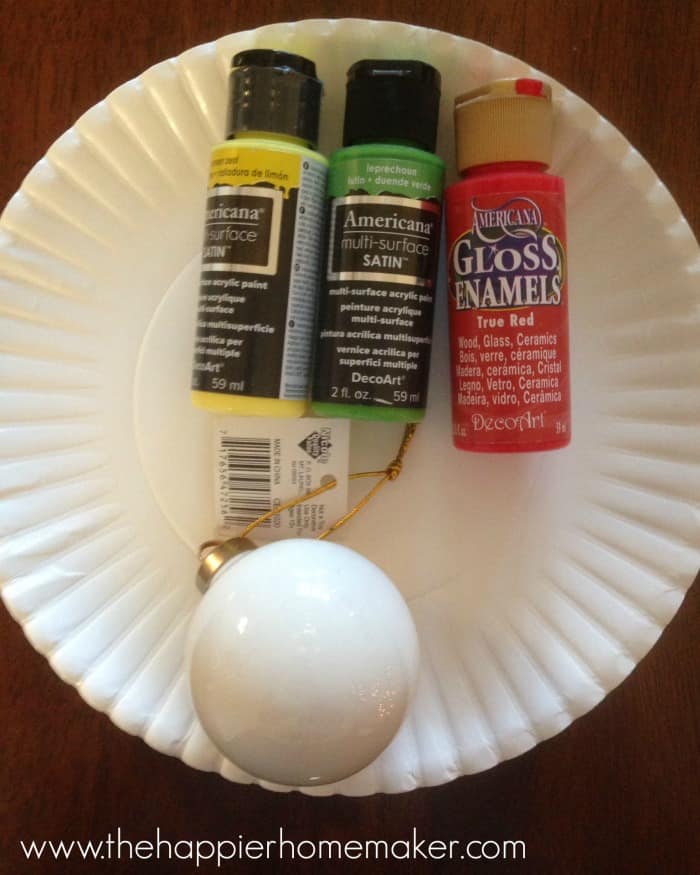 You might also like to try this jingle bell ornament or this reindeer gift box or see all of my DIY Ornaments here!
How to Make a Christmas Light DIY Ornament for Kids
To get started just gather a paper plate, plain ceramic ornament.  I used three colors of acrylic craft paint-one for each of my three boys.
I helped each of them add their fingerprints to the ornament (so I could position them how I wanted-it would have been polka-dotted all over if I had let them have free reign!)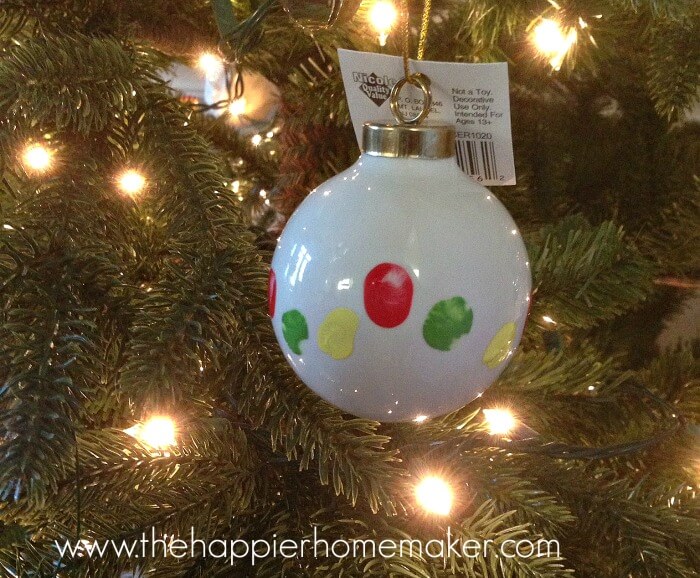 I hung my fingerprint ornament on my tree to dry for about two hours...just be sure the fingerprint paint is totally dry before continuing! (Whip up some chocolate mint crinkle cookies and pour a glass of mulled wine or mulled cider to pass the time!)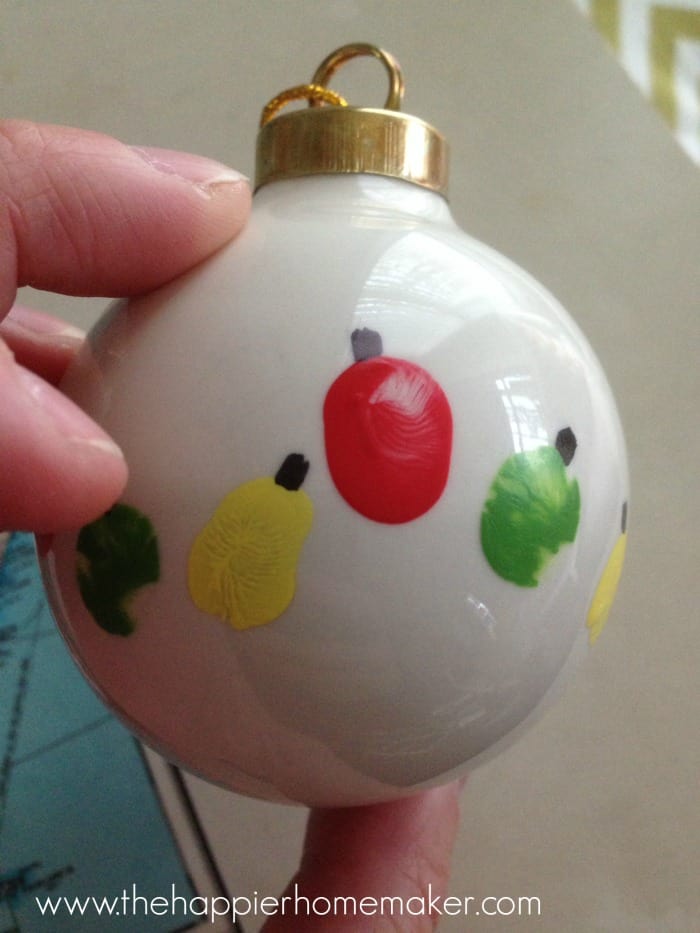 Then simply use a Sharpie or other permanent market to add caps to the fingerprint lights...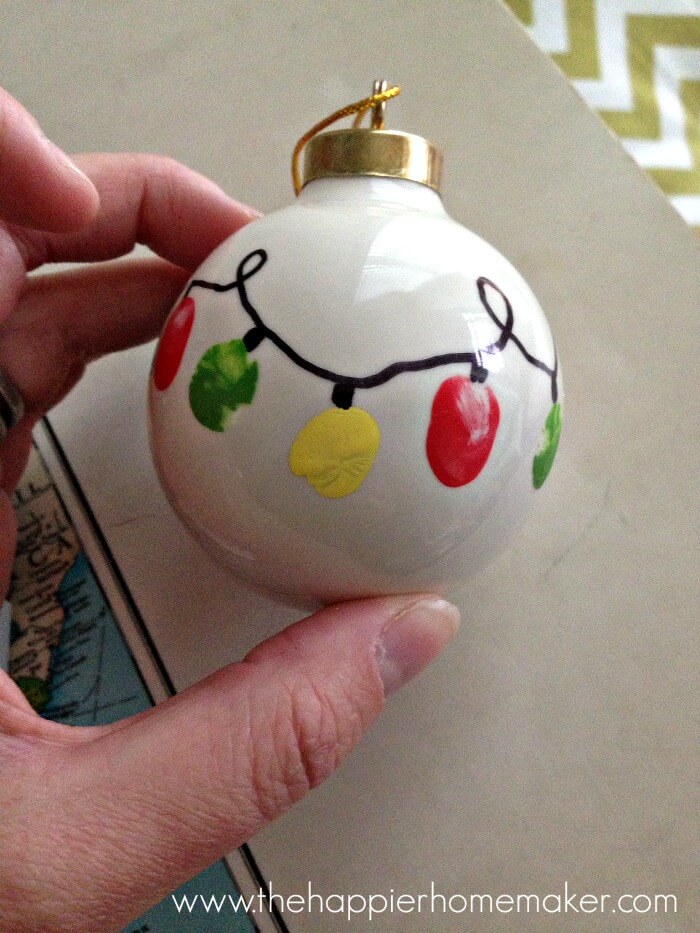 ...and string them together! That's it! Don't worry about perfection when drawing the caps and string, the fingerprints are the star of the DIY ornament, no one will notice any mistakes!
Why I Love this DIY Ornament for Kids
First, kids love fingerprint crafts so you're sure to get 100% participation when making this ornament.
This is such an easy craft, its the perfect homemade Christmas ornament for preschoolers to make, but older kids will love it too.
It's a great homemade ornament to look back on year after year as the kids get bigger and grow.