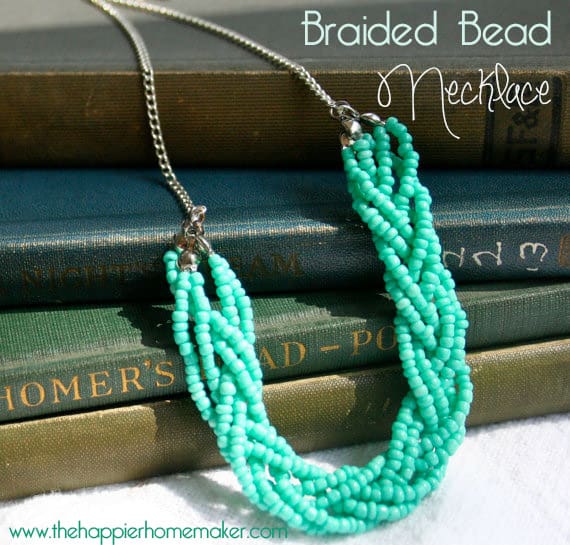 If you follow me on Facbeook you know my four year old had a surgery yesterday to remove a congenital cyst from his neck.  I very much appreciate all the kind words and prayers for my little man-it really mean so much to me to know there are others out there praying for him.
This will be a slow week for me obviously project-wise, but I thought I would give a quick tutorial on how to make this pretty little beaded necklace that I used to sell in my jewelry shop on Etsy (which I have since closed.) I apologize for not having step by step pictures, I will try to be very thorough with my explanations, this is a beginner level necklace-very easy once you have your supplies laid out in front of you!
To make this you'll need glass seed beads, beading string, beading needle, chain, clasps, bead tips,  a small set of pliers, and ring clasps.  I bought all of the supplies for this particular necklace in the Walmart craft section for about $10.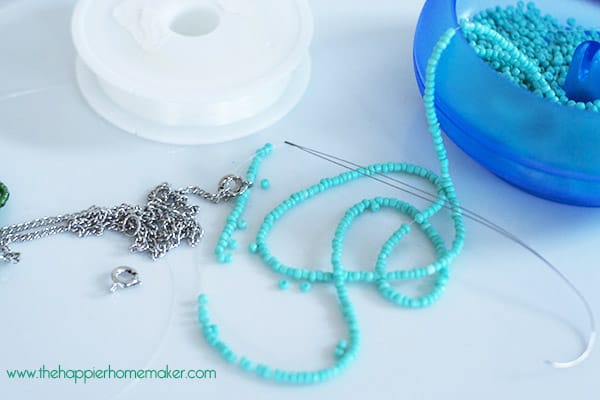 Begin by stringing 6 six inch strands of your beads tying knots at the ends.  You can do this either by hand with a needle or with an automatic beader.
Once you have your six strands group them into three sets of two by inserting the knotted ends into your bead tips and using your pliers to close the tip over the knots.  Once all three strands are grouped use a ring clip to fasten the three bead tips together at one end.  Braid the three strands and secure the opposite end with another ring clip.  You can then measure your chain out to the desired length and join it with your ring clips and clasps on either end with your pliers!
When I was looking through my supplies to create the tutorial I found these five cabochon flower pendants leftover from my shop and I'd love to give them away to five of my readers! To win, just pin an image from this post and leave me a comment telling me you did so! I'll announce the winner next Monday!