The holidays don't have to be stressful, this complete Christmas Planner will help you stay organized and prepared this holiday season! With 20 pages, you'll find everything you need in this free printable Christmas Planner.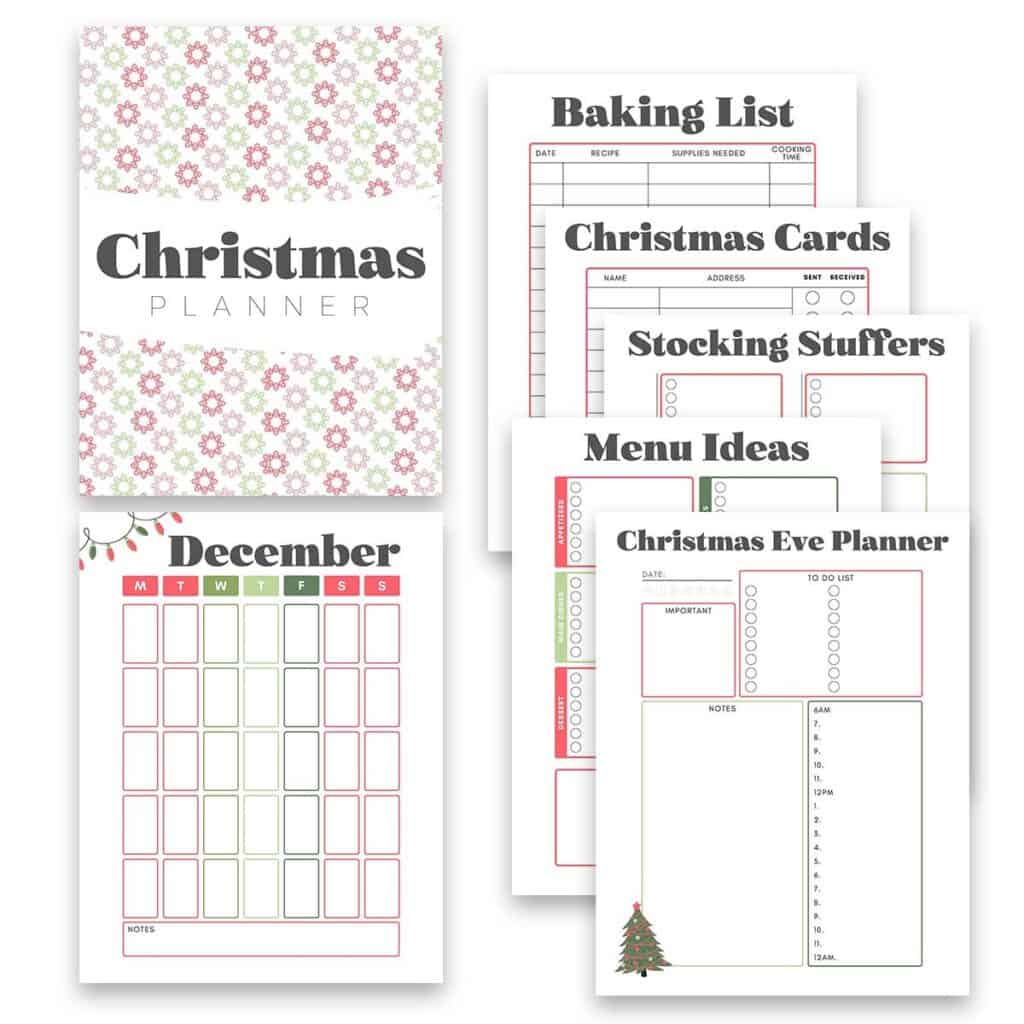 Free Printable Christmas Planner
A lot of people I know are surprised to learn that I'm not a naturally organized person, in fact, my nickname as a child was "messy Missy!" My poor super organized mother was just at her wit's end with my creative chaos!
When I was in my twenties I finally became a little more on top of things but it was meeting my husband that really flipped the switch for me, he is quite literally the most organized person ever. Because it doesn't come naturally to me I have learned to develop systems to keep myself organized.
I MUST live on a schedule or nothing gets done. I also MUST have a planner for pretty much everything, either on the computer (think spreadsheets for vacation packing!) or written down. For everyone out there like me, I'm super excited to share this unbelievable free printable complete Holiday Planner for you today!
Printable Christmas Planner
This printable Christmas planner has everything you need to keep yourself organized and stress-free this holiday season (plus it's super cute in my favorite sparkly design!)
All together the Holiday Planner is 20 pages of organizational happiness! Included are:
Christmas Eve Planner/Schedule
Christmas Day Planner/Schedule
Holiday Card Lists
Baking List
Gift Ideas
Stocking Stuffer Checklists
Christmas Meal Menu Planners
Recipe Cards
Wishlists
Christmas Card List
Gift Wrap Inventory
Timeline Worksheets
To-do List
Weekly Checklist
Weekly & Monthly Calendars
even a Naughty Elf Idea brainstorming sheet!
Everything you need right? Consider this free printable Holiday Planner my early Christmas present to you!
Simply click here to download your free printable Christmas planner. (personal use ONLY)
You might also like to see our Thanksgiving Planner, Meal Planning Printable, or Spring Cleaning Checklist.