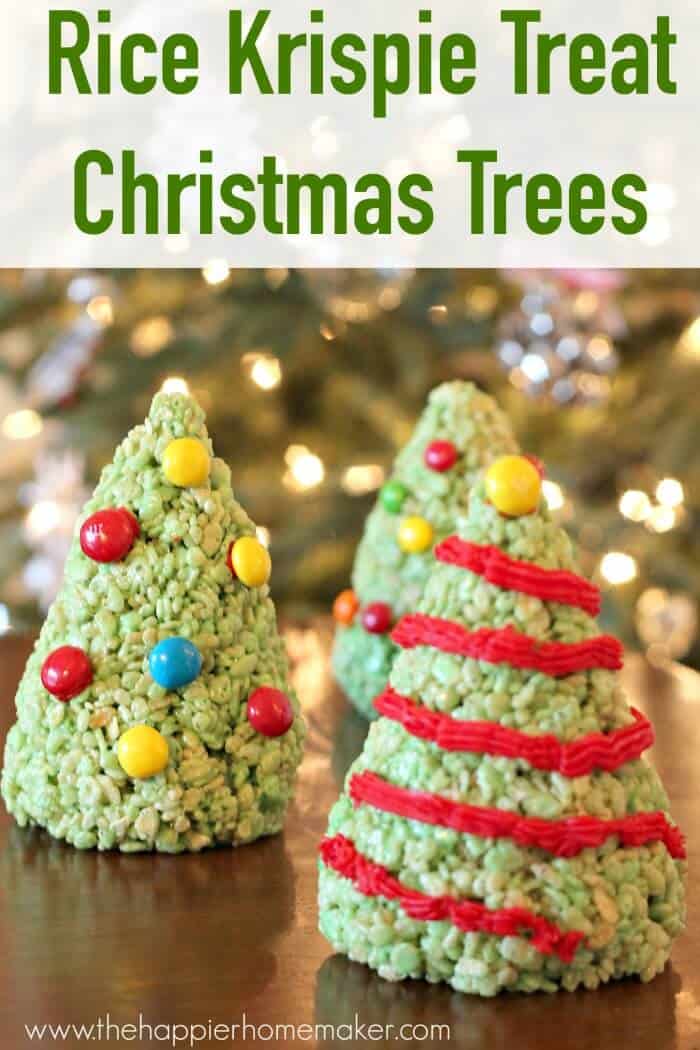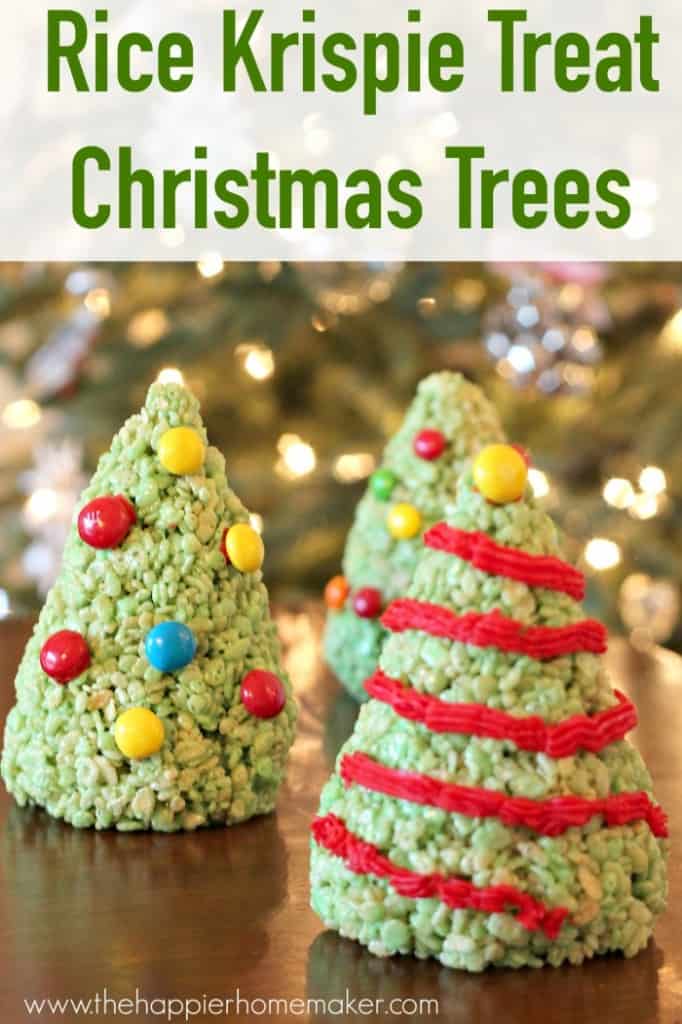 We're pretty big fans of Rice Krispie treats around here…I've posted my secret recipe for getting them to turn out perfectly every time as well as how we made Rice Krispie Treat Monsters as well. With the holidays in full swing my boys wanted to make Christmas Tree Rice Krispie Treats to decorate last weekend so we gave it a go and they turned out pretty cute! We started by melting the butter and marshmallows as always.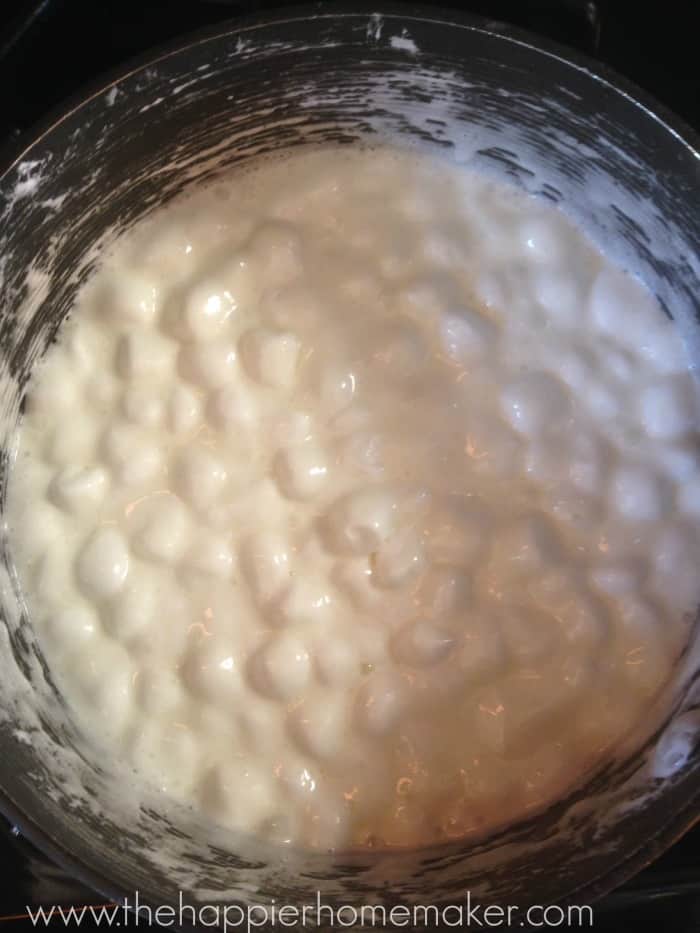 After adding my secret ingredients we added green food coloring until it was a little darker than we wanted for the end result-like we learned with the Rice Krispie Treat monsters we made, the color lightens once you add the cereal.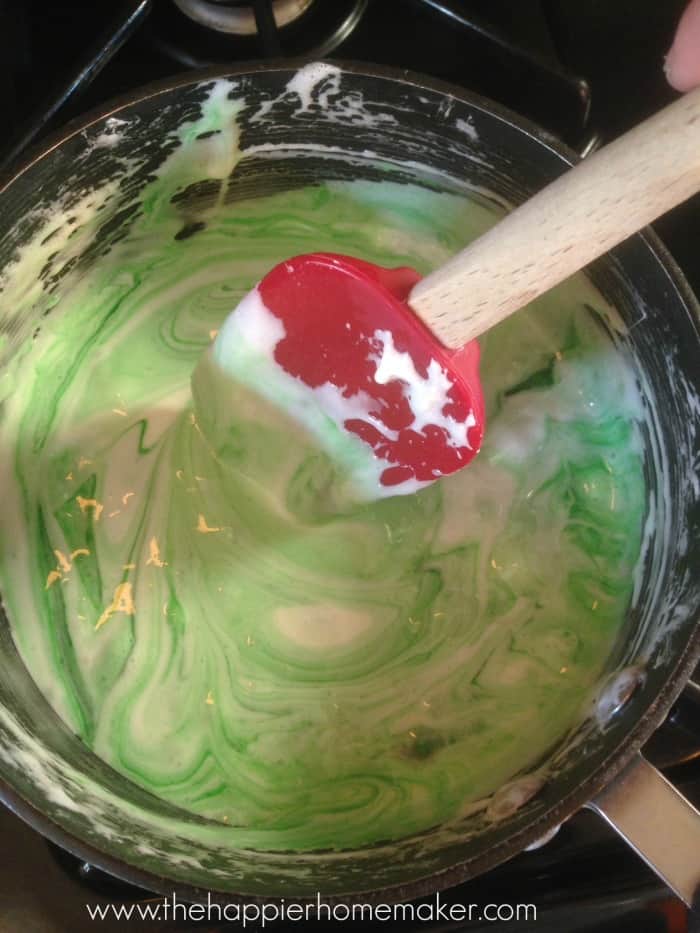 Pour the mixture over the rice cereal and mix well.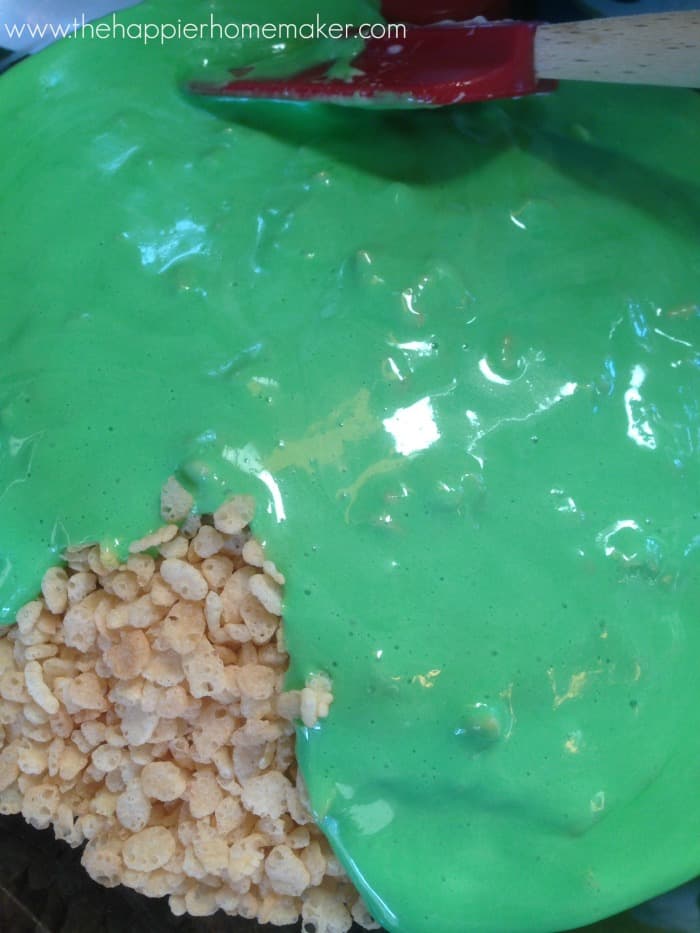 Let the mixture cool for about 5 minutes then spray your hands liberally with nonstick spray.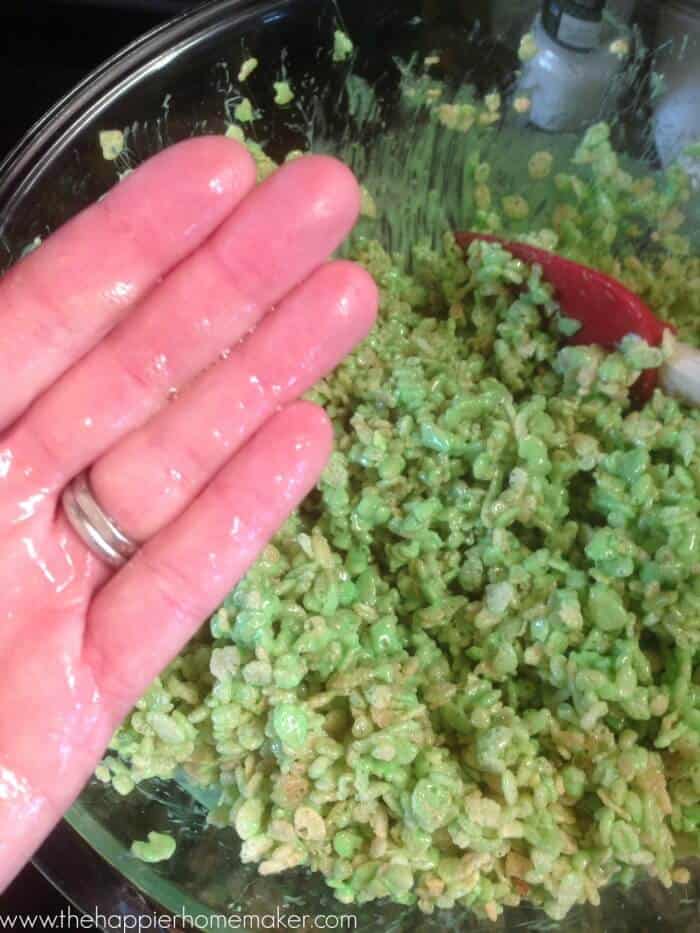 To get the cone shape I used a sugar ice cream cone as my base, forming the Rice Krispies around the cone-I tried to have my seven year old take a picture, sorry for the blur!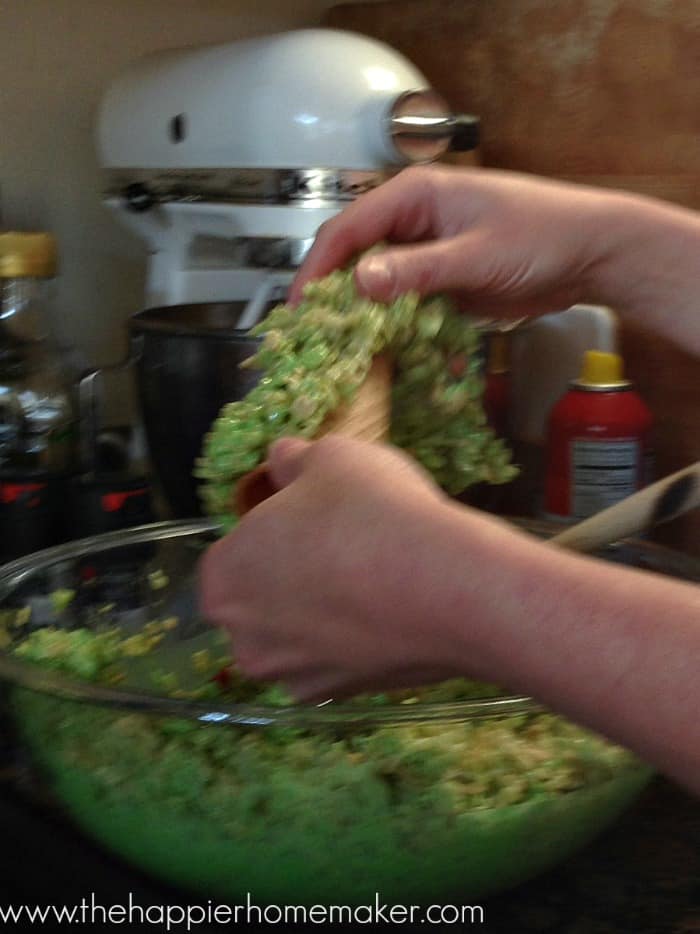 Once the cone is covered with the Rice Krispie mixture let it sit to harden. Keep and eye on them until they are firm-mine kept wanting to sag or lean a bit so I just kept adjusting them as they were hardnening to keep them in the proper shape, it was only about 5 minutes until they were supporting themselves.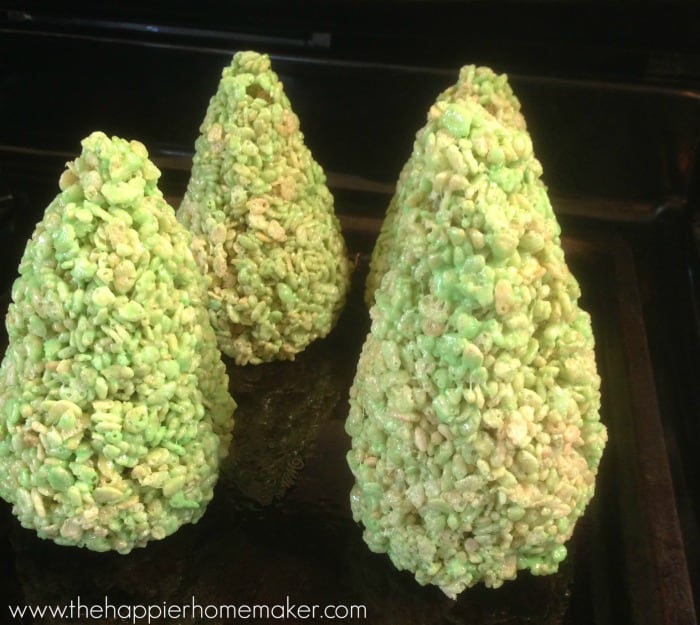 After the trees are totally cool and hard use icing and candies to decorate-we used M&Ms and Skittles but you could get really creative with this-and it's a great use for leftover Halloween candy that might be hanging around the house still! (Use a dab of icing to attach candies to the trees.)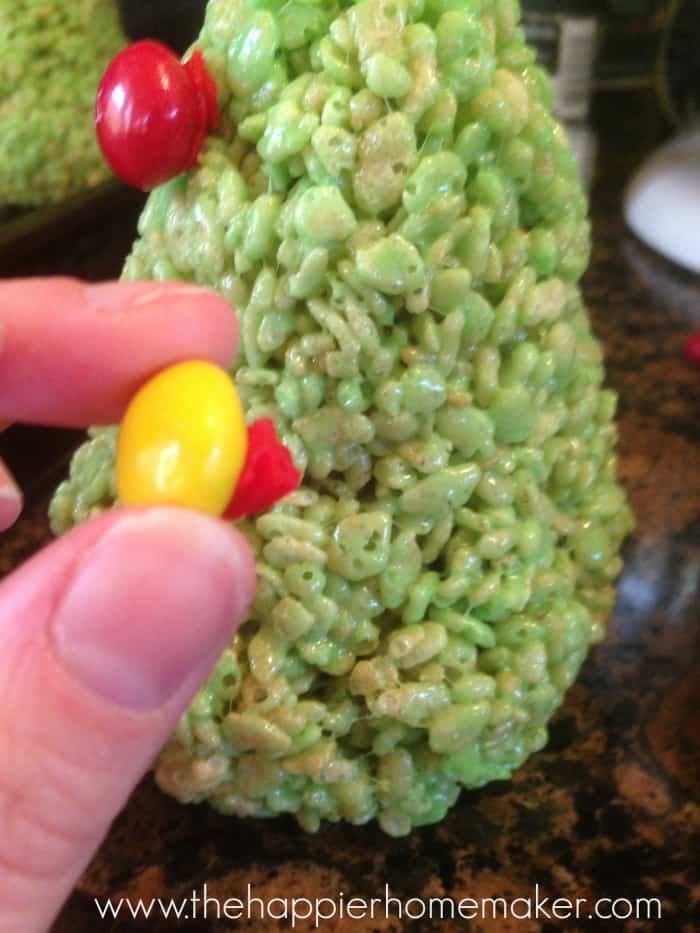 I think this is a super cute kid's activity and they were fun to make with my three boys! The trees are big and a little labor intensive though (we only made four from the whole batch of treats) so it's probably not an activity for a large group.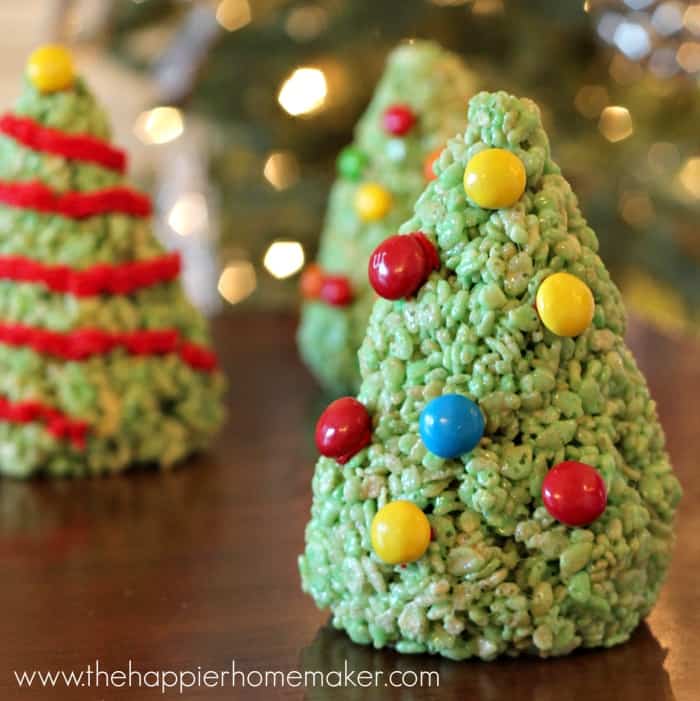 Ingredients:
10 oz bag mini marshmallows
4 tablespoon unsalted butter
1 teaspoon vanilla extract
pinch of salt
6 cups Rice Krispie cereal
sugar ice cream cones
green food coloring
candy and icing for decorating
Directions:
Melt butter and marshmallows in a medium saucepan over low heat, stirring constantly.
When totally melted remove from heat and add salt, vanilla, and food coloring until desired color is achieved.
Pour mixture over rice cereal in a large bowl and mix with a spatula until uniform.
Allow mixture to cool for 5 minutes.
Form rice krispie treats over sugar cones to create a tree shape.
Set trees on flat surface until hardened.
Decorate as desired.