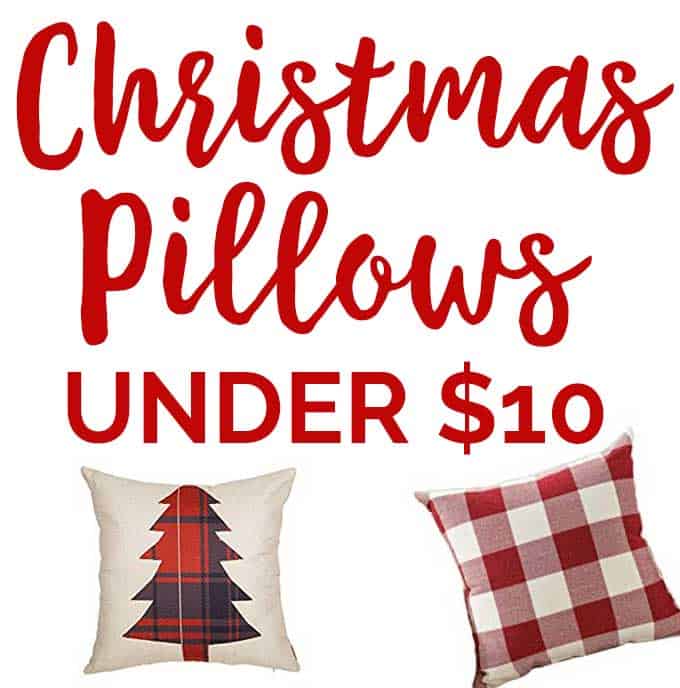 Are you all decorated for Christmas yet? Each year I like to change up my decor a little bit and one of the easiest and most inexpensive ways to do that is with pillow covers (and of course the free printables I always share with you all!) Today I want to share some of my favorite Christmas Pillows under $10!
To keep things inexpensive I opted for pillow covers instead of full pillows, I also included some sets that are over $10 but offer a low per pillow cost. I included below if there was free shipping or Amazon Prime shipping as well for more savings. (I rarely buy something not on Amazon Prime-Try Amazon Prime 30-Day Free Trial
.)
Enjoy and let me know in the comments which are your favorites! Simply click the picture or link to go to the pillow cover to see more.
Six Pack Pillow Covers $14.99
Two Snowflake Covers $17.99 with Prime shipping

4 Pack Pillow Covers $16.89 with free shipping

Set of Two Traditional Pillows $10.99 and Prime Shipping!


Buffalo Check Pillow Cover $9.99 with Prime shipping


Set of 2 Striped Velvet Pillows $11.89 with free shipping


Reindeer Buffalo Check Pillow Cover $8.99 with Prime shipping


Set of 4 Red & White Christmas Pillows $35.99 with Prime shipping


Plaid Christmas Tree Pillow Cover $9.99 with Prime shipping


Set of 4 Neutral Christmas Pillows $35.99 with Prime shipping


Set of 4 Colorful Santa Pillows $14.99 with Prime shipping


Embroidered Snowflake Pillow Cover $6.99 and free shipping


Set of 2 Sequined Silver Pillows $15.49 and Prime shipping


Set of Two Antler Christmas Pillow Covers $13.99 with Prime shipping