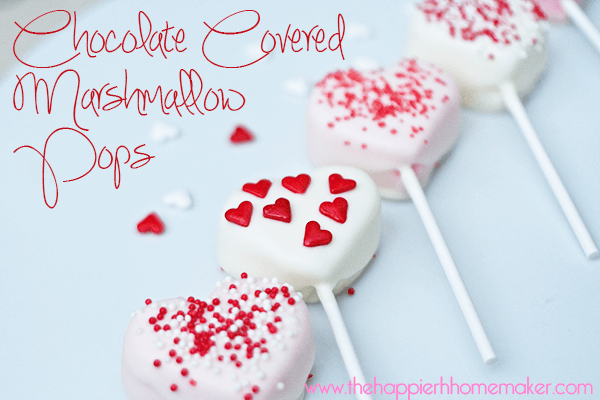 Did y'all see the last minute Valentine's Decor ideas I shared yesterday-my bloggy friends have some amazing projects you still have time to make! As for me, I'm ready to focus on the tastier side of the holiday!
Do you have your Valentine's Day treats ready to go? My boys and I spent yesterday afternoon making some sweets for my oldest to take to his Kindergarten friends on Thursday. Marshmallows are the gold standard in treats over here so we made chocolate covered marshmallow pops! These were super easy-so easy the my six and four year olds were able to make them all on their own!
What you need:
Heart Shaped Marshmallows
Vanilla Flavored Almond Bark Baking Bar
1 tbsp Vegetable Shortening
Valentine's sprinkles
Lollipop sticks (find these in the candy-making or wedding section of your store)
parchment paper
Place your Almond Bark bar in a microwave safe bowl and add the vegetable shortening. Microwave for 90 seconds and stir. Continue to microwave in 15 second interevals stirring in between until smooth. In the meantime prepare your pops by inserting the lollipop sticks into the bottom of each marshamllow.
Dip each marshmallow in the melted chocolate, covering compleetly and tapping on the edge of your bowl to remove excess before laying on parchment paper lined baking sheet. Add sprinkles while chocolate is still wet. (I worked in sets of about six at a time so I could add the sprinkles before the chocolate started to harden.)
Place in the fridge for ten minutes to set chocolate and you're done!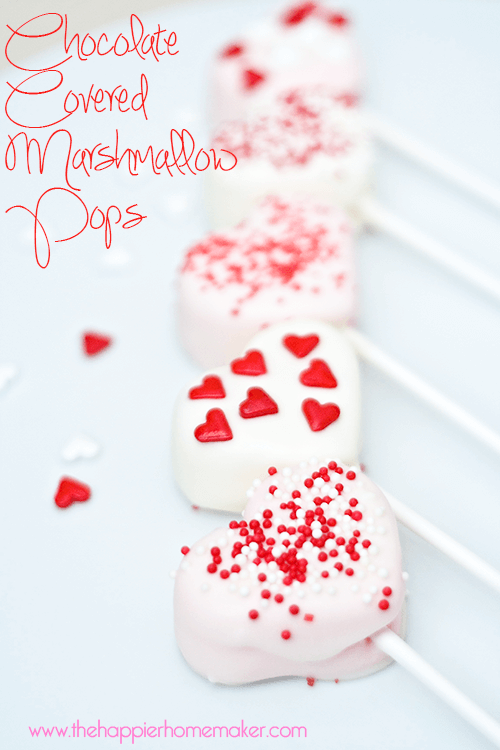 I used Wilton Pop Treat bags to cover the ones that Jack will be taking to school on Thursday and they worked out great. I think his classmates will really like them…and we may have made quite a few extras for ourselves!
What are your favorite treats to make on Valentine's Day? Have you checked out my Strawberry Heart Cheesecake Bites? They'd be perfect to make this week as well! And don't forget to check out my Valentine's Day crayon printable if you prefer non-food Valentines as well!