Spending time with your special someone doesn't have to break the bank. We gathered up a whopping 100 cheap date ideas to help keep the romance alive without busting your budget!
Free & Inexpensive Date Ideas
If you've been around here a while you know that I'm all about saving money and living debt-free. When we were working to get out of debt we had to get creative with our date night ideas. We learned that with a little creativity you can have a blast without spending a fortune (or spending anything at all in many cases!)
I've compiled a great list of 100, yes 100, fun and cheap dates night ideas, (and some are totally free date ideas!) most should be under $20 (depending on where you live.) So no excuses this weekend-go out with your honey and have some fun!!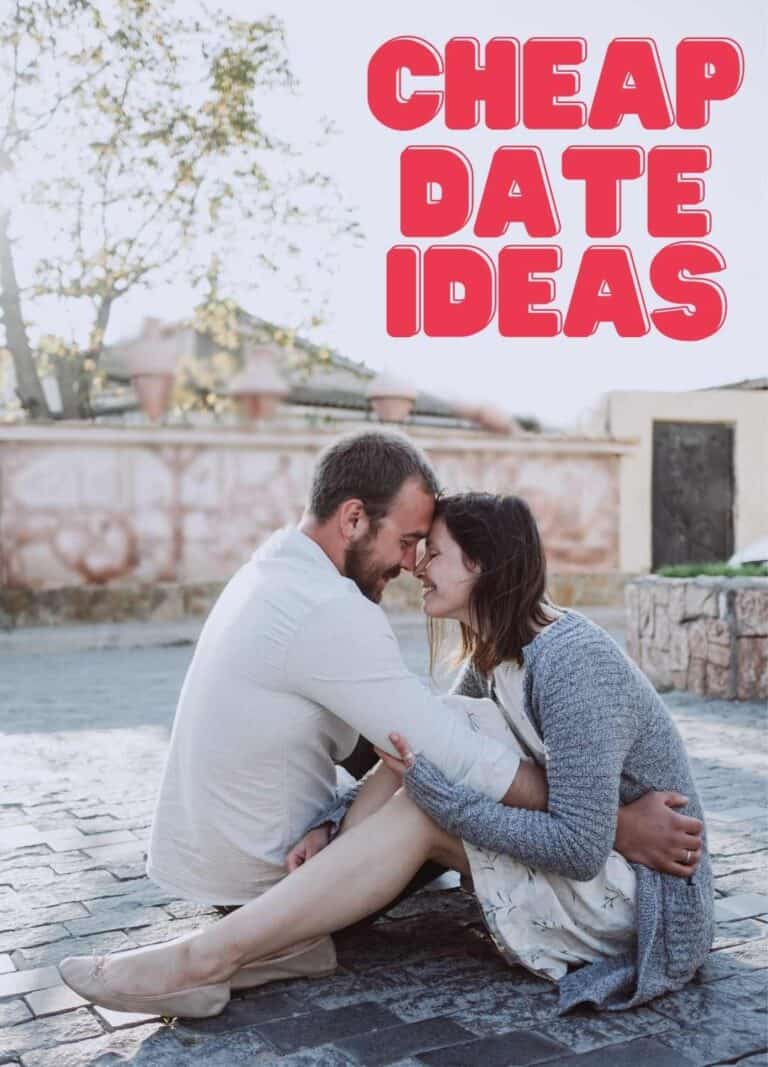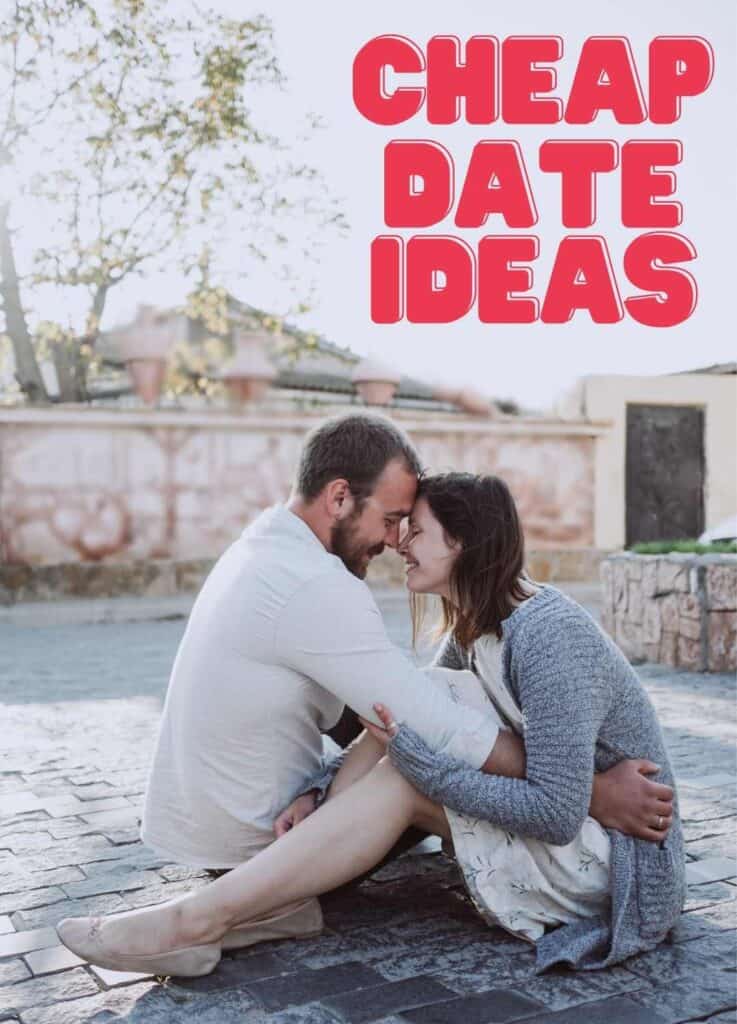 Outdoor Dates
Hiking-Find your nearest state or county park and spend some time outdoors together. Hiking is the perfect activity to be active and still be able to have great conversations!
Pick seasonal fruit or berries-Summer is perfect for picking blueberries or strawberries, while fall offers pumpkin patches and apple picking!
Rock Climbing-Get adventurous and find a local rock climbing area or indoor climbing facility. You'll challenge yourselves and make great memories in the process.
Fly Kites-Flying kites is cheap and surprisingly fun, you'll feel like kids again! It makes for guaranteed laughter, I promise!
Camping-Pack your tent and find the nearest local campground. Make s'mores around the campfire and sleep under the starts for a date night to remember.
Visit a Farmer's Market
Go Stargazing does it get more romantic?
Watch the Sunset together grab a blanket, pack some wine and cheese and choose a great spot to watch the colors of the sunset
Have a picnic pack your favorite foods and pick a picturesque spot
Have a bonfire and make S'mores
Rent a tandem bike and go for a ride
Go Canoeing or Kayaking rentals are very affordable
Play Frisbee
Take a day trip to a lake, beach, state park, or mountains enjoy the beauty of nature near where you live
Go sledding
Go fishing
Try geocaching
Build a snowman
Take a slow walk around your neighborhood holding hands just enjoy each other's conversation and maybe take a walk down memory lane
Visit a local park or playground and play like you're 8 again!
Go snorkeling if you are near a beach or lake
Have a water gunfight
Feed ducks at a lake
Take a run together
At Home
Board Game Night-Gather up your games and make a night of it, better yet make it a double date and invite friends to join in.
Exercise together
Have a Netflix TV Series Marathon
Poker Night
Cook a new, exotic recipe together
Work on a Puzzle together
DIY Fondue at home
Have a Shrimp Boil
Have a Redbox movie marathon
Bake cookies together
Have a candlelit dinner at home
Write a Bucket List together dream up adventures you'd like to share
Have a themed cuisine night at home-Italian, Mexican, etc
Have an at-home romantic spa night-bubble bath, lotions, you get the picture!
Under $20
Rollerskating - indoors or out!
Bowling - look for discount nights!
Minor League Baseball- less expensive than the major leagues but still so much fun!
Paint your own pottery
Attend a Wine Tasting (or have one with friends-everyone bring one bottle to share!)
Happy Hour move date night earlier and get a discount on your cocktails!
Go out for Ice Cream
Attend a showing at a Dollar Theater check your theater for discounted showings
Go to the Arcade and play video games there's nothing like some old school pac-man!
Play miniature golf Putt-putt or mini golf is fun and inexpensive
Ride Go-Karts
Play at the Batting Cages
Play Laser Tag we did this recently and I had side stitches from laughing so hard, it was a blast!
Go to a Fair
Attend a Matinee Movie another case of how moving the time of your date can help you save cash!
Visit a Winery take a tour and try the wine flights after, they are usually quite affordable and a great way to taste test the wine
Play pool (billiards)
Take a Ballroom Dance Class, many studios offer your first class free
Attend a High School Football game cheer for your local team!
Go to the circus
Play tennis you can often find very inexpensive rackets on Craigslist or Facebook marketplace if you don't already have them
Go horseback riding
Play bingo at a Bingo Hall
Attend a show at a comedy club earlier shows are often less expensive than late night shows
Go to a drive-in movie
Visit an aquarium
Take a class at a community center and learn a new skill
Go to the Zoo
Tour a brewery. Like the wineries, they often have inexpensive flights to taste their different brews
Go to a carnival
Take a cooking class together
Go out for breakfast at a local diner breakfast is less expensive than a dinner date most of the time!
Enjoy a cup of coffee at a coffeehouse and people watch
Have your palms read
Go to a driving range
Around Town
Volunteer together
Tour Open Houses in your area - for the House Hunters lovers!
Browse Art Galleries
Attend a local Community Concert
Go Thrift Store Shopping spend some time finding treasures together! Flea markets are another fun place to explore.
Find a local Historic Tour
Attend a Community Theater Performance
Swim at a community pool
Attend a "Free Day" at a museum most museums have monthly or quarterly discounted or free admission days, take advantage!
Take a walking tour of a nearby town or city
Sing Karaoke fun and free!
Visit a local farm or petting zoo
Visit a Botanical Gardens
Visit the library and browse books/read together
Take a Scenic Drive together make sure you stop to explore anything interesting you come across!
Go garage sale hopping
Test Drive your Dream Car
Tour a local factory
Attend a local festival check your newspaper for things happening in your area
Attend a poetry reading
Look at travel books at the bookstore and plan a dream vacation
Attend an Open Mike night at a local coffeehouse or bar
Help out at a local animal shelter together
Go window shopping at stores you can't afford
Attend a lecture at a local university or college
See a local band play you might just find the next big stars!
Walk around town taking silly tourist-y pictures
I hope you found some inspiration in this list of free and cheap date ideas...did I miss any fun dating ideas? Leave them in the comments! You can also look at my money-saving DIY Gift ideas as well!