Complete, honest Butcher Box review including price comparisons, how the meat delivery works, and a coupon code for free meat when you make an order.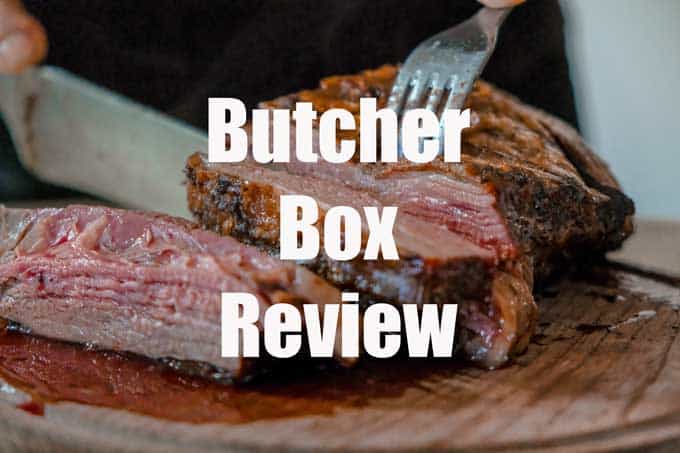 Over the past eight years here on the blog, I get a lot of questions about where I shop and where I purchase certain things. One of the biggest things I get questions about is why and how I use Butcher Box. I made you an honest Butcher Box review video to answer all your questions today! Watch the video if you'd like, then read on below for more details including a Butcher Box Promo Code for you.

Thank you to Butcher Box for providing me with this particular box for this review, as always my opinions are my own. **This post contains affiliate links and I will be compensated at no extra cost to you if you make a purchase after clicking on my links
Why do I use Butcher Box Meat Delivery?
I use Butcher Box because I want to feed my family free-range, antibiotic and hormone-free meat. Years ago I attended Clemson University as an Animal Science major. Part of that degree program is farm animal health.
Having grown up with farmers as grandparents on both sides of my family I was familiar with smaller, family farms as a concept but the realities of large-scale farming was a wake-up call. I hated some of the conditions I saw during my studies. Many farms gave the animals no quality of life, instead of trapping them in small pens for the sake of an extra buck. I hated it.
Since then I have always chosen cage-free eggs and grass-fed free-range meat whenever possible for my family. I also prefer hormone and antibiotic-free meat. Butcher Box offers all of this at a great price point. In my area, we are not close to a natural foods store so I also love that it's delivered straight to my door!
What Kind of Meat Does Butcher Box Offer?
100% GRASS-FED AND GRASS-FINISHED BEEF
We guarantee that ButcherBox Beef is 100% grass-fed and grass-finished. That means our cattle are free to range on grassy pastures throughout their entire lives, suckling from their mothers for the first 6 to 9 months, then eating their natural diet of grass. Thanks to the climate, they graze year-round, with access to shelter when needed. They are never fed grain or kept in feedlots. Besides being delicious, the health benefits of eating grass-fed, grass-finished meat are abundant.
ORGANIC AND PASTURE RAISED CHICKEN
Our free-range organic chickens spend their days roosting in barns and exploring the outdoors. Along with thoughtful enhancements such as hay bales and places to climb (chickens love to jump up to high places!), we make sure they stay stress-free at each stage of life. The result? Birds that are juicy and unbelievably flavorful.
HERITAGE BREED PORK
Heritage breeds are traditional breeds of pigs that were raised for food in the past, but their numbers dwindled during the rise of industrial agriculture. In the last 15 years, almost 200 breeds of farm animals have gone extinct worldwide.

Heritage breeds are better adapted to withstand disease and live in open pastures. They don't need constant doses of antibiotics or temperature-controlled interiors the way that factory farmed animals do. Some heritage breeds take longer to grow to market weight. These breeds are often more delicious, so the wait is often worth it. To be considered a heritage breed, an animal has to have unique genetic traits and be raised on an organic and sustainable farm.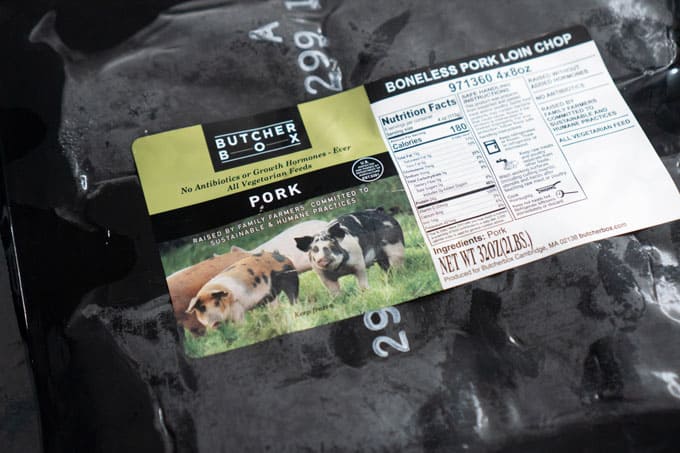 How Does Butcher Box Work?
Butcher Box is a monthly subscription service. They are not a store or a farm but rather a distributor of meat. They act as a liaison between smaller family farms or cooperatives and customers like you and me looking for a higher quality of meat than what can be found in an average grocery store.
Each month you get to choose what package of meat you'd like. You also specify if you want a delivery either every month or every other month. There are also add-ons if you'd like, like single packages of bacon or sausage.
Current package options are:
Mixed Box (contains beef, chicken, and pork )
Beef & Pork
Beef & Chicken
All Beef
Custom Box
With the first four options (Mixed Box, Beef & Pork, Beef & Chicken, All Beef) the cuts of meat are chosen for you. You choose what type of meat and they send cuts based on what they have at the time. With the custom box, you get to choose exactly what you shipped.
Each package comes in either the Classic size (9-14 lbs of meat for about 24 meals) or Big (18-26 lbs of meat for about 48 meals).
How Much is Butcher Box?
No Butcher Box review would be complete without getting to the nitty-gritty: how much does Butcher Box cost? Here is the current breakdown:
Mixed Box / Beef & Pork / Beef & Chicken / All Beef: $129 for a Classic Box, $238 for a Big Box.
Custom Box: $149 for a Classic Box, $270 for a Big Box.
Butcher Box breaks it down by meal, assuming 6-ounce servings so the website lists options according to how many meals it makes. The price breakdown tends to range from $13-$14 a pound. This is pricier than most grocery stores but I find it pretty in line with natural food stores for the same quality of meat. For me, it is worth it to order to supplement what I can find locally and it's so convenient to have it delivered right to my door!
When I first started I also looked back at my grocery receipts from the previous month and realized for my family of five I was spending WAY more than I thought on meat so the initial sticker shock wore off once I realized that and compared costs.
Butcher Box Coupon Code!
If you click through this link you can currently get one of their most popular promotions – GROUND BEEF FOR LIFE!
August 22nd through September 30th, new customers who sign up for a ButcherBox subscription will receive 2lbs of free ground beef in every order for the life of their membership. Never pay for ground beef again!

Butcher Box
So there you have it, my complete honest Butcher Box Review! For more reviews, check out my Naked Wines.com review as well!