It's finally here-the big reveal of the playset area! We're actually packing up our moving truck today but I know that our renters will love the playset's new improved look. First refresh your memory with my plan and progress posts-remember the rocks covering the french drains? The patchy, weedy grass? Well here is the new, improved playset area!!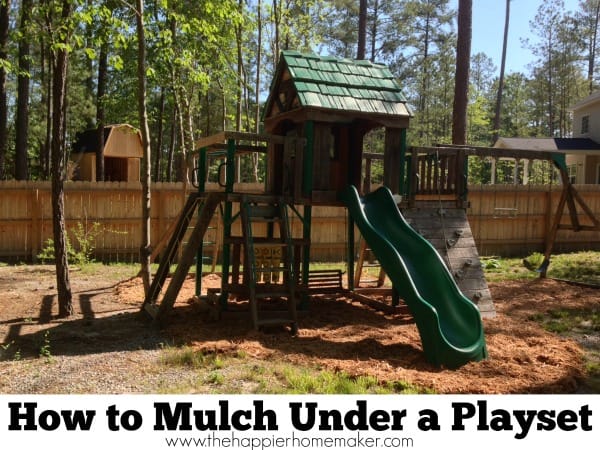 Doesn't it look so much better?? And I love that it's safer for the kiddos to play on now as well-no more sharp rocks under for little ones to fall on, now it's a nice soft landing!
Last time I shared how I applied the Spectracide Weed & Grass Killer on the entire area under the playset. Within a day you could already see everything I sprayed turning brown:
The taller plants took a little longer to totally brown but you can see they were dying as well.
Before putting down the mulch we decided to lay down landscape fabric as an additional preventative measure so more weeds wouldn't eventually come up.
I cut the fabric and laid it down slightly overlapping the edges to make sure nothing got through.
The entire process took me 2.5 rolls of landscape fabric, 27 bags of no float cypress mulch, and about 3 hours. The cost was about $80 for the landscape fabric and mulch. I'm super happy with the way it turned out!
It looks so much better and I have a lot more peace of mind that our tenant's children will be able to safely enjoy the area.
The planting in the wet area above the natural spring are beginning to fill out as well...we'll be in our new home before they completely fill in the muddy area and rocks but the creeping jenny I planted is flourishing as ground cover and our hostas and aquatic mint are doing really well also!
Oh! And remember how I mentioned using the Spectracide Wasp & Hornet Killer in my last post? Well luckily I kept it nearby because we've already had to use it again on the playset! Here's my handsome hubby saving the day from the invading wasps!
So that's that! Thanks so much for following along with our project...we'll be unpacking in our new townhouse near DC tomorrow and I'm so excited to share the progress with you so be sure to follow along on Facebook and Instragram!