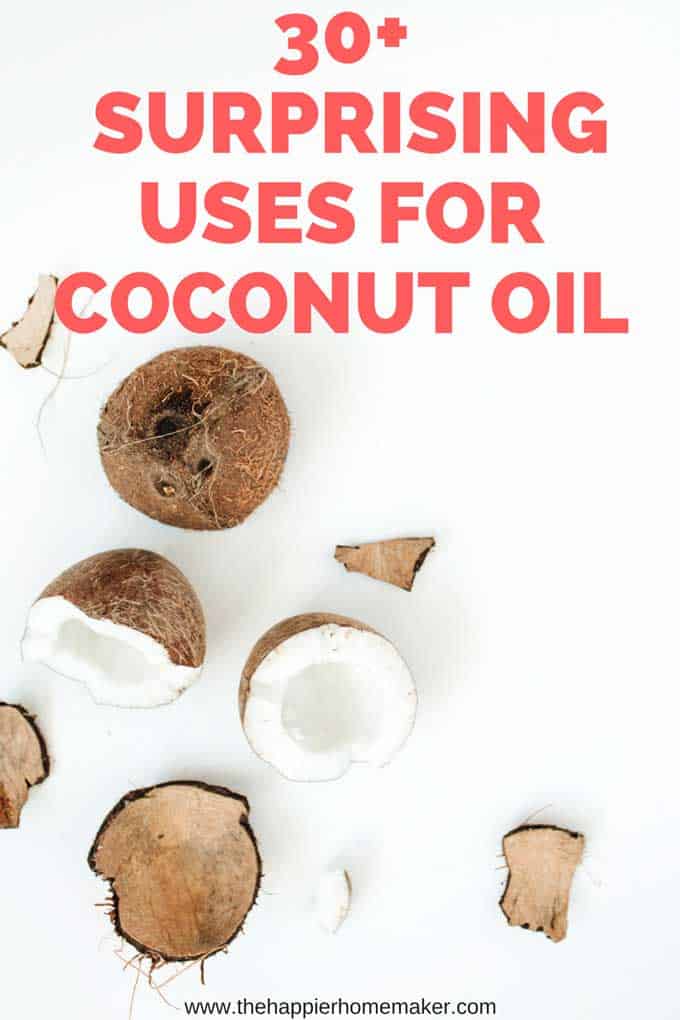 I love coconut oil-I'm seriously never without it in the house. When we moved from England back to the US this summer it was one of the must have items I bought on my first grocery trip to stock up our new house. I've shared so many different ways I use coconut oil here on the blog but since I've never listed them all I wanted to share that with you today!
Hair:
Frizz Fighter-rub a small amount between your hands and use to smooth frizz
Use to get gum out of hair-just rub on the gum and work out of the hair!
Skin:
Coat raw red stuffy noses on to protect skin
Skin moisturizer- rub a light layer on after the shower
Homemade Eye Makeup Remover-mix 1 cup water, 1 1/2 tablespoons tear free baby shampoo and 1 tablespoon coconut oil-mix and wipe with a soft cloth
Add a few drops of tea tree oil to a tablespoon of coconut oil and massage into scalp to help dandruff or cradle cap
Cuticle Moisturizer- rub on to cuticles daily to keep soft
Mix with a few drops of skin-friendly essential oil for a homemade massage oil
Recipes:
Substitute for butter on toast
Add a tablespoon to smoothies for a flavor kick
Mix half and half with butter for popcorn
Add a teaspoon along with your favorite sweetener to coffee as a non-dairy alternative
Replace vegetable oils in any recipe
Home:
Mix one part beeswax with 3 parts coconut oil for a "wood butter" to rub into wooden spoons, bowls, and cutting boards to prevent drying
Health:
Swallow 1/2 teaspoon to soothe a sore throat (or dissolve in hot tea)
Mix equal parts baking soda and coconut oil and add a drop of peppermint oil to make homemade toothpaste
Clean makeup brushes by rubbing with coconut oil to saturate then washing as usual
Diaper rash soother-rub a small amount on irritated skin to soothe it
Healthy fat supplement: over 50% of the fat in coconut oil is lauric acid. In fact, coconut oil is the richest source of lauric acid after breastmilk.
Use to dilute essential oils for topical use
Replace lanolin with coconut oil for nursing mothers with soreness or chapping
Massage into skin to help soothe itching from rashes or bug bites
What do you use coconut oil for? Let me know in the comments and I'll add it to the list!
Want more great recipes?
Join our community of over 20,000 everyday cooks and I'll send you an eCookbook with 13 of my favorite desserts as a welcome gift!