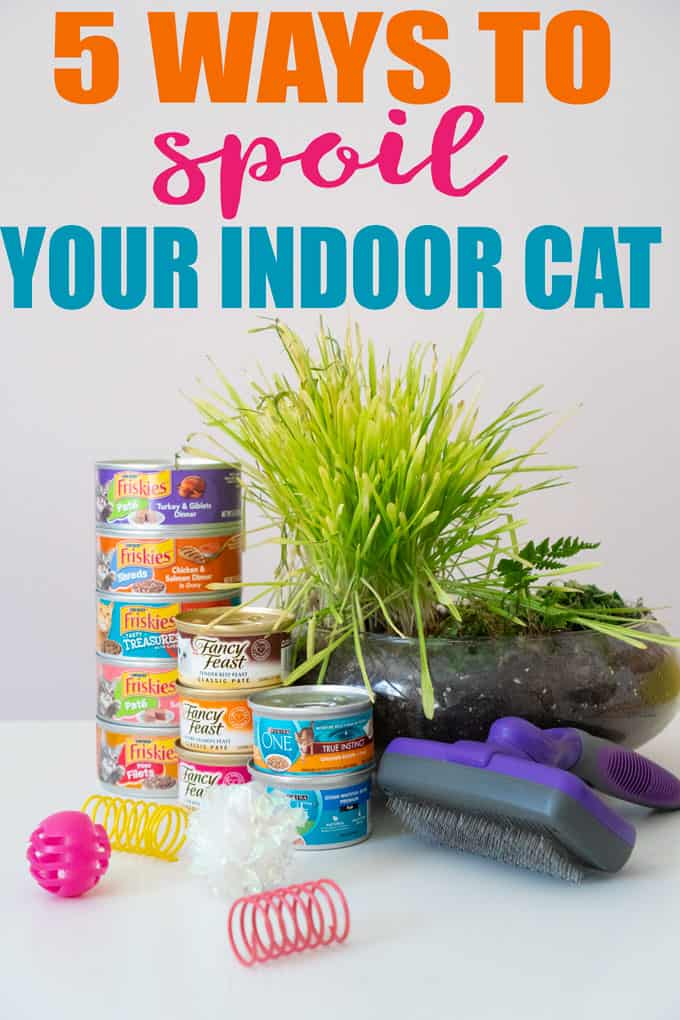 If you have been reading this blog over the past seven years, then you already know that I am a total cat person (don't tell the dog!) We rescued our current cat, Jinxy, two years ago. She is a total character, and I couldn't imagine not having her add laughter to our day. Because she is so loved, we go out of our way to pamper her with every indulgence that you can think of—like her favorite Friskies® cat food! Today, I want to share with you five ways you can spoil your indoor cat with love, too!
Fine Dining, Cat Style
Jinxy LOVES her wet cat food. In fact, I don't think I've ever had a cat that didn't love it. She not-so-patiently waits for her nightly meal every evening. In fact, if I'm not timely, she positions herself like this right smack dab in the middle of the kitchen for a subtle hint!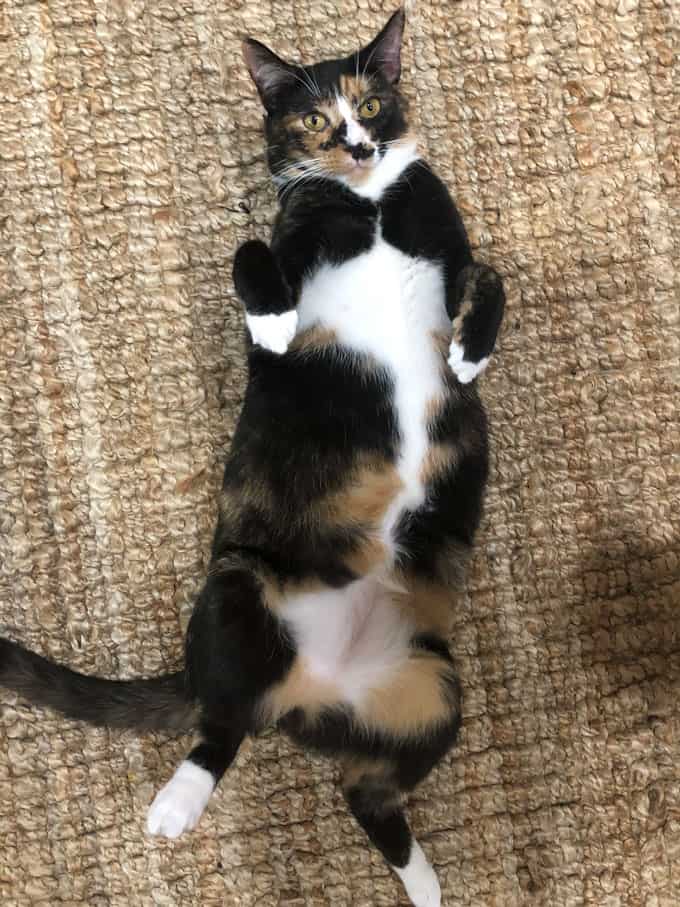 I love giving her a nightly meal of wet cat food. I alternate between Fancy Feast®, Friskies, and Purina® One varieties. She likes them all, but her very favorites are the Friskies pate flavors; you should see her attack her plate when those are on the menu! I feel good about giving her something she loves so much because I know it provides high protein for lean muscle and complete nutrition for her. It also provides hydration. Did you know that many cats don't get enough water? Adding wet cat food to your cat's diet is a great way to help them stay hydrated!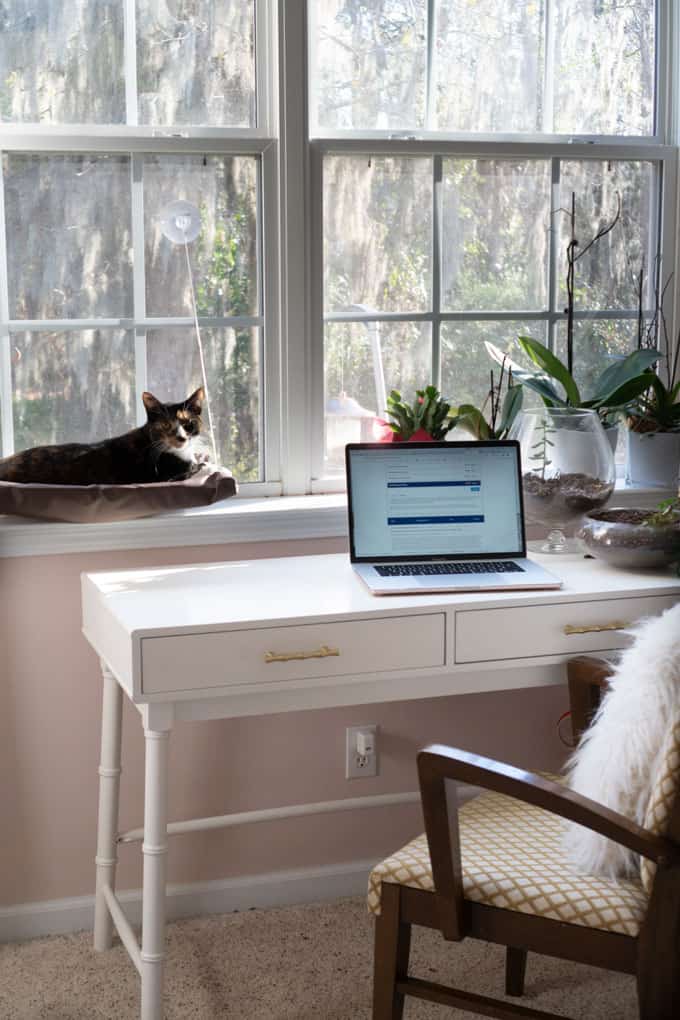 Give Your Cat a View
Purchase a cat window hammock or position a scratching post under a window to give your cat a view of the outdoors. Jinxy has a suction cup hammock that attaches to the window of my office. She has a great view of the backyard and a bird feeder I positioned outside the window. She spends the days with me here. As I work at my desk, she chatters at the birds and squirrels and is happy as can be!
Groom Your Cat
Did you know that cats engage in mutual grooming to express comfort and companionship? So if your kitty gives you a little lick, it's their way of showing love! Return the favor by giving your cat a nice brushing every now and then. Not only will it help reduce any excess shedding but it's an easy way to show your cat how much you love them! (And yes, Jinxy often sits on the couch like the picture above. I told you she's a riot!)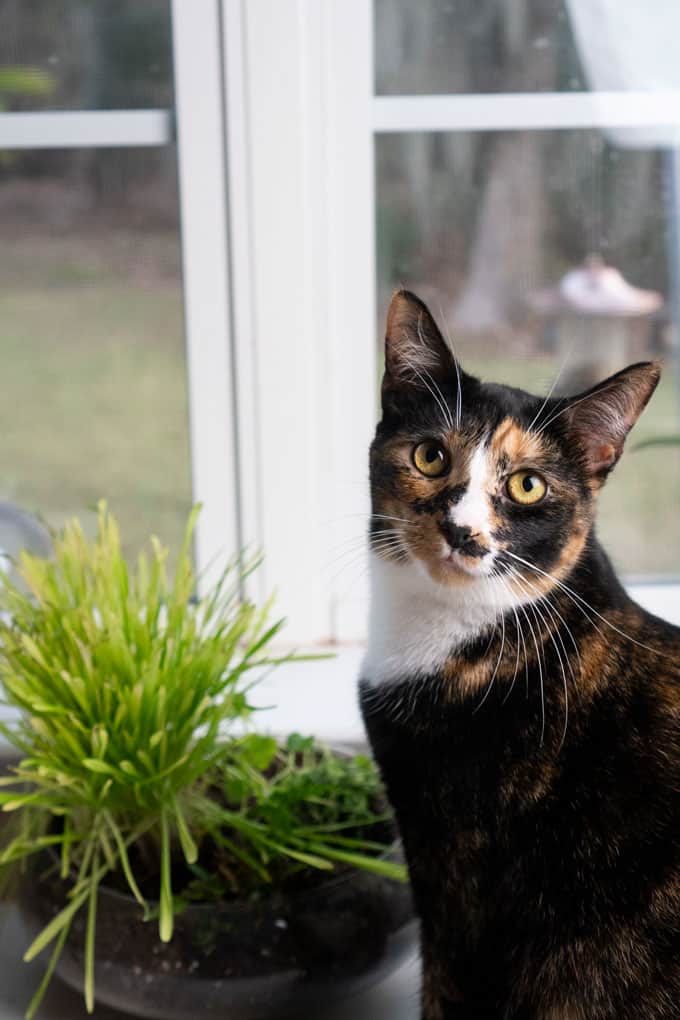 Bring the Outdoors In
It's no secret that most cats love getting into houseplants! We remedy that problem and indulge our kitty by keeping a little planter of cat grass and catnip just for her. See this post on making a DIY Cat Water Bowl Planter!
She loves to chomp on it and get her greens while I enjoy that it discourages her from doing the same on the rest of my plants!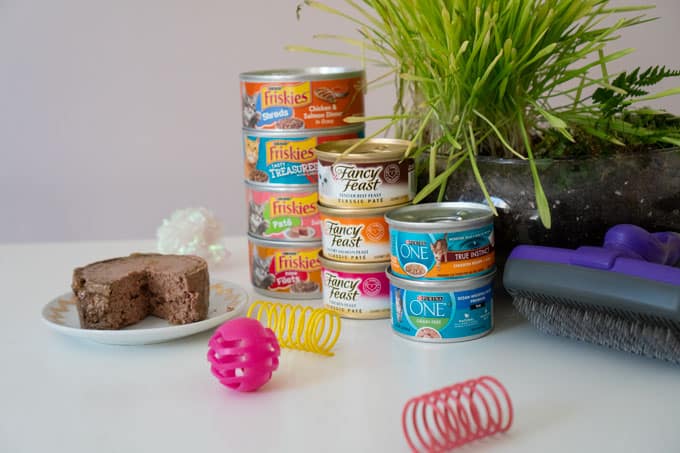 Bring on the Toys!
Providing your indoor cat with lots of toys helps keep them active and fit. Whether it's a laser pointer, feather toy, or jingling balls, anything that your cat finds engaging will help them to get moving. Jinxy's favorite toys are crinkle balls; she goes crazy over them, so we always keep extras on hand!
Do you pamper your kitty with any of these fun toys or keep her happily healthy with wet food?
You might also like this post on how to get rid of litter box smell.