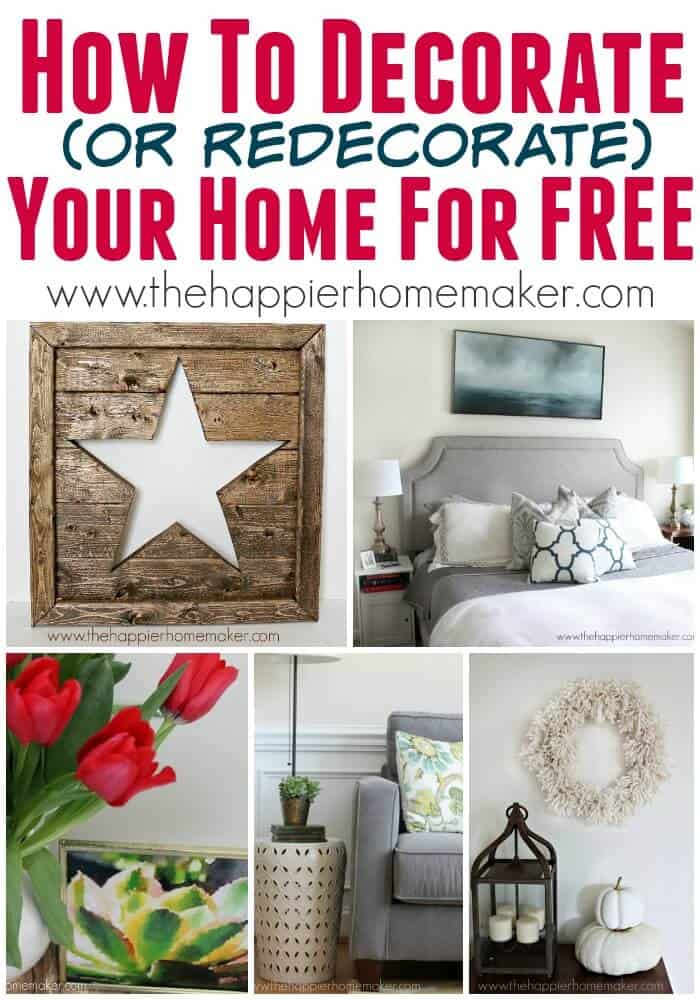 My husband and I set some goals this year to pay down debt and really tighten up our budget-which is great right? But what's a fickle decorating obsessed girl to do when I'm constantly wanting to change my decor? I've gathered some of my favorite tricks and tips to help you decorate for free-as well as some projects and ideas from some of my favorite bloggers to get you (and me!) inspired and change your space-without spending a dime!
Pillow Swap
Swapping pillows around the house is my all time #1 favorite way to quickly and easily change the look of my space. If you've been around the blog for a while you may have noticed that the same pillow will move around the house throughout the year. Like here in the bedroom:
To the living room: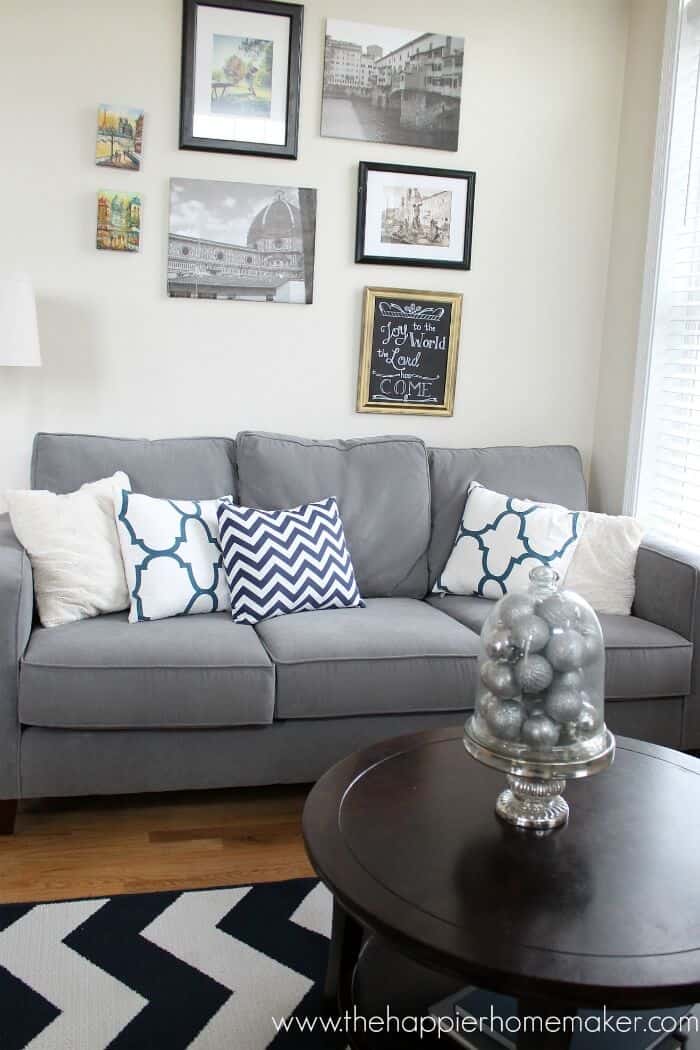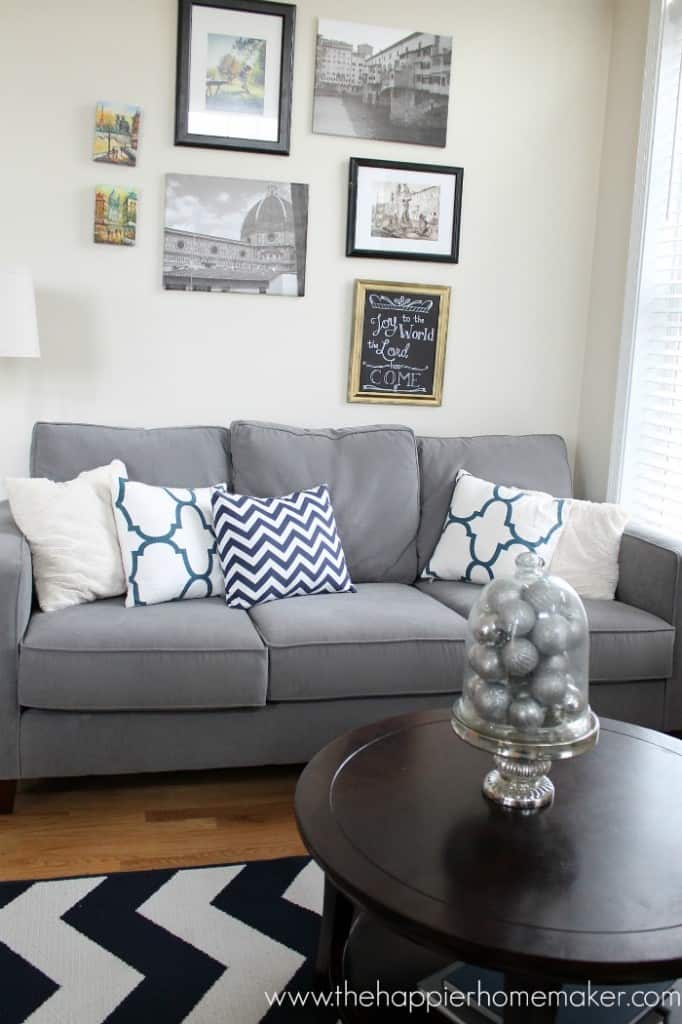 I love adding pops of color in the spring and summer while moving more towards neutrals and textures in the cooler months.
Spring 2013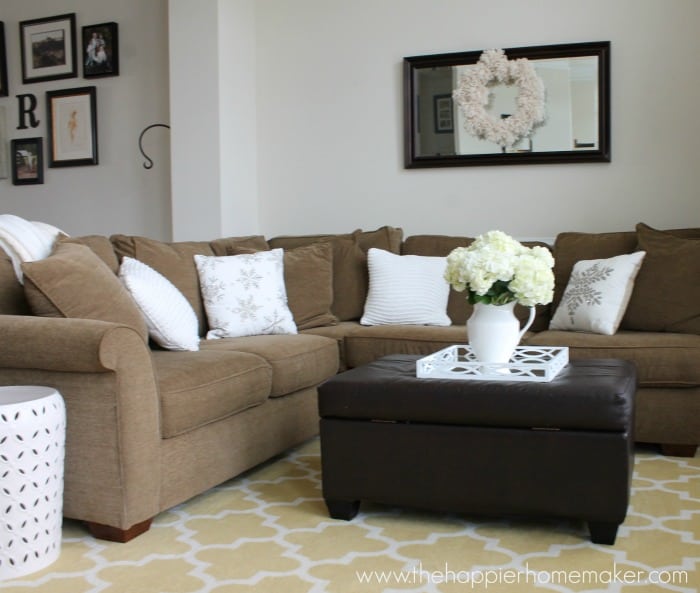 Winter 2014
And here's a little hint-I'll put a cover right over another pillow-I have some pillows with 3 or 4 covers on them, all layered! Less to store in the linen closet!
Create a Vignette
It's so easy to walk around your home right now and pull a few items out to create a pretty little vignette to display. Remember to keep items on varying heights and work in groups with odd numbers for the best effect.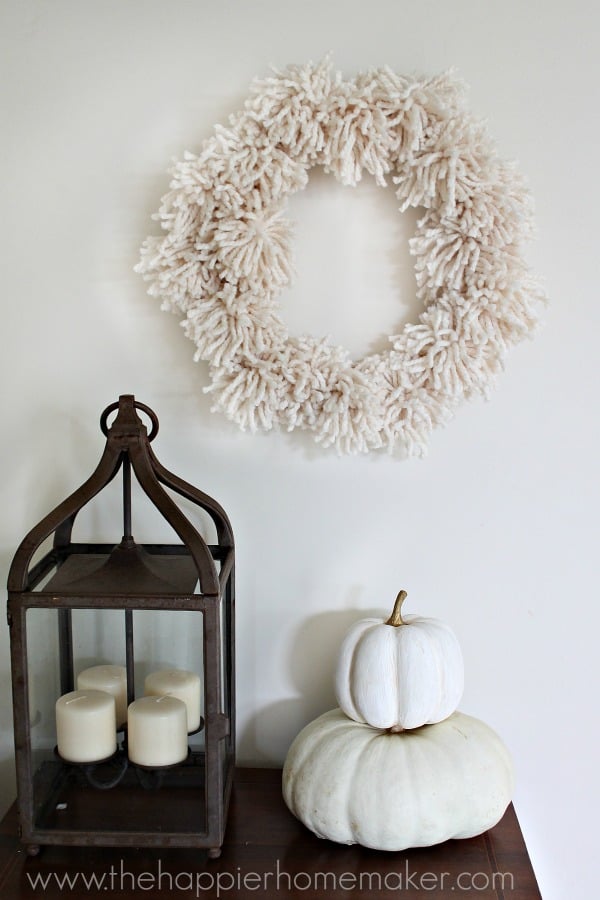 DIY Pom Pom Wreath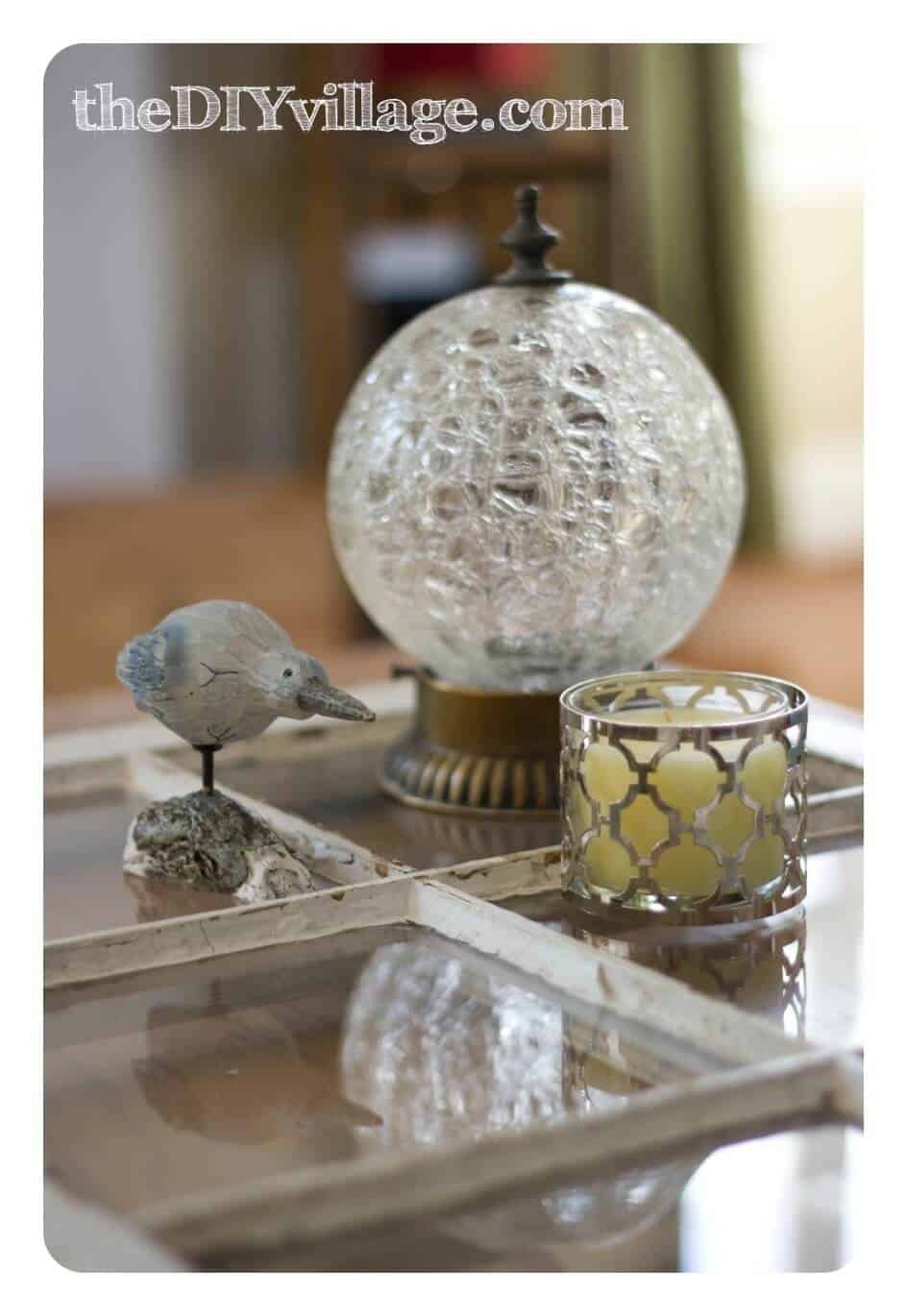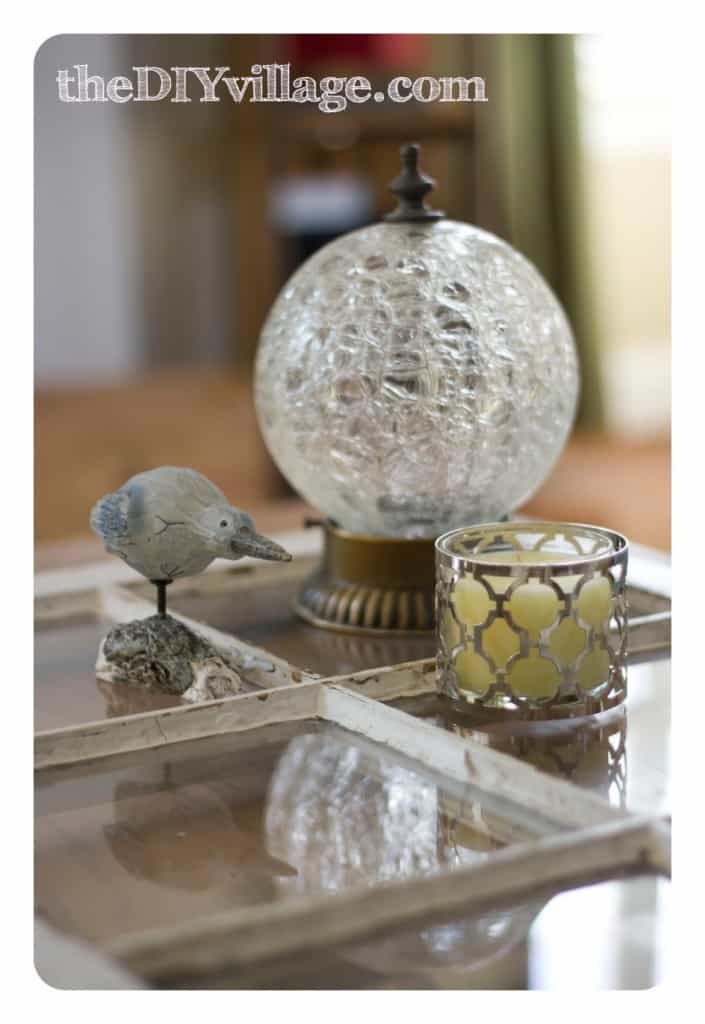 Vignette via The DIY Village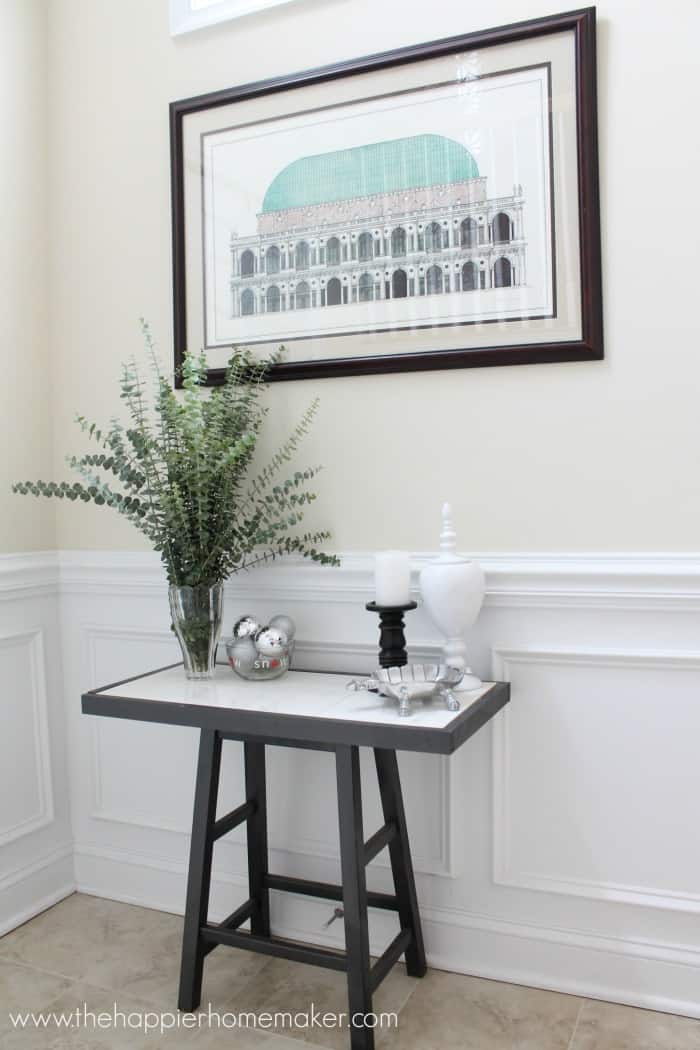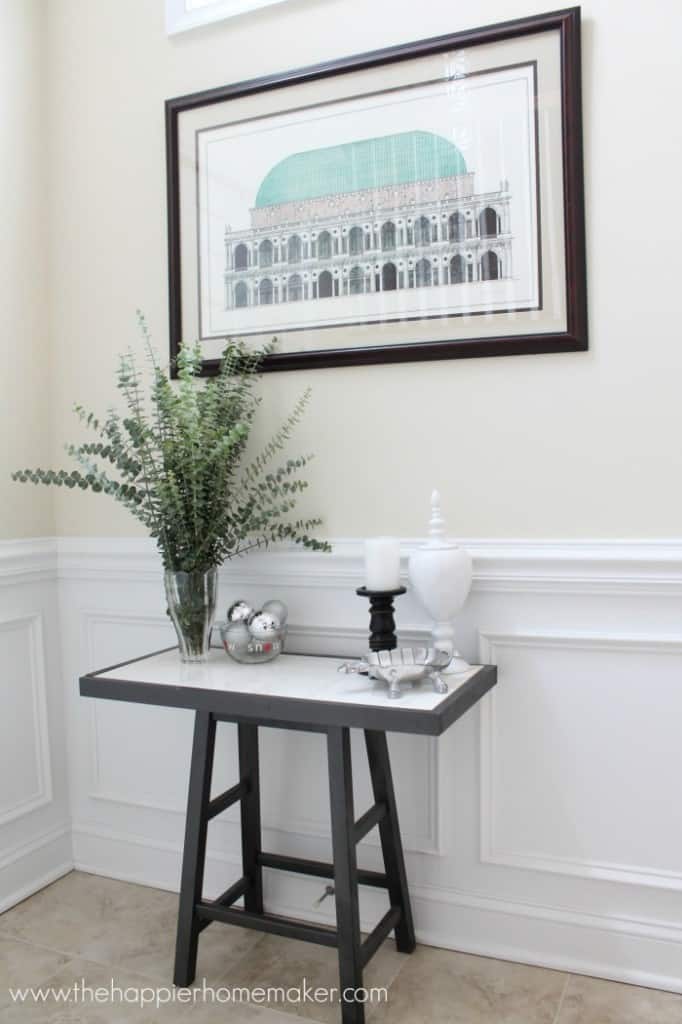 Entryway Vignette on DIY Marble Top Table
Bring in Nature
I love fresh flowers in my home but even when that's not in the budget you can find ways to bring a little nature inside without spending money. In the autumn display bowls of pine cones or acorns (remember to freeze or bake them first to get rid of creepy-crawlies!) In the spring flowering tree branches are beautiful to display, and of course summer flowers are always a treat.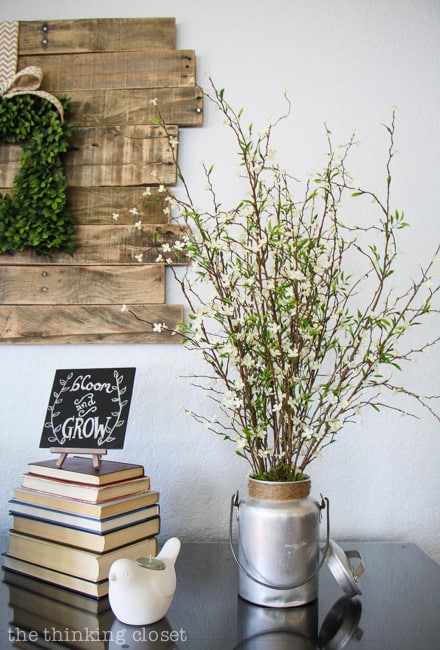 spring vignette via The Thinking Closet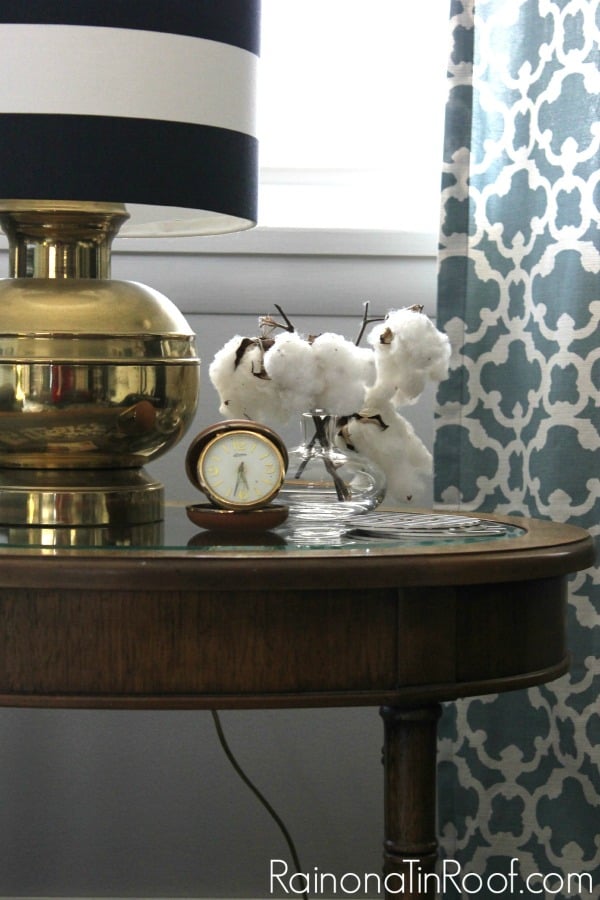 Vignette via Rain on a Tin Roof
If you don't have much to work with in your own yard, ask a friend or neighbor or visit a local park to find botanicals (make sure it's permitted first!) You can even DIY faux versions!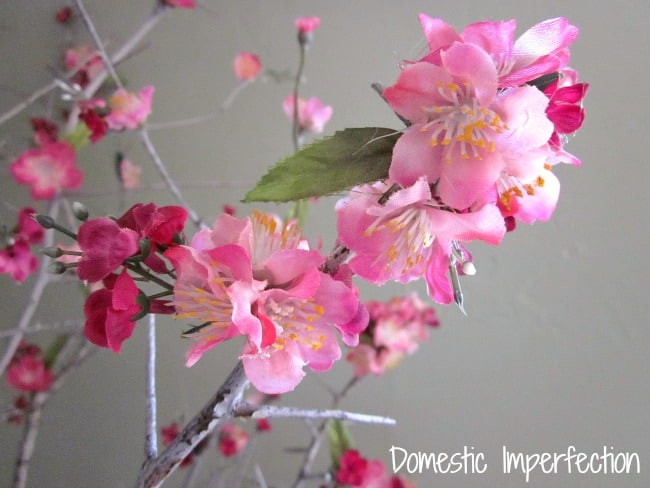 Faux Flowers on a Branch via Domestic Imperfection
Make Free Art
Making free art to hang on your walls can become quite the obsession-and in these days of Pinterest it's amazingly easy to find inspiration. Here are just a few ideas you can create with items you might have around the house: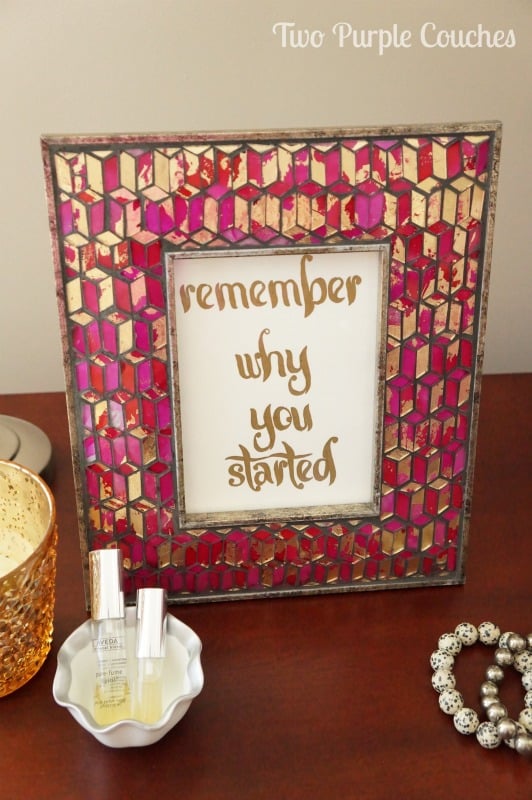 DIY Quote Art via Two Purple Couches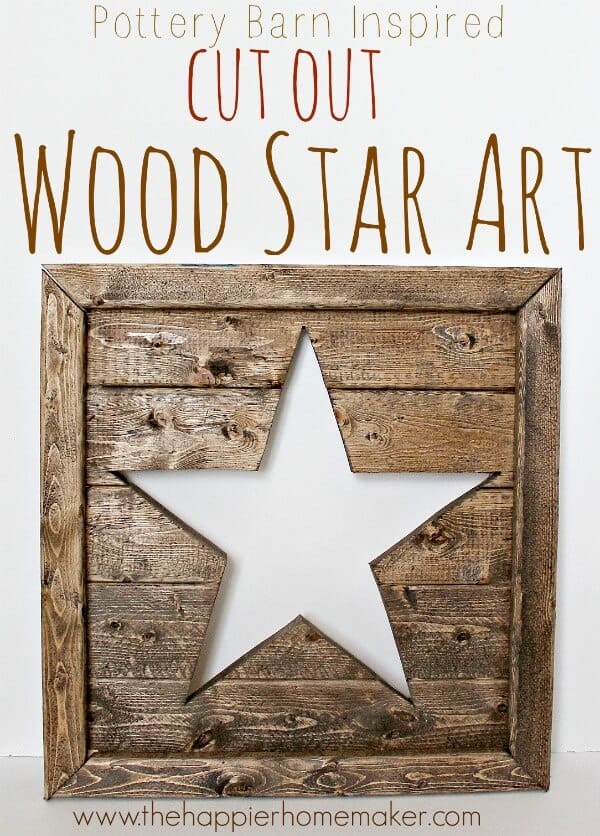 Cut Out Wood Star Art from Scrap Wood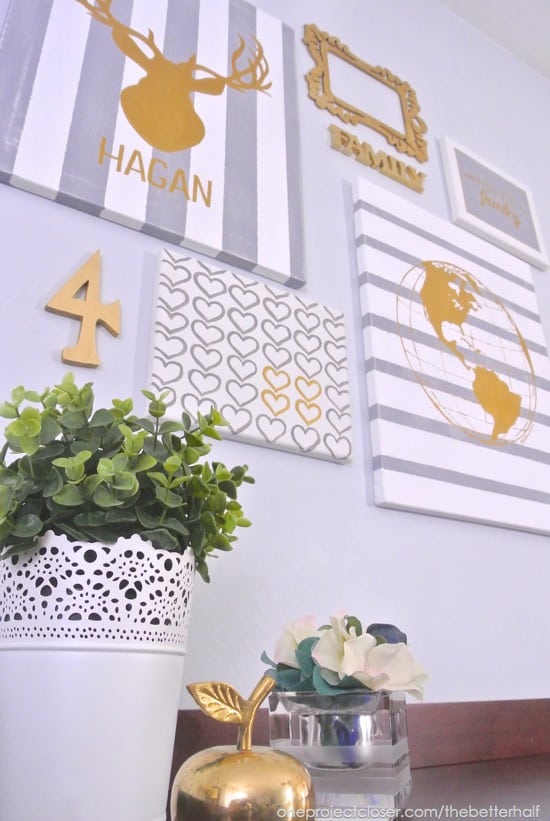 Gold and Grey DIY Gallery Wall via One Project Closer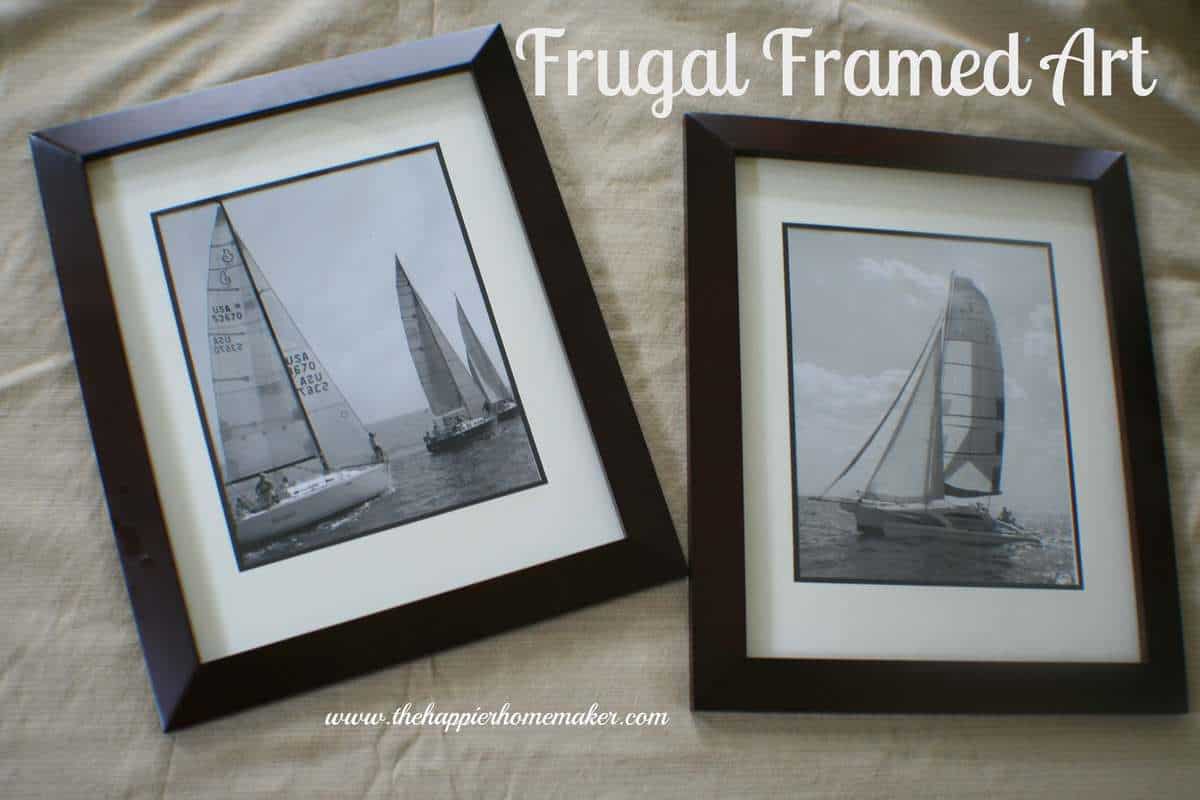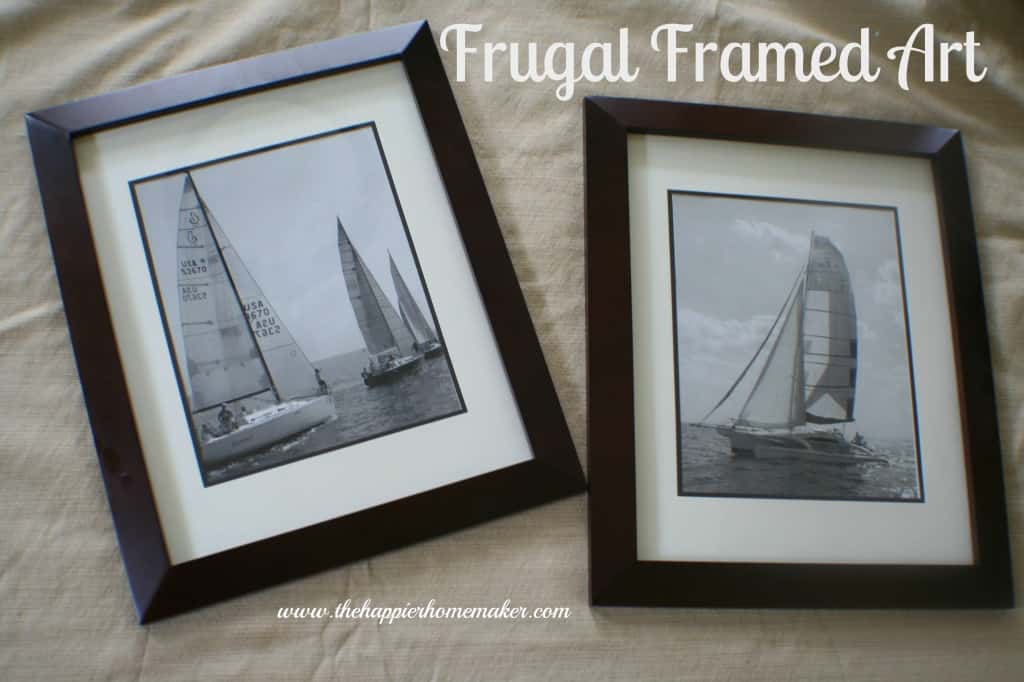 Free Frugal Art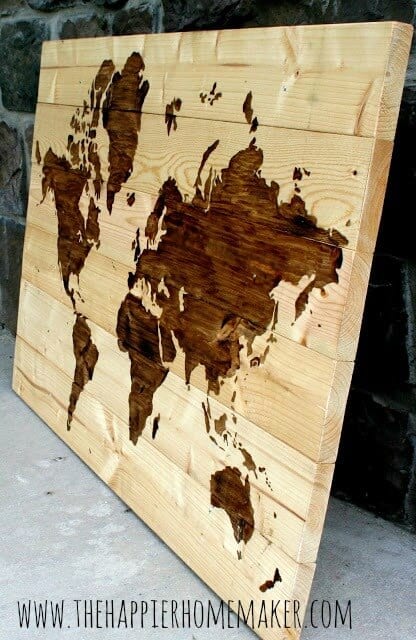 DIY Wood World Map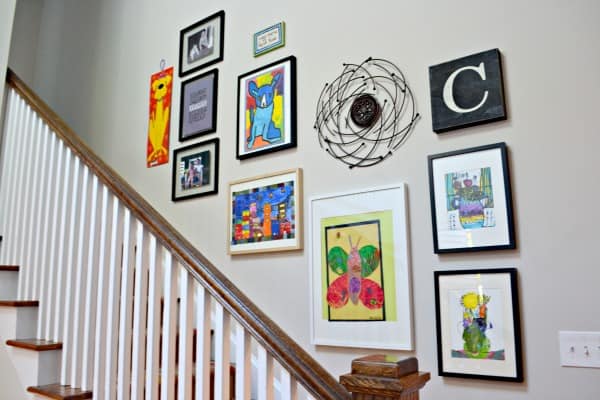 Gallery Wall of Kid's Art via Dogs Don't Eat Pizza
Display a Collection
I envy those with extensive collections-they are such an easy way to accent your decor. Simply gather a group of like items and arrange them on a shelf or other surface that needs a little interest added.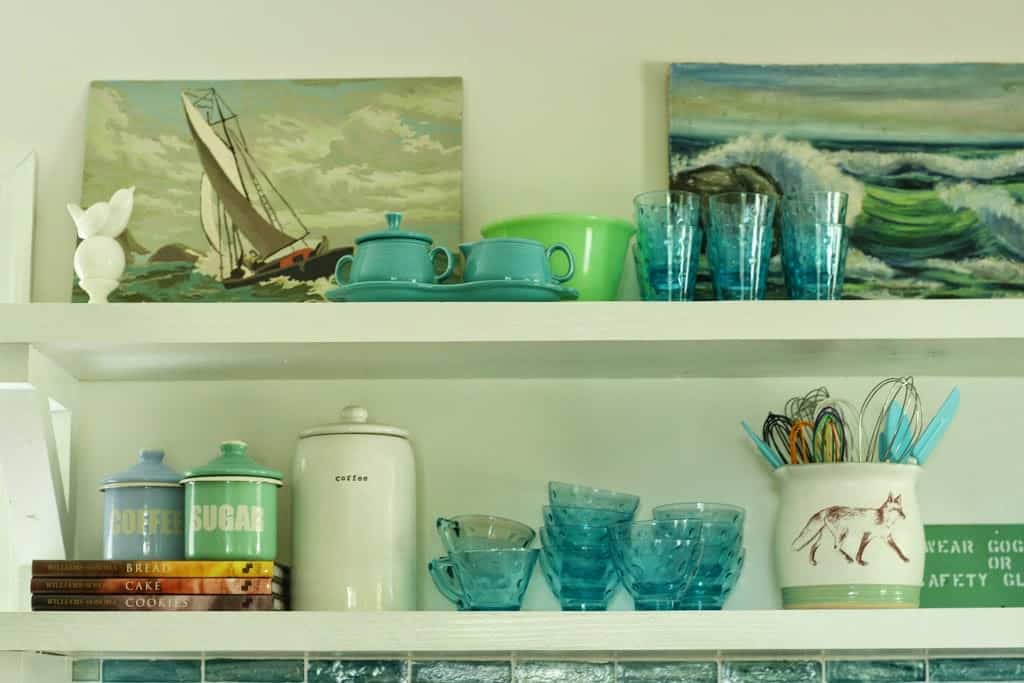 Aqua Kitchen Display via Primitive and Proper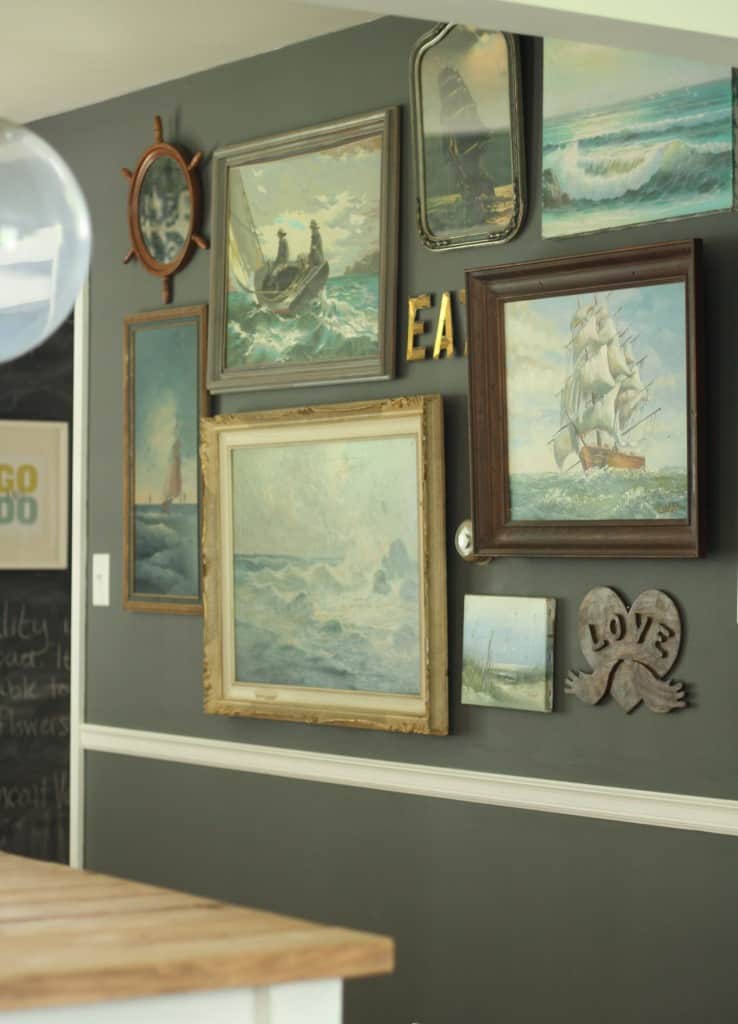 Amazing Nautical Art Wall via Primitive and Proper
If you don't have any specific collections-make some! I love milk glass but didn't have many pieces of my own and being in the military I didn't want to invest in collecting a lot of fragile pieces until we retire and stop moving so much. Instead I started spray painting inexpensive vases and other items to make them look like milk glass to display! So gather up your chotchkes and all those random little decorations you have laying about and give them all a quick coat of paint in a uniform color (or shades of the same color) to instantly create a collection to display!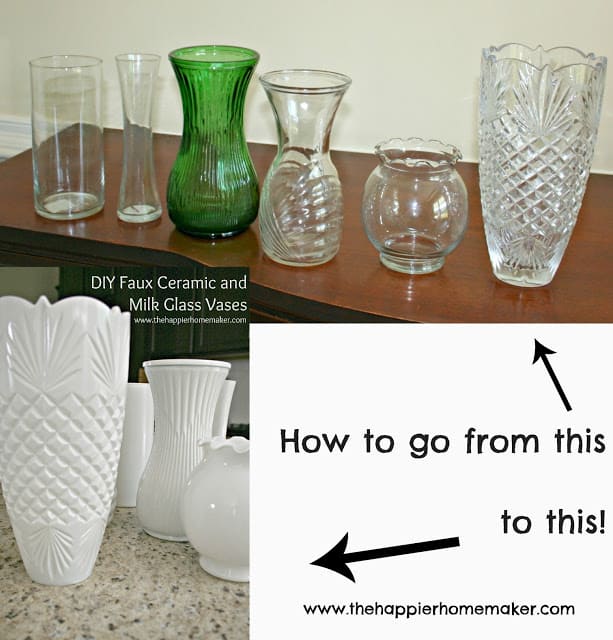 DIY Faux Milk Glass
Some other fun ideas to help you decorate for free:
host a swapping party with friends to trade decor/pillows/curtains
dye curtains you have to match the new direction you'd like to take
sell your unwanted decor at a yard sale to fund purchasing new items
ask relatives if they have any hand-me-downs you could take off their hands
check out the "free" listings on Craiglist or other community message boards
drive around on garbage day to see if anyone has unwanted furniture by the curb that you could fix up
visit garage sales in the afternoon-many people will give away unsold items rather than pack them back up in their homes
Do you have any tips to add on how to decorate without spending money? Leave them for us in the comments!