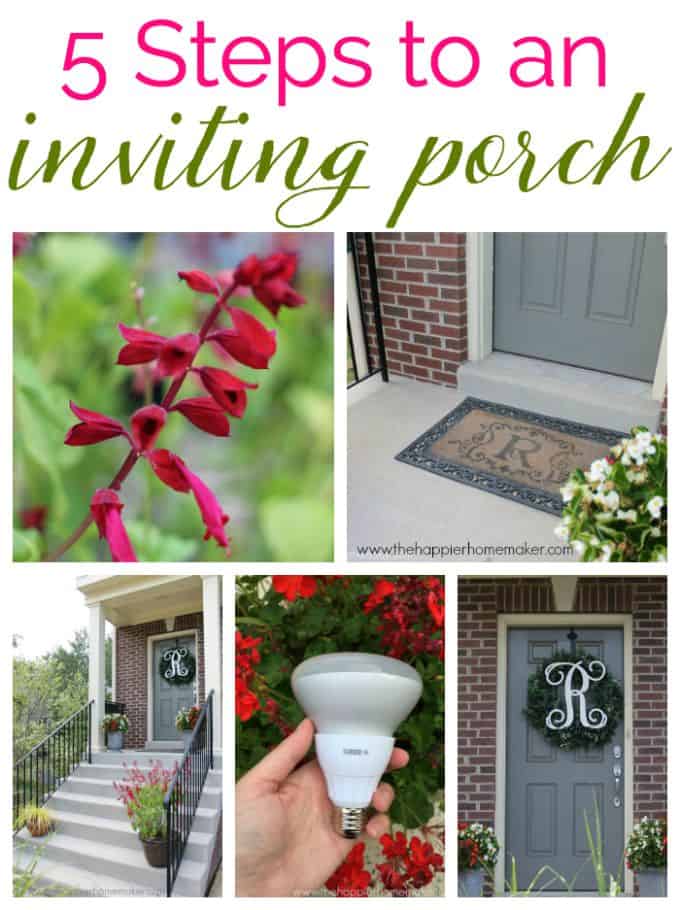 When we first moved into our townhouse last year the front porch left a lot to be desired. In a sea of similar looking townhouses, it looks cold and unwelcoming.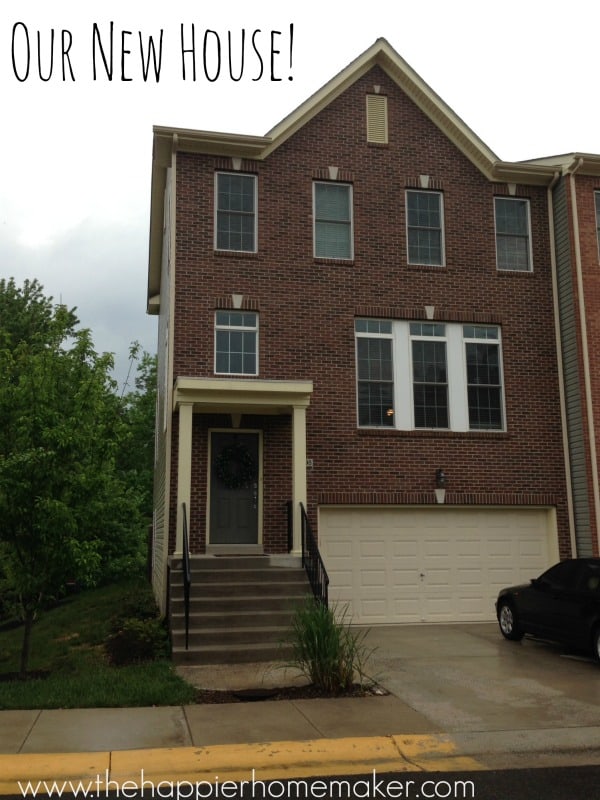 These days, it's a lot more welcoming! The other day I was driving around and I noticed that we are one of the few homes in our area that has a "decorated" entry and it got me thinking about what makes a welcoming front porch…I narrowed it down to an easy 5 step plan to create an inviting porch!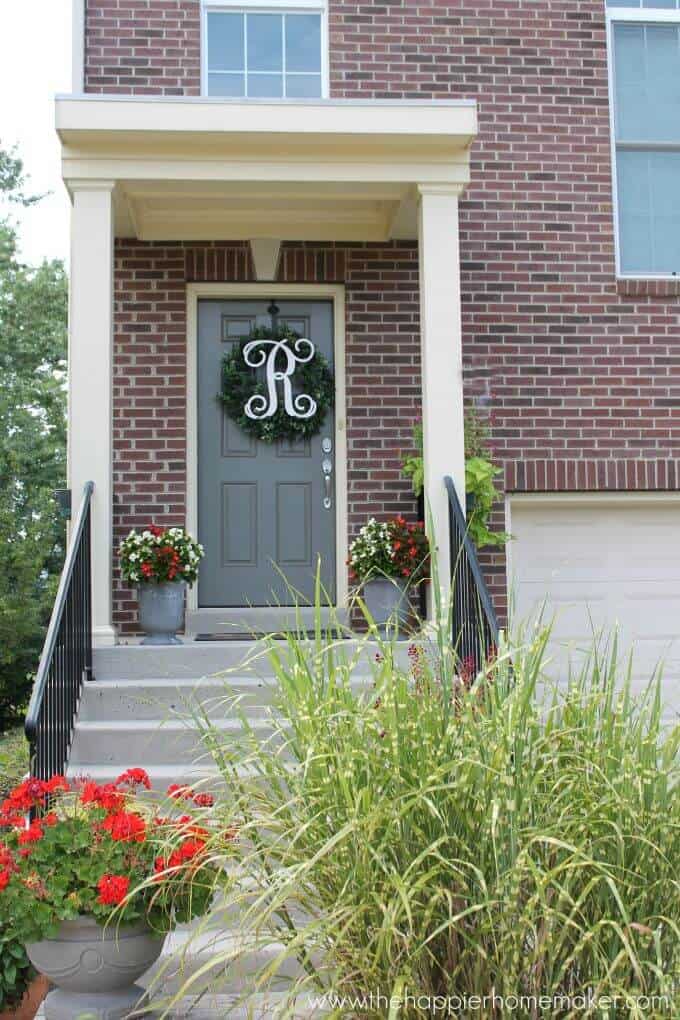 Cleanliness
There is nothing worse than an entryway covered in spiderwebs or dirt and debris.  A simple sweeping a few times a month will keep your entryway free from hazards and go a long way towards making it look inviting! (Get my free spring cleaning and fall cleaning printables to help you remember!)
Lighting
After cleanliness, think safety.  Ample exterior lighting is key to not only helping family and friends see when approaching the house, but also in deterring crime.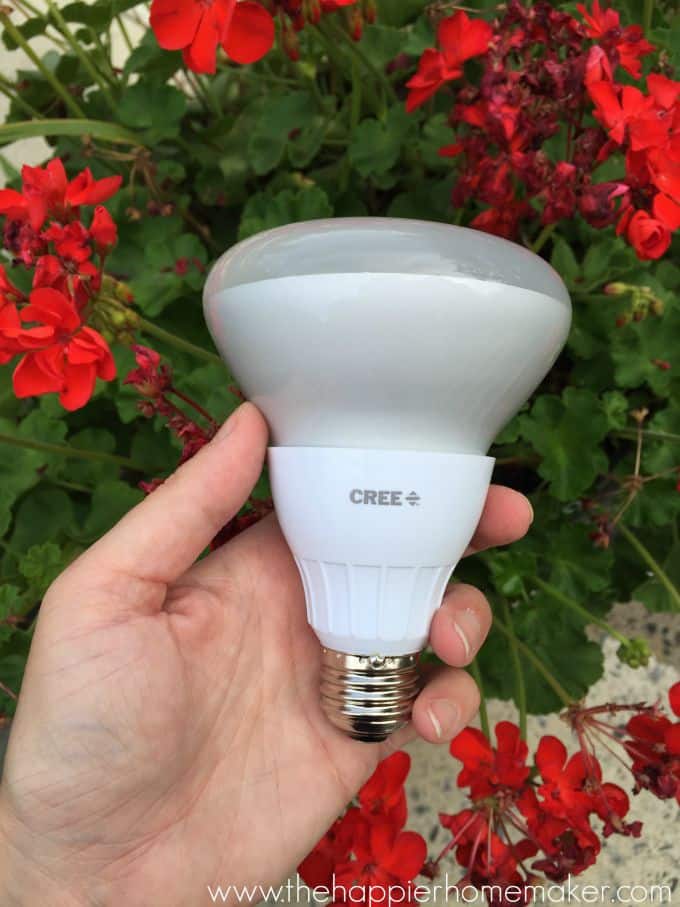 Welcome Mat
Now that you've made sure your entryway is safe, add a doormat to welcome guests and reduce tracking of dirt into the home.  We picked up this monogram mat a few years ago (and I just realized when taking these pictures that it's probably due to be replaced!) and added on the rubber frame and I love it-it really takes what would be a plain doormat and makes it a teeny bit more special.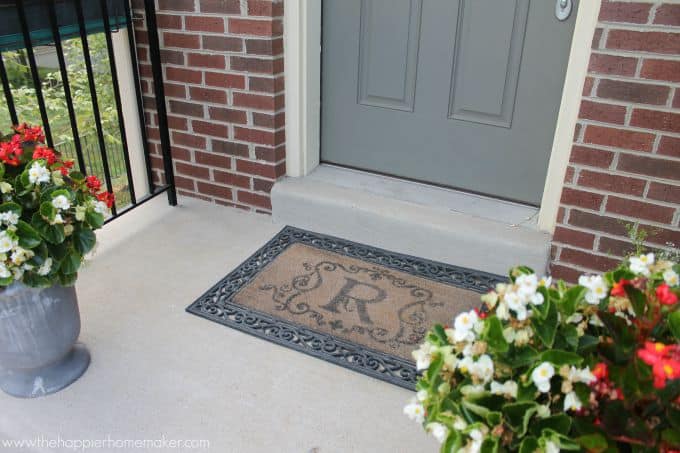 Wreath
Hanging a wreath on your door is such a simple way to decorate your entryway, and you can show your personality as well! I love switching out wreaths seasonally and have quite a collection building up.  You can easily make your own or buy a versatile one you can change out accessories on.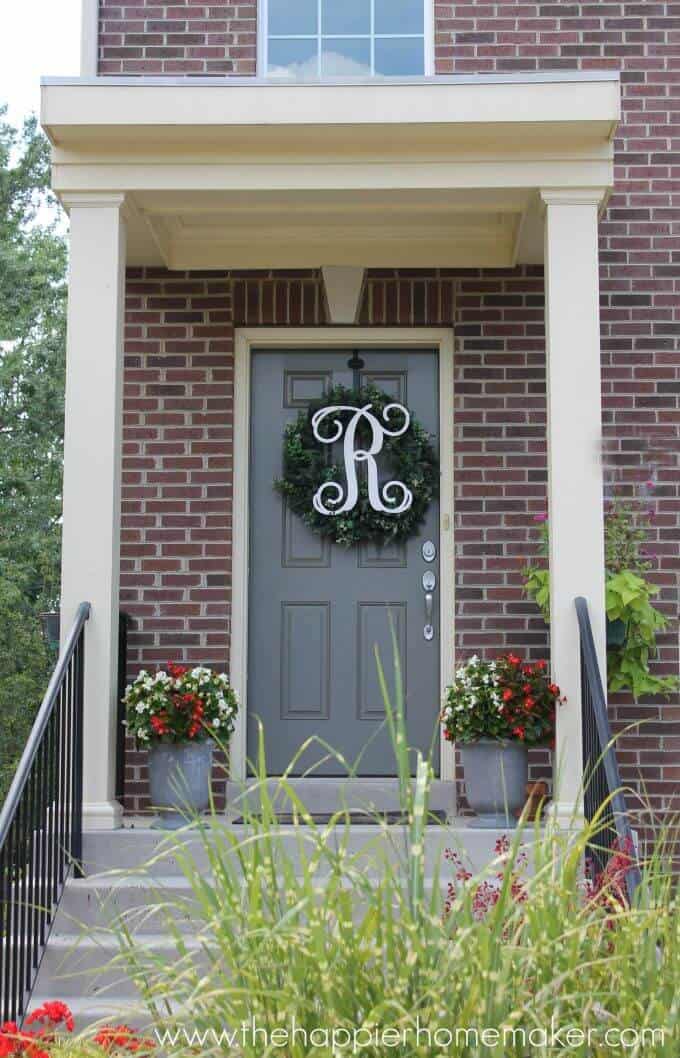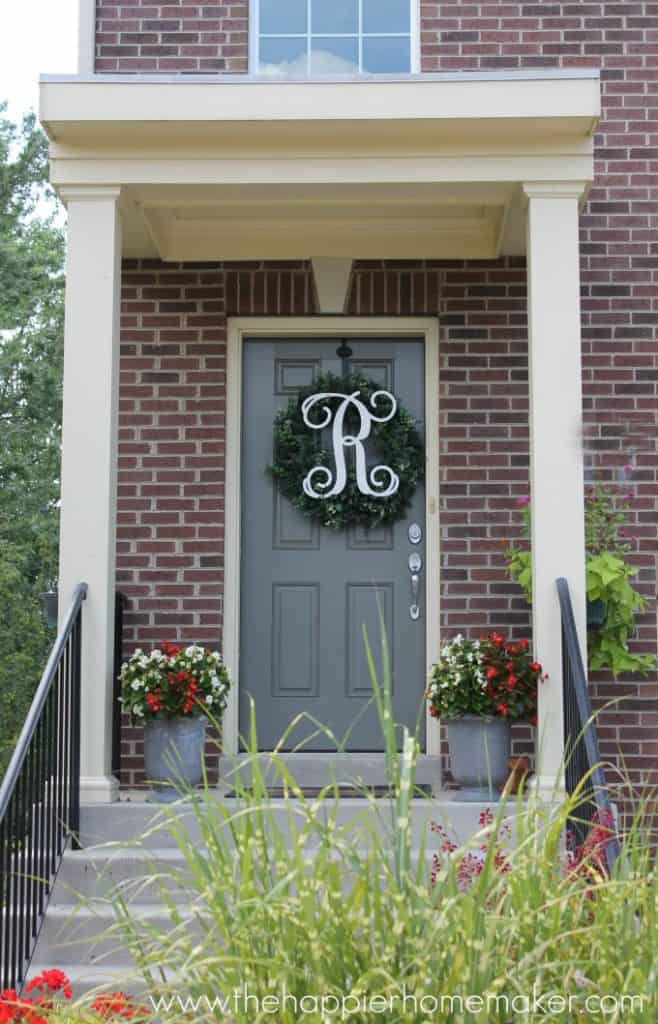 Plants
I'm a plant hoarder, I love having lots and lots of plants to dress up my outdoor areas-it's like jewelry for your house! This summer I'm loving my standard favorites of zinnias and sweet potato vine in my window box hanging on our porch and of course I always have geraniums and begonias!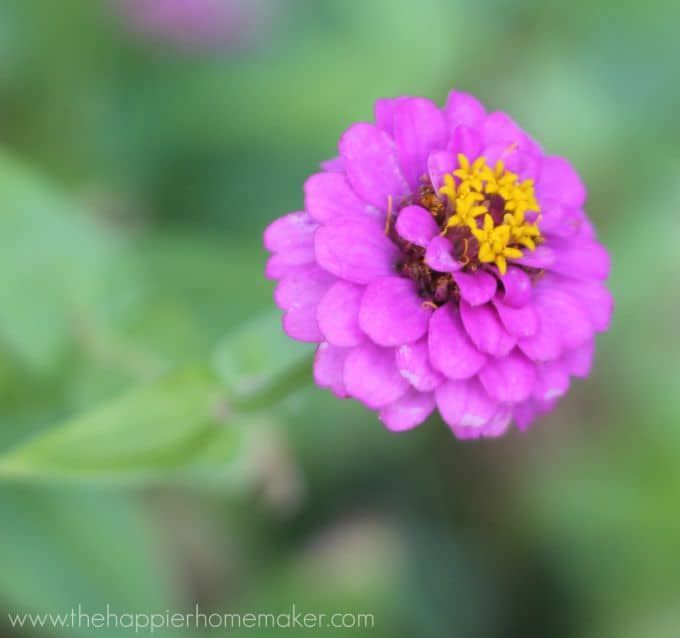 I also have a few new favorites this year-a gorgeous Saucy Red Salvia and that fun Evercolor Everillo Carex.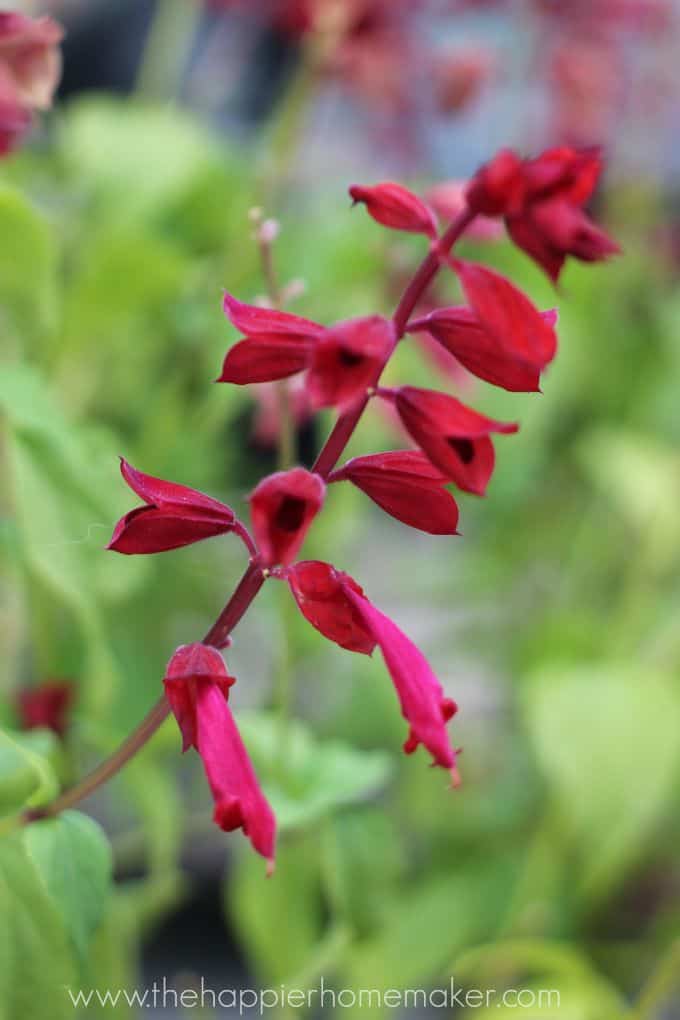 The Salvia really goes with my other red favorites and the Carex balances the chartreuse of the sweet potato vine!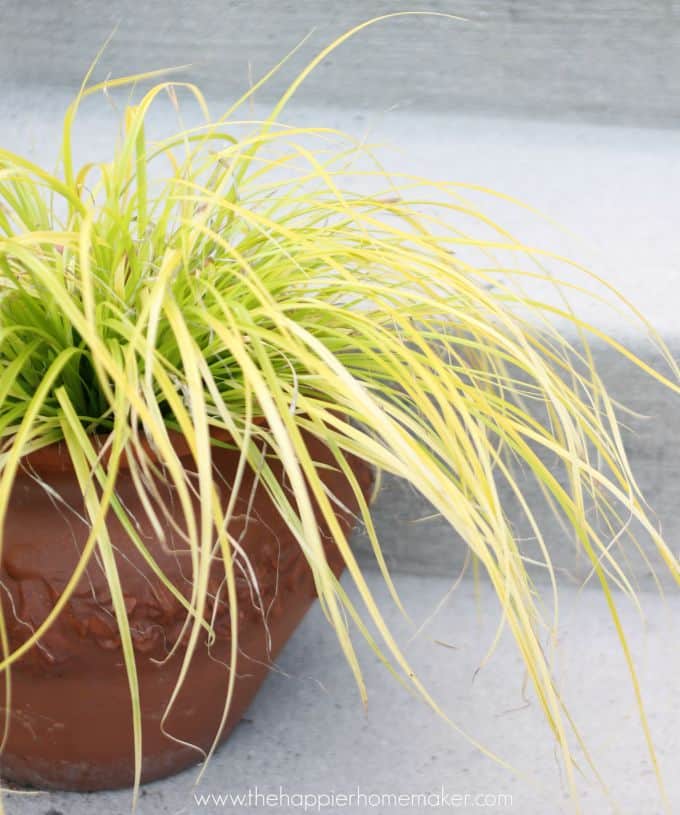 You don't have to be a green thumb to add some plants to your entry way-pay attention to how much sun the area gets and choose hardy plants suitable for those conditions.