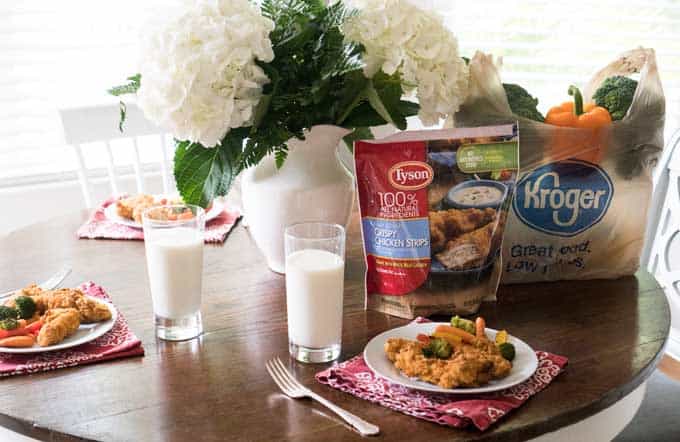 This post has been sponsored by Tyson®. All thoughts and opinions are my own.
It's hard to believe, but we'll be starting back-to-school here in Georgia in just two weeks. This summer really flew by! Instead of lazy days at the pool, I see a lot of running around, juggling extracurricular activities, and hectic dinnertimes in my future! To help with those crazy school nights, I've been experimenting with some easy, 30 minute or less kids-friendly weeknight dinners and wanted to share my favorites with you.
With a little planning, you can easily get dinner on the table in under 30 minutes. My secret weapon is to keep shortcut veggies and Tyson® frozen chicken on hand-always! When I'm shopping at Kroger, I like to stock up on bagged salad for the week along with precut vegetables for those extra busy nights. I also hit up the freezer section to pick up a few different kinds of Tyson frozen chicken. It's an easy and convenient source of protein for lunches or dinners.
Once I'm stocked up with my favorite ingredients, I'm ready for even the craziest back-to-school evenings! Here are four of my favorite fast, easy and kid-friendly weeknight dinner recipes.
One Pan Chicken Strips and Rainbow Veggies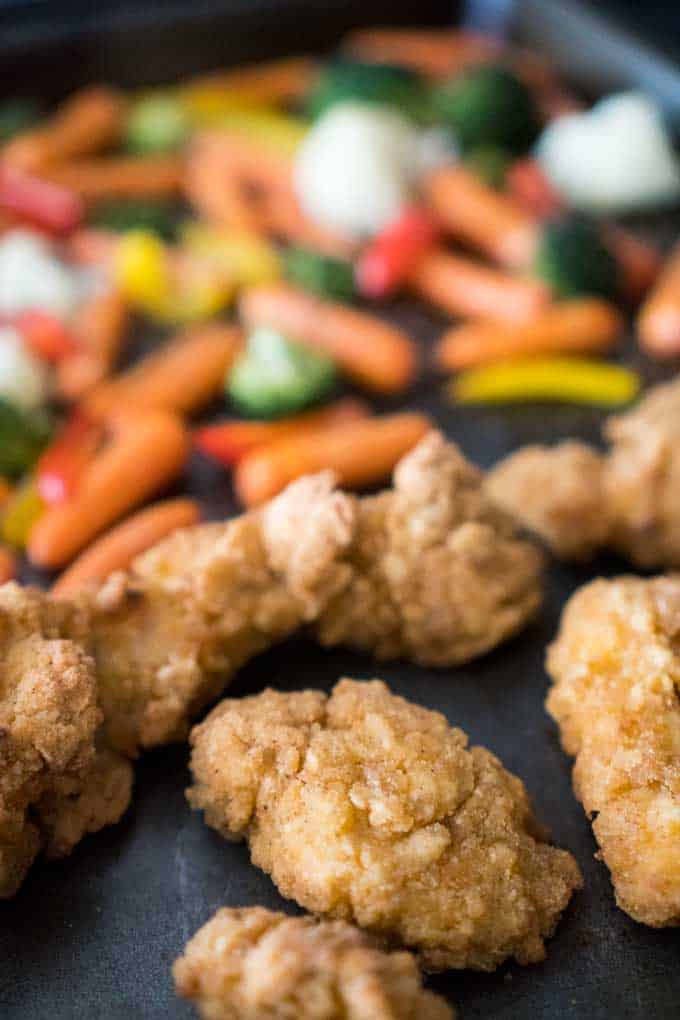 Ingredients:
pre-cut vegetables (I used broccoli, cauliflower, carrots, and bell peppers)

olive oil

your favorite seasoning (or salt and pepper)

Tyson® Crispy Chicken Strips
Add pre-cut and washed veggies from the Kroger produce section to a baking sheet and drizzle with some olive oil and sprinkle with your favorite seasoning or simply season with salt and pepper. Pair it with Tyson Crispy Chicken Strips and bake according to the package directions. Twenty minutes and you have dinner on the table!
Greek Chicken Wraps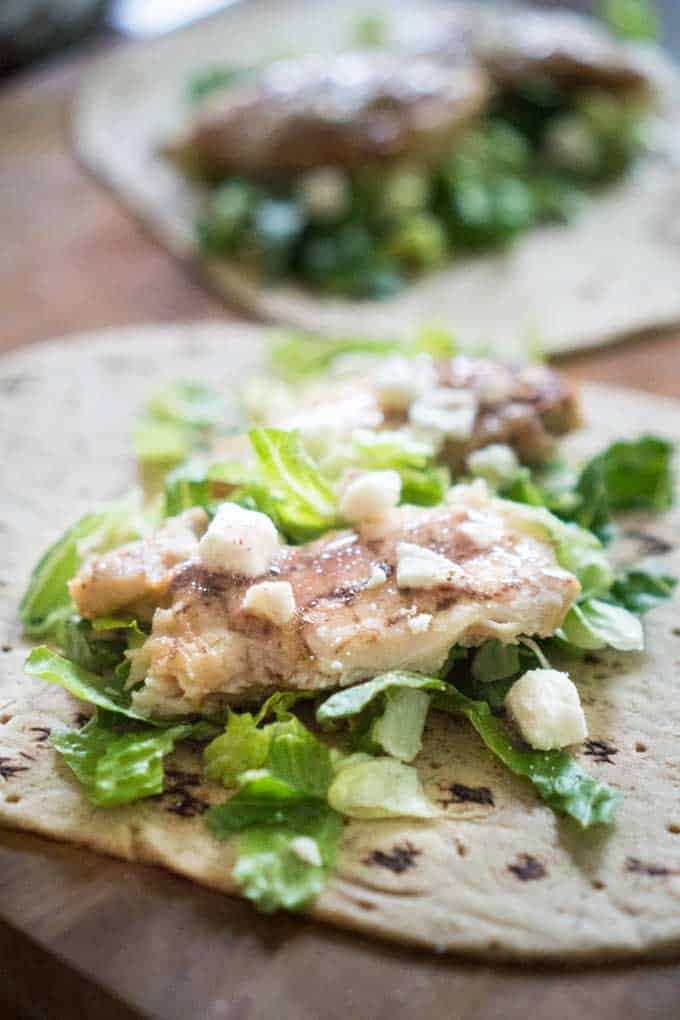 Ingredients:
premade bagged Greek salad

wraps

Tyson® Frozen Grilled and Ready Chicken Breast Fillets
These chicken breasts are already cooked so 5 minutes in the microwave is all you need to have them on the table. While they are cooking, layer your salad ingredients in the middle of a wrap. Add the chicken and wrap, it can't get easier! (Helpful hint: for my kiddos, I like to wrap it burrito style so they don't lose the filling while they eat!) This is a great meal when you need to eat on the run, you can whip them up quickly and eat on the way to soccer practice or whatever activity you have!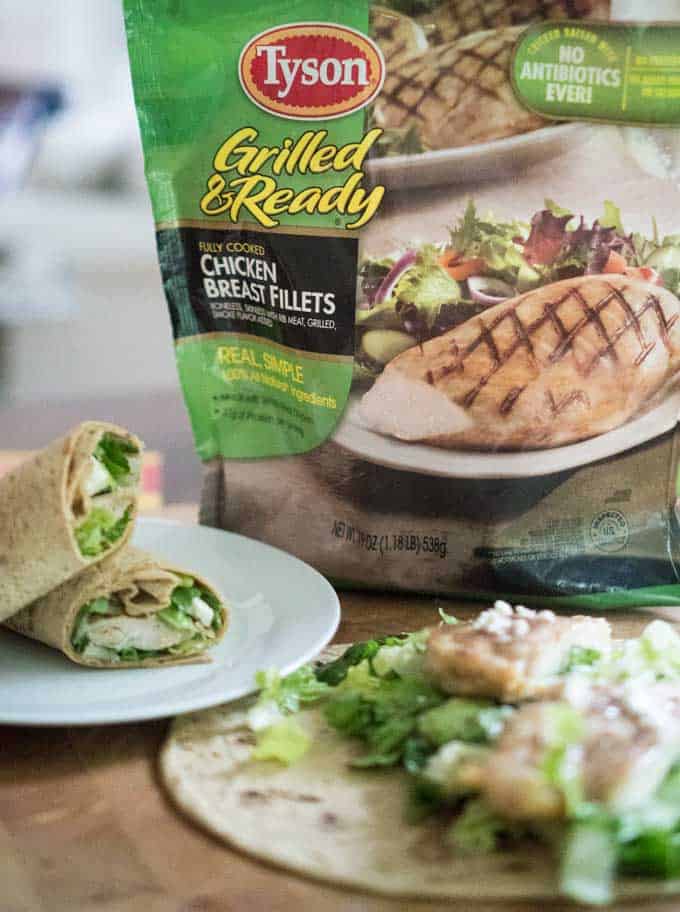 Chicken Pesto Pasta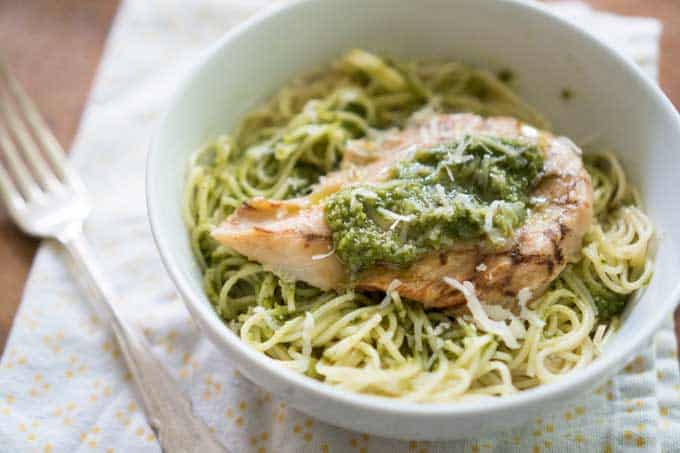 Ingredients:
12 oz package angel hair pasta

6 oz container of pesto (in the deli section at Kroger)

Tyson Frozen Grilled and Ready Chicken Breast Fillets
Parmesan cheese
This is another super fast and easy dinner recipe made with the Tyson Frozen Grilled and Ready Chicken Breasts. I like to use angel hair pasta because it's so thin it cooks incredibly fast. Once the pasta is cooked, toss with pesto and top with chicken and Parmesan. This is my boys' absolute favorite dinner and it's literally a 15-minute recipe!
Dino-rrific Caesar Salad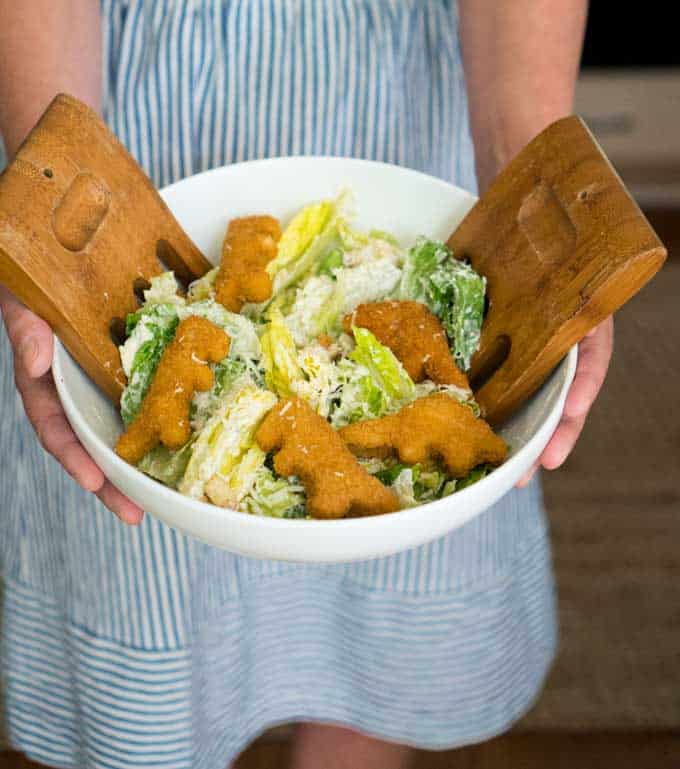 Ingredients:
premade bagged Caesar salad

Tyson® Fun Nuggets Dinosaur Chicken Nuggets
My boys devour Caesar salad now but in the beginning, I had to pull out all the stops to get them to eat salad for dinner. They eat it now with fun, dinosaur-shaped chicken nuggets! It's a little special touch they just love! These nuggets bake up in ten minutes so again, it's a super fast and easy meal!
Are you ready to try one of these fast weeknight dinners? Which would your family like the best?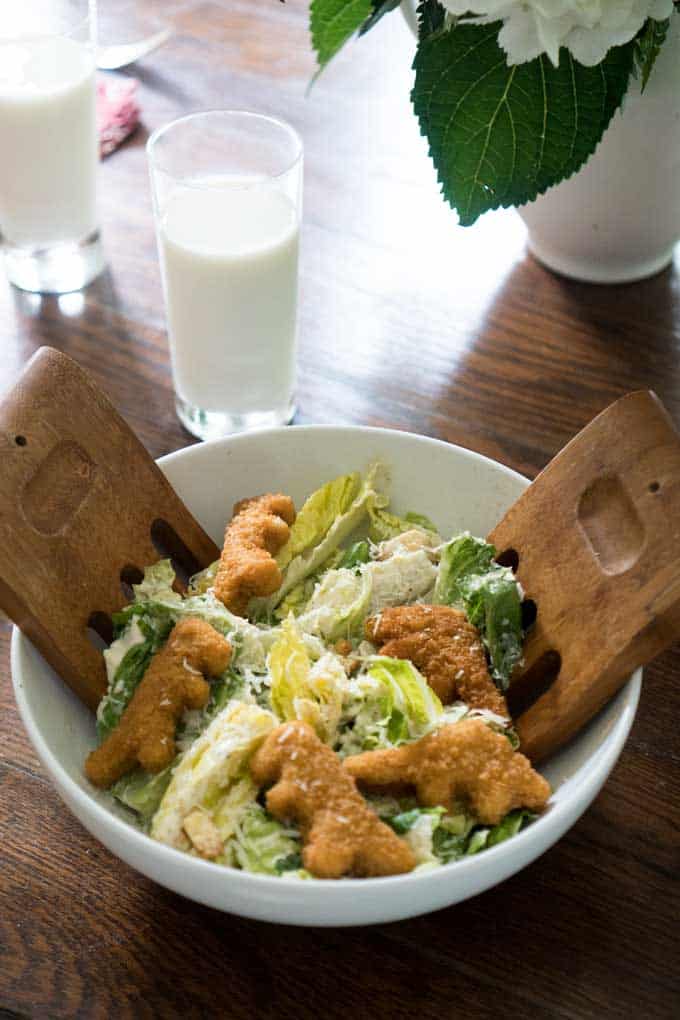 I love shopping at Kroger because they have great prices and such a great selection of food (and that produce section, swooning!) Find more back-to-school meal inspiration and loads of coupons for your next shopping trip at Kroger here.
Check out Tyson's meal planning calendar here. And don't forget Tyson is offering $6 towards a movie ticket at the register when you buy any 5 of these participating products in 1 transaction: State Fair® Corn Dogs, Tyson® Chicken Nuggets and Strips, Hillshire Farm® Lunchmeat, Hillshire Farm® Smoked Sausage, Jimmy Dean® Frozen Breakfast, Jimmy Dean® Fully Cooked Sausage and Simple Scrambles™ products between 7/25/18-8/8/18 (excludes online purchases)