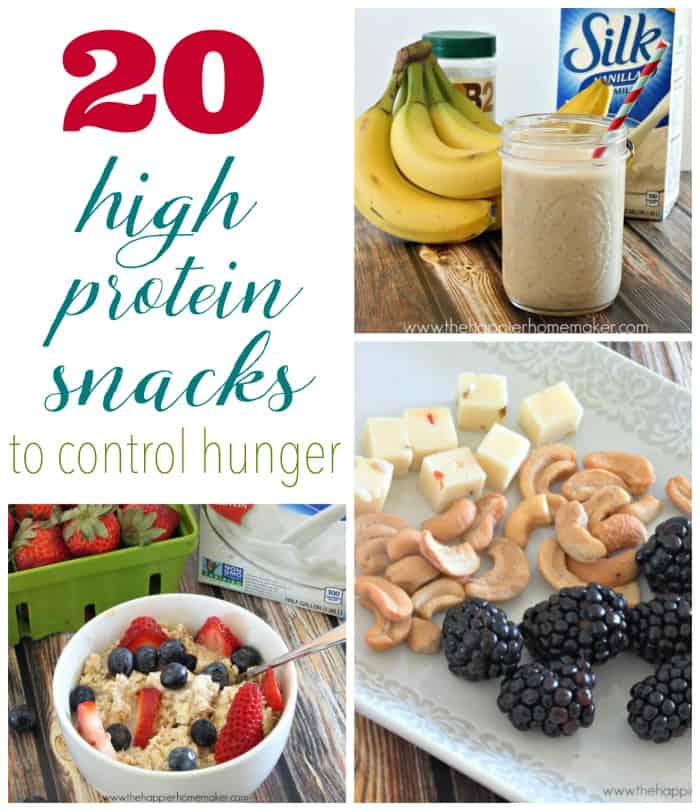 Healthy eating is about more than just calories, the type of calories you put in your body can go a long way towards helping you meet your fitness or weight loss goals. I've learned the hard way over the years that no matter how strong my sweet tooth, 100 calories of sugar is not going to fill me up like 100 calories of protein! By choosing the proper types of food to snack on you can help keep your stomach full and your cravings at bay. Today I'm sharing 20 of my favorite go-to protein packed snacks to help control your hunger!
Apple with Nut Butter
It doesn't get much more basic than sliced apple with nut better. I prefer almond butter to peanut butter but you can use your favorite-just make sure to choose natural nut butters without excess preservative and sugar to keep calories in check!
Chocolate Berry Protein Shake
One of my favorite on the go snacks is a chocolate berry protein shake-it's super fast and easy! Simply combine 1 scoop of chocolate protein powder, 1.5 cups soy milk, and a handful of frozen berries in a blender (affiliate link) until smooth.
Turkey Roll Ups
Deli sliced turkey packs also packs a filling punch of lean protein. I like to roll 4 slices of sliced turkey around a lowfat cheese for a fast, portable snack!
Beef Jerky
My father makes the most amazing jerky and it's one of my favorite healthy snacks-I love that it's preservative free and all natural. When I can't get his homemade jerky I look for natural, preservative free jerky in the supermarket-this is my husband's all time favorite snack!!
Chocolate Soy Milk
I mentioned that soy milk is a good source of protein, so I know that when I want a quick snack that satisfies my sweet tooth I can simply add 2 teaspoon of cocoa powder and 1 teaspoon sugar to 1 cup of my soy milk for a grownup chocolate milk that tastes delicious! (Adjust sugar content to your taste, I've found it's very individual how sweet people like their drinks and mine is on the less sweet side!)
String Cheese
Lowfat string cheese is a great portion controlled, high protein snack for on the go. Pair with some fruit if you'd like.
Hummus and Veggies
We're big hummus eaters, especially my 6-year-old! Rather than eating our hummus with crackers or breads, we like to use veggies like carrots and celery to eat it for a healthy mid-day snack.
Nuts
Nuts are a great source of protein, but watching your serving size is key! Aim for a 100 calorie serving-cashews are my favorite when I get a hankering for a salty snack!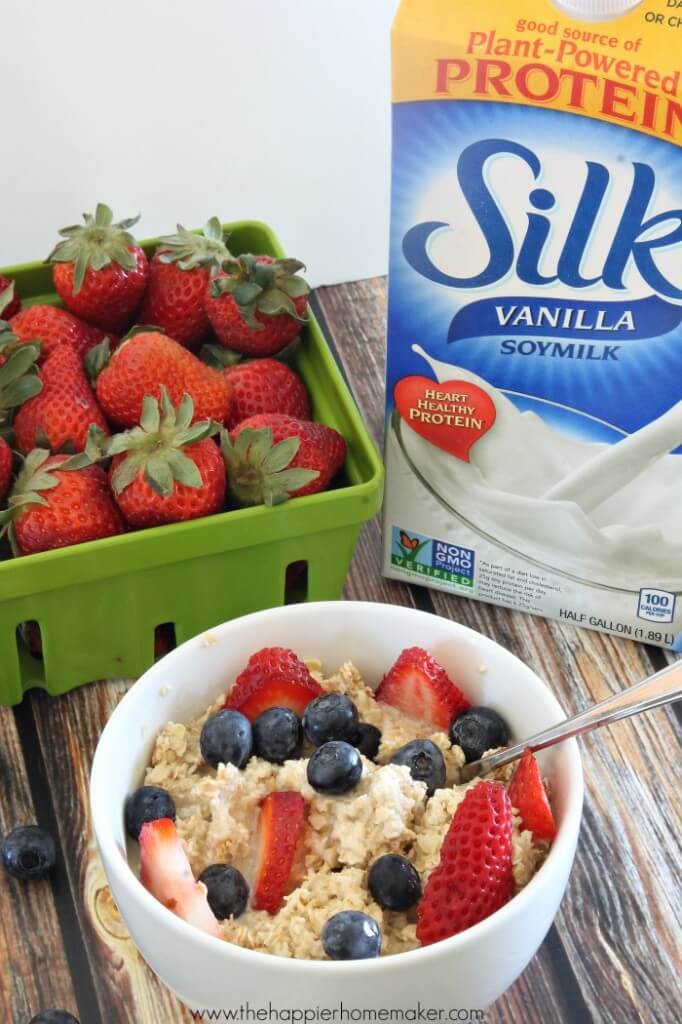 Oatmeal with Soy Milk
Oatmeal isn't just for breakfast! A ½ cup of oatmeal with a dollop of soy milk and berries is a great mid-day snack packed with fiber, very filling!
Sunflower Seeds
Grab a handful of sunflower seeds for a fast snack full of essential fatty acids!
Shrimp Cocktail
I like to keep frozen, precooked and peeled (large) shrimp in the freezer for a fast, healthy snack. They can be thawed in just a few moments and 4 shrimp with a tablespoon of cocktail sauce is less than 100 calories!
Soy Milk Latte
Combine soy milk and your favorite coffee in a 1:1 ratio (sweeten if desired) to make your own latte at home for a fix of not just protein, but caffeine too-this is one I save for those mid-afternoon slumps, anyone else get those?
Tuna Salad Wraps
Mix ⅓ cup tuna with a tablespoon of low-fat mayonnaise and serve wrapped in a lettuce leaf.
Egg Muffins
See my egg muffin recipe here for a fast no carb snack recipe!
Cottage Cheese and Fruit
Mix ½ cup of lowfat cottage cheese with some chopped fruit (or a low sugar fruit snack cup) when you're craving sweets-it's a lot healthier and keeps you full longer!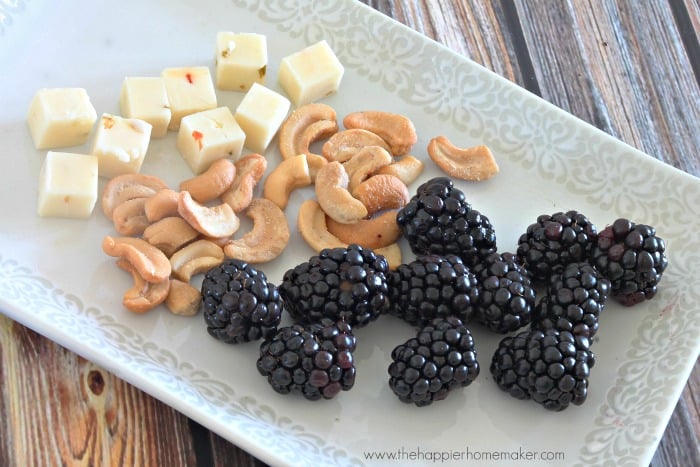 Mini Cheese Platter
When we lived in Italy I loved the cheese platters we would get at restaurants! However, I'm the first to admit that my waistline suffered from all that tasty food! Nowadays I keep everything portion controlled and make my own mini cheese platters with cubing a lowfat pepperjack cheese snack stick and serving it with about 50 calories worth of nuts and some grapes or berries on the side. The cheese gives a burst of flavor while the nuts and fruit take care of any salty/sweet cravings!
Hard Boiled Eggs
Two hard boiled eggs sliced with a sprinkle of salt are another favorite high protein snack of mine! (See my secret for getting perfect hard boiled eggs here!)
Veggie Burger with Pico de Gallo
While I'm not a vegetarian, I do love a good veggie burger! When I'm in the mood for a hot snack I like to cook one up and top with some fresh pico de gallo! (I eat this often for lunch too by making two burgers and adding some chopped avocado and a salad too!)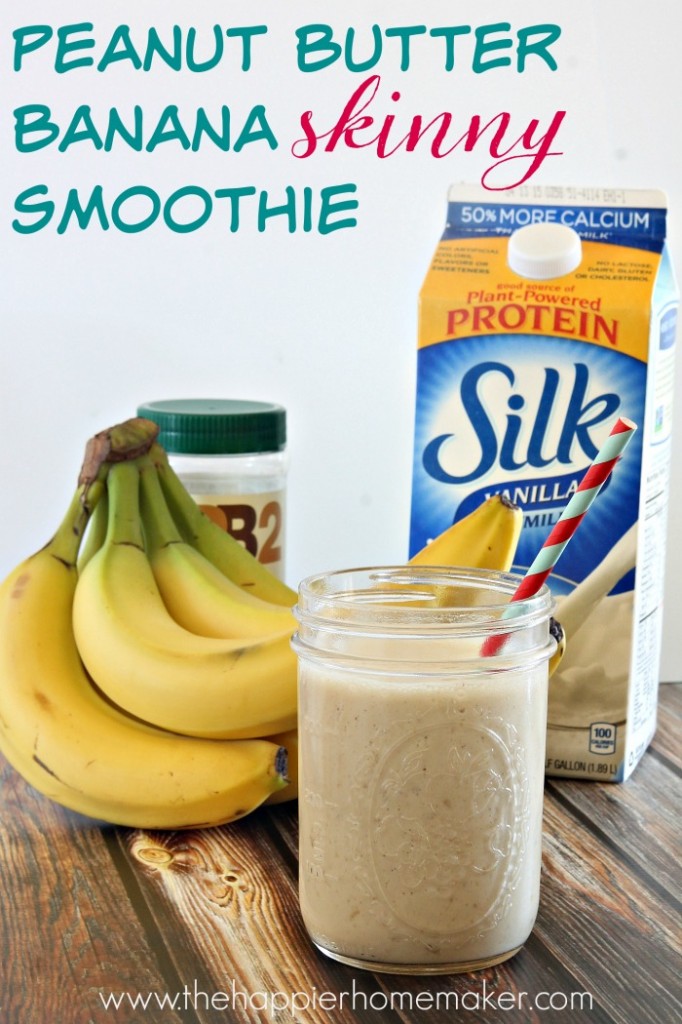 Peanut Butter Banana Protein Shake
I love, love, love peanut butter and banana together and this smoothie is my absolute favorite post-workout snack! I always keep sliced banana in my freezer for these! I combine about half a sliced frozen banana, 2 tablespoons of PB2 peanut butter powder, and 1.5 cups of soy milk and blend well. Delicious!!
Baked Apples and Soymilk
Another tasty warm snack that gives all sorts of comfort food vibes are some delicious skinny baked apples (tastes just like apple pie!) and a tall glass of soy milk. It reminds me of a bedtime snack when I was a child (but a lot healthier!)
What are your favorite protein-packed snacks?