Planning a picnic and looking for the best picnic foods to bring along? We have you covered with our very favorite take-along recipes from sandwiches to snackleboxes, we have something for everyone!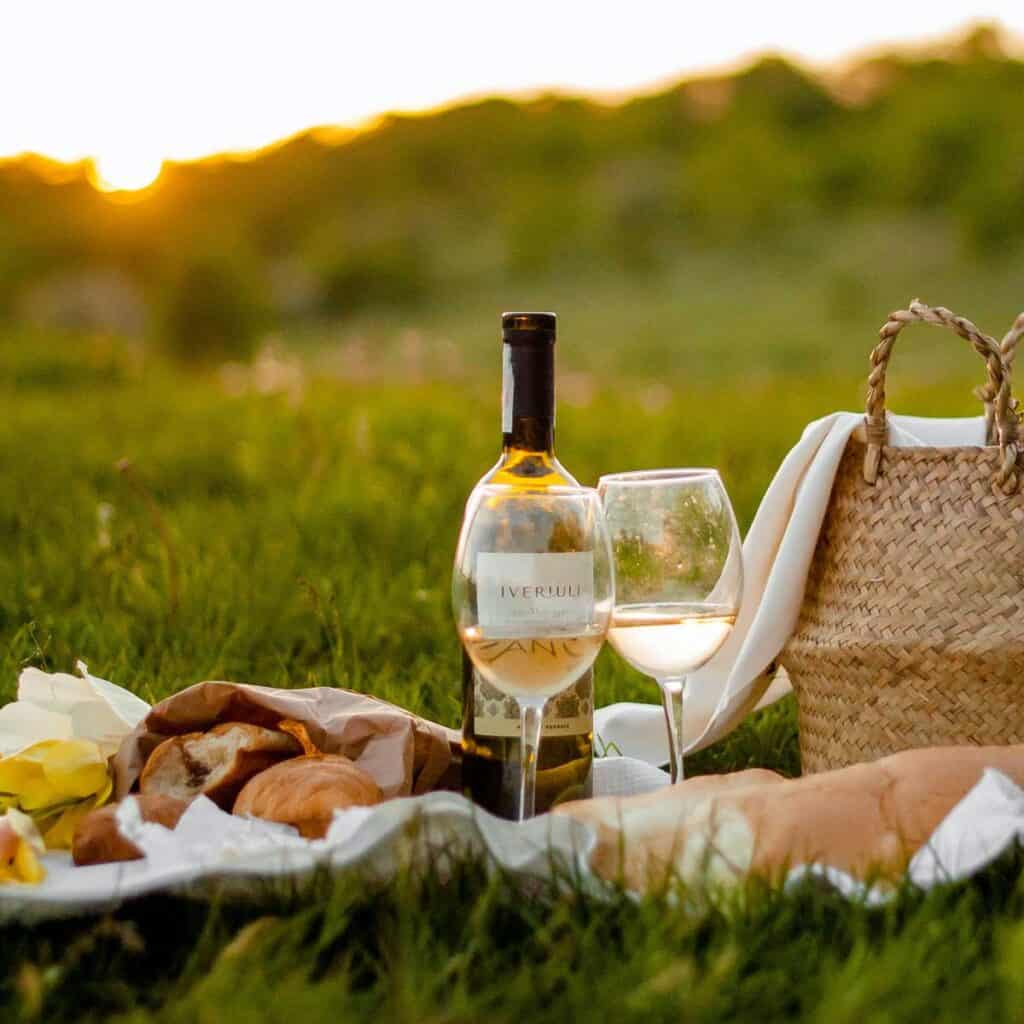 Are you looking for the perfect picnic food list for your next outdoor adventure? Whether you're planning a picnic for your family or a romantic day date, you'll want to make sure your picnic goes off without a hitch. I've got some easy picnic food ideas to make your picnic a memorable one. From traditional picnic foods to more unique ideas, your next picnic will be a delicious success. So grab your picnic basket, and let's get started!
Picnic Food List
The best picnic foods are the most convenient, easy to transport, and easy to serve on a picnic blanket outside.
Foods that can be served at room temperature are a plus but not a requirement. Temperature requirements will depend on the picnic area you're going to. If it's far away and the food will cool off or get too warm, maybe the best thing to do is choose a different food.
You can also use insulated containers for packing food, ice packs, and even a cooler with ice in your car if you're traveling a longer distance to your picnic destination.
Finger foods are the best for picnicking, but you can always bring along some utensils and some disposable or non-breakable dishes. The best picnic ideas will depend on the occasion, so check out this list of the best picnic food ideas and pick out the ones that best fit what you have planned!
Pasta, Potato, or Egg Salad
These salads are classic picnic foods and easy to pack and transport. You don't have to worry about spilling, you'll just need to make sure you have utensils and serving dishes.
As long as your salads are not sitting in a hot car or taking an hour-long drive to your picnic destination, you shouldn't need anyway to keep them cool, otherwise it is best to bring them in a cool with ice or ice packs. Try Italian pasta salad, deviled egg potato salad, or pesto potato salad with green beans. 
Fruit Salad
Fresh fruit salad is a great picnic option and also travels well! It's refreshing in warmer weather, and there's no recipe to follow. Just throw together your favorite fruits.
Melons, strawberries, grapes, kiwi, and mango are all great options for your fruit salad. Squeeze a little lime juice on top to keep it fresh, and add a little zest to the dish! Need more inspiration? Check out our watermelon feta salad recipe!
Charcuterie Board 
This one could be a little trickier to pack and transport, but you can always use a large container and pack everything in tightly so it doesn't move.
I've also seen people actually use "snackle boxes" (tackle boxes-obviously new and not used for fishing gear) with all their many compartments filled with various foods. Put together a mix of your favorite meats, cheeses, some fruit, crackers, and anything else that sounds good to you!
Mason Jar Salads
Mason jars are great for packing picnic foods! Making a fresh salad in a mason jar is an awesome idea, whether you're picnicking or just food prepping. Throw together all your favorite ingredients for a simple side salad or a full salad meal with fresh veggies like bell peppers and onions, and add something filling in there, like diced chicken or black beans.
You can even go ahead and add your dressing if you will be eating it soon after assembly. Otherwise, just keep it separate and add it to the mason jar when you're ready to eat, shake it up, and enjoy!
Hot Dogs
Hot dogs might not be the first thing you think of when you think of picnic food, but it's actually a fun option! You can make a little buffet of toppings and assemble the hot dogs at your picnic, or assemble them and wrap them in paper as a fast food restaurant would do.
Rotisserie Chicken
This is a great option if you want a spread of food with sides and all. You can bring this with your pasta, potato, or egg salad for a full meal. Or you could use rotisserie chicken to make sandwiches.
Sandwiches 
Sandwiches are another traditional picnic food! The classic ham sandwich, peanut butter and jelly sandwiches, or chicken salad sandwiches are great options! Sandwiches are really easy to make, wrap, and transport, so they're great for picnics. 
Pre-made wraps
Wraps are another really great and convenient option for picnics. You can customize them for everyone at the picnic, and they're easy to contain. 
You can also make your own meat and cheese pinwheels to carry along as well.
Fresh veggies and dip
Bring this as a side dish or appetizer, or just make your picnic meal a combination of several snack items like this. Pack baby carrots, broccoli, juicy tomatoes, and any of your favorite veggies. Be sure to keep your dip cold, ice packs will do the trick if needed. 

Potato chips and dip
Same with veggies and dip, but this is an even easier addition to your picnic. You can make a homemade dip like tzatziki or artichoke dip, or make it even easier with a store-bought dip.
Dessert 
Easy to handle desserts like cookies, brownies, or any sweet treats that are convenient to pack or eat with your hands and that won't melt on a hot day.
Berry tarts, peanut butter chocolate chip cookie bars, or homemade blueberry muffins are some of our favorite take-along dessert options.
Drinks 
You don't want to forget the drinks for your picnic! Packing water bottles, a bottle of wine, sangria, or even a jug of iced tea are all great options. A small drink cooler is a good way to keep your beverages cold and refreshing.