As many of you may have already read we are in full swing here in NC ramping up for our big move next month to the DC area.  As a military family moving is no new thing for us-we've actually moved 7 times in our 9 years of marriage not to mention over 15 moves I did before I got married! While the military does offer the option to have movers pack and move you my husband and I prefer to handle our moves ourselves (the DIY genes runs deep in our family!), the only move we didn't do ourselves was our move from Italy to Florida years ago!
As I am preparing for our current move I thought I'd share a few tips and tricks I've learned along the way to help better organize your move as well as save your time and sanity!

If you follow along on
Facebook
or
Instagram
you may have seen pictures from our ginormous garage sale this past weekend.  Now, being a hoarder by nature and a DIYer that always tries to see potential in anything, this went against my very nature.  But, drastic times call for drastic measures and storage space in our new home will be limited so I sucked it up and got rid of my junk treasures. Plus who wants to pay for boxes to pack stuff you don't need?
When we started going through the closets and boxes I was actually embarrassed how much I had kept-from bedding for a mattress size we haven't owned in 5 years to two strollers I literally had no idea I still owned I realized along the way that this purge was long overdue!
When our sale was winding down I sorted the remaining items into categories-donate, sell, or keep.  The items we decided to donate were loaded straight into our truck and taken to Goodwill as soon as the sale was over-no need to waste time and energy bringing them back in the house! The items I wanted to keep trying to sell were photographed and listed on Craigslist or eBay before storing them back in the garage and the items to keep or give to friends or family were put away inside.
Once the garage sale was over I felt like a weight was lifted off my shoulders and we had some extra cash to buy things for the new place and help offset moving costs.

We started planning out our move 3 months ahead of time since we had plenty of notice.  By making a checklist of moving tasks in the months and weeks leading up to your move you can help take some of the stress off those last few weeks when things get hectic! (Click on the Checklist image below to download a printable pdf copy for yourself!)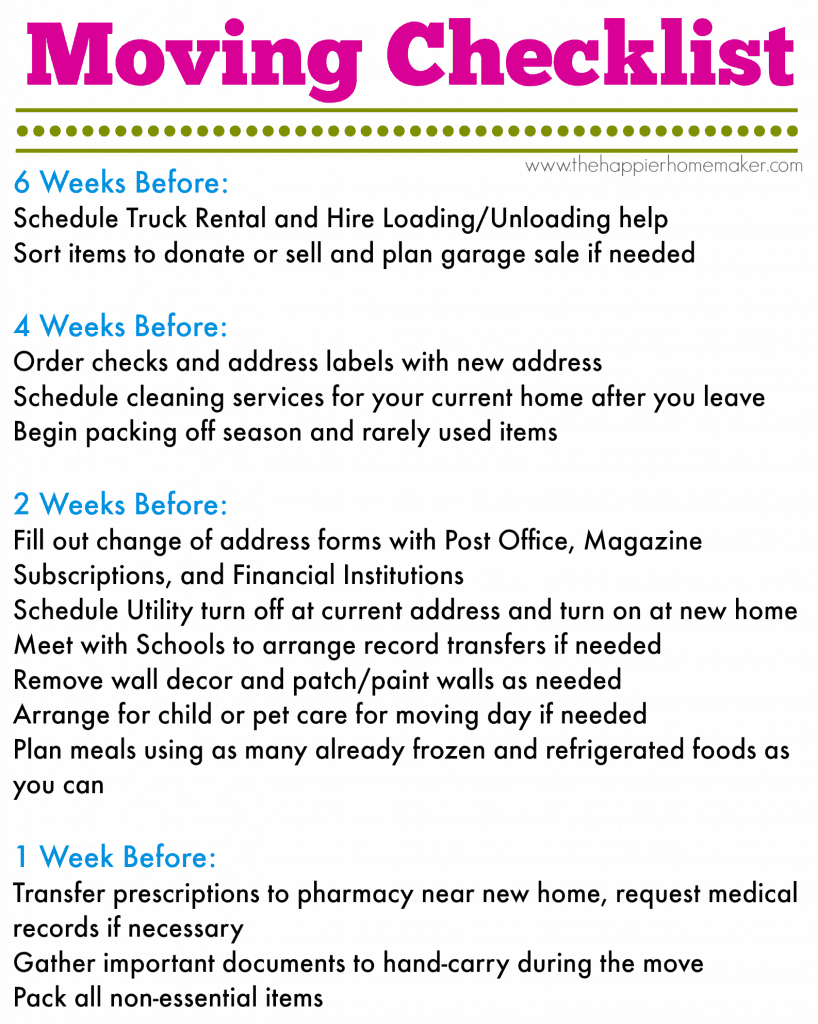 Pack boxes of off season or rarely used items far ahead of time to reduce the amount of work just before your move.  I find it helpful to create a staging area in my home to keep packed boxes so the entire house doesn't look cluttered for weeks (in the case of our current move, that is my office.)  Also pack by zones-don't throw your
blender
(affiliate link)
in with your hair dryer-keep items stored in the same room/area grouped together in boxes for easier unpacking.
Be sure to label boxes not only with their contents but also what room they belong in so that you can easily unload them at your new home and place the label on the SIDE of the box, not the top so you can see the contents when boxes are stacked. I actually use two labels per box on opposite sides so I don't have to play ring around the boxes to find the label when unloading. Print these box labels on sticker paper and cut out for easy labeling! (Click on the image below to download a printable pdf of moving labels!)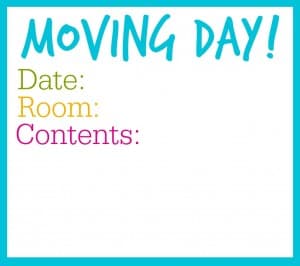 I also find it helpful to use a particular colored tape on the "essential" boxes that I'll need to unpack first at the new place. Think bright colors for easy spotting!

We take down our pictures and other wall decor about a month before the move to allow ample time for patching holes and touch up painting.
In addition to those tasks think about scheduling your carpets to be cleaned after your belongings are loaded in your moving truck as well as general home cleaning, yard maintenance, and any other tasks that may be necessary.  The days before and after your move will be hectic so planning ahead for tasks like these takes some of the pressure off the final preparations!
Use the Printable moving checklist above to keep track of required tasks.

Minimizing waste during your move can help offset the added expense moving normally brings.  Here are a few more helpful tips I've picked up during our moves:
About a month before your move start "eating the freezer." Plan meals using things you have in your freezer and won't be able to take with you to your new home, this helps reduce the amount of food that gets wasted one you move.
Pack your pantry items using gallon storage bags to store items that may leaks (like opened baking mixes) or smaller items like spices.
When packing liquids like cleaners or toiletries take the top off, cover with cling wrap, then replace the top-this helps reduce the chance of spills.
Wrap plastic drawers with cling wrap to save tape and time.
Don't pack boxes too heavy! While it's tempting to fill large boxes to the max it's often better to pack smaller boxes so they are easier to lift and carry during the move.
Overestimate how many boxes you need-they are used very quickly.  Many large moving supply companies have box "buy back" policies where unused boxes can be returned for a refund.
To reduce the need for bubble wrap, I use linens to wrap fragile items-I always wash and refold them once I get to my new home so why not have them pull double duty?
I hope these tips help you as much as they've helped us over the years! Be sure to follow along on Facebook and Instagram, I'll be sharing our progress as our move gets closer!